How to Generate E-commerce Leads on TikTok
CapCut online video editor enables you to make top quality videos that will help you soft sell your goods or services.
*No credit card required

Why Isn't My TikTok Generating Leads?
If your TikTok fails to garner engagement, don't blame your followers. A common mistake made by the average online shop is to treat your TikTok like an online billboard.


Advertising on TikTok requires you to master the art of "soft selling." The best way to do this is through social selling.


Think of social selling as building a relationship with your customers. Then, within the context of this relationship, sell your product from a position of trust and camaraderie.
Soft sell videos initiate this relationship.
Soft sell tactics are low-pressure, welcoming, and focus on building trust between seller and consumer. The key to a successful soft sell campaign is to make the customer want to see more.


You're not a salesperson jamming your foot in the customer's doorway. Old school salespeople knew that once they were in, they could pressure their target customer into making a purchase.


Online selling, however, offers no such captive audience. If a viewer has no interest, they'll keep scrolling. You can't loiter in their living room like a guy selling vacuum cleaners. Instead, try something different—like advertising through stories, narrations, or demonstrations.


Advertise Your Product Through Stories
The best products have a good story. Watch an hour of TV and you'll see products displayed at family gatherings, products tossed into coolers at beach parties, and products cracked open atop Mount Everest.


Giving your business a social cause also helps craft a story. Does your company give a percentage of its proceeds to charity? Do you donate products to hurricane relief efforts?


Not only does this allow your business to champion important causes, it encourages consumers to offer their support. Raising awareness tells a story, it helps others, and it grows your business.


Story type advertisements follow the "show, don't tell" rule. These adverts show people living their best lives while enjoying a certain product, or in the case of social entrepreneurship, you can show how your donations help those in need.


For example: if you sell luxury watches, craft a story around your most popular model. You can tell the story of a suave, successful businessman. Show him exiting a sports car, brushing back his hair, and wearing your watch while saying, "This is why I'm never late."


With CapCut online editor, you can make soft selling content by weaving interesting stories together. Here's a basic rundown of how to advertise your product through storytelling.


First, you'll need a script. Since you're working with short-form videos, think of ways to show off your product. Story type videos aren't a product manual.


Keep dialogue minimal. Insert your product into familiar, comforting, or exciting settings. If you bake pastries, you can film a scene of someone sitting down in a cafe and biting into a golden and flaky croissant before enjoying a sip of their latte. A scene like this can evoke feelings of warmth, comfort, and familiarity.


Or, if you sell designer jewelry, you can drape an actor in a sparkling necklace, then film her being whisked away to the dance floor at a posh event.


Above all, your goal is to show how your product makes familiar scenarios better or more enjoyable. So don't forget to set the mood with music. Explore our vast library of copyright free tunes that create the perfect vibe.


Once you've filmed your video, subtitles are even easier. Our audio to text function supports multiple languages. Advertise your production internationally with ease!




Advertise Your Product Through Narration
With narrative videos, your product or service will be the star of the show. Instead of inserting your subject directly into the frame, you can start by having the narrator tell a story that will tie back into the product or service. This type of soft selling video may seem simple. However, it still requires a script and careful preparation.


Poorly planned narration breaks the "show, don't tell" rule. As you narrate your product's features, you must show how it will improve your customer's life. Our online video editor makes this easy. First, our auto caption feature can quickly whip up subtitles. And remember, captions will elevate the quality of a narration-type advertisement.


Narration also benefits from our wide range of stickers. These will add a layer of fun to your content. Usually narrative videos feature basic filmography, so adding a little whimsy through stickers might improve the viewer's experience (depending, of course, on your target audience).


Finally, you can record the voice over yourself, or try our text-to-speech function by allowing our AI to become your personal narrator.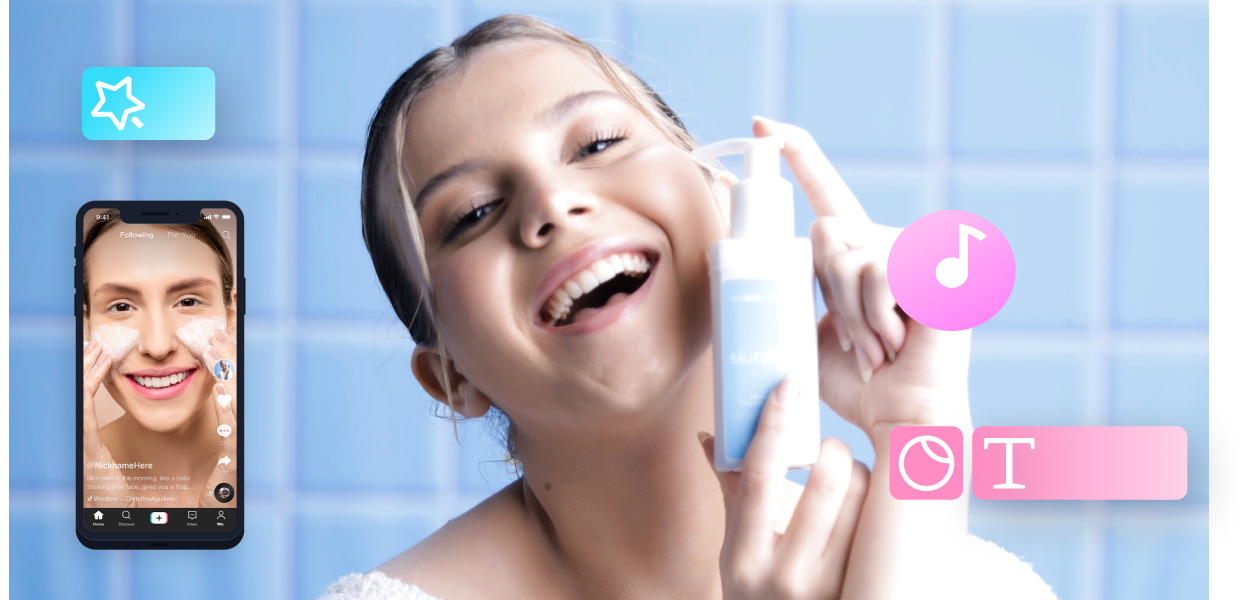 Advertise Your Product Through Demonstration
Nothing shows how your product fulfills a need better than a good old-fashioned demonstration. Your new product is the best thing since sliced bread, so prove it with a demonstrative video.


Demonstration videos show your product in action. Record shrimp scampi sizzling in your cookware, or film a makeup tutorial featuring your high-end makeup. The key to a successful demonstration video is to expose a need in the target viewer's life. Convince the customer to buy your product.


To further embellish your demonstration videos, add text! Our fonts are great for emphasizing important points and showing how your product can improve a customer's life. Remember, text is useful for reaching a diverse audience.


This is also a great place to try out our wide range of sound effects and transitions. For example, if you're chopping vegetables, try adding swoosh sound effects. This will bring a smile to your customer's face and improve the production value of your video.