Convert YouTube Videos to MP4 with Magic Editing Tools Online

Easily convert YouTube videos to MP4 format with CapCut online video editor. Learn how today! Also, the article will cover how you can take advantage of a premium YouTube account to quickly download high-quality videos without using any other tool.
Given the rise of online video content, it's no surprise that YouTube has become one of the most popular video-sharing platforms or hosting platforms. However, downloading or sharing YouTube videos in MP4 format can be daunting and time-consuming, especially for those with zero video editing skills. That's where the CapCut video editor comes in.
CapCut is a popular and feature-rich video editing platform with numerous built-in functions to polish your videos, convert them into your desired formats, and share them on social media platforms for a wider reach. We'll thoroughly discuss how you convert YouTube video to MP4 with CapCut in easy steps, along with its benefits in the modern age of video editing.
Part 1: What is a YouTube video to MP4 converter?
Before we dive into the specific details of how to convert YouTube videos to MP4, let's discuss what a YouTube video-to-MP4 converter is and how it makes a difference in simplifying the video editing process.
A YouTube video to MP4 converter is a tool that lets users download and convert YouTube videos to the MP4 format. MP4 is an extremely popular video format due to its wide range of device support, portability, and versatility. By converting to MP4 format, users can watch and share videos without relying on an internet connection.
One of the trusted YouTube videos to MP4 converter is CapCut. As a free online video editor, it features built-in functions that allow users to convert YouTube videos into MP4 effectively.
YouTube videos to MP4 converters are essential for several reasons. For starters, they allow you to view videos offline. Now, bear in mind that YouTube itself has an inherent download option that allows you to download certain videos for later viewing. The reason why YouTube's download option isn't advantageous is that most content creators deliberately switch off the download option so that they get more views every time you rewatch it. And when it comes to online viewing, you can't do that in areas where you will certainly not catch any signals.
Apart from this fundamental reason for downloading a video through a YouTube video to an MP4 converter, the importance of such tools extends to the purpose of video editing. Moreover, most editing software is also best compatible with MP4 format, which is why it is wise to have the video downloaded in MP4 format all along.
Another crucial reason for using a YouTube video to MP4 converter is to have a library of offline collections of videos. YouTube frequently archives videos that go against their community standards, or at times people may remove the video if it is controversial. This can become cumbersome for legal purposes and for citation/referral. YouTube videos to MP4 converters help avoid this. CapCut is a practical choice when it comes to video editing because it is easy to use, it produces a high-quality output, it's free and very accessible.
Part 2: How to convert YouTube video to MP4?
With just a few display clicks, you can get your videos in MP4 format for quick sharing and easy access on different devices. Discover the ultimate guide to effortlessly transform your favourite YouTube videos into MP4 format using CapCut - every step is clearly laid out for your convenience!
Step 1: Download the video from YouTube with a Premium account
The first step in the conversion process is downloading the video into your system from the YouTube page. There are numerous free tools and websites for downloading YouTube videos, but they frequently come with restrictions, such as poor video quality, watermarked videos, or restricted features. One easy way to bypass the restrictions is to have a premium YouTube account. If you have a YouTube premium account, you can simply just download any video by pressing the download button (a downward-facing arrow) on the video player. Just click on it and select the quantity.
Premium users can also watch them later without needing the internet. Also, they can use the video for other purposes like sharing on social media, converting formats to access on a variety of devices, etc. Moreover, with YouTube premium, you can enjoy Ad-free viewing, Offline viewing, and Access to YouTube Originals and YouTube Kids.
Step 2: Access the CapCut Video Editor
After downloading the desired YouTube video into your system, open the CapCut video editor in your web browser or access the application on your smartphone.
Step 3: Upload the Video in the Editor
In the CapCut video editor, click the Media on the taskbar and upload the video into the software. You can drag the video or directly upload it from your system, Dropbox, or Google Drive.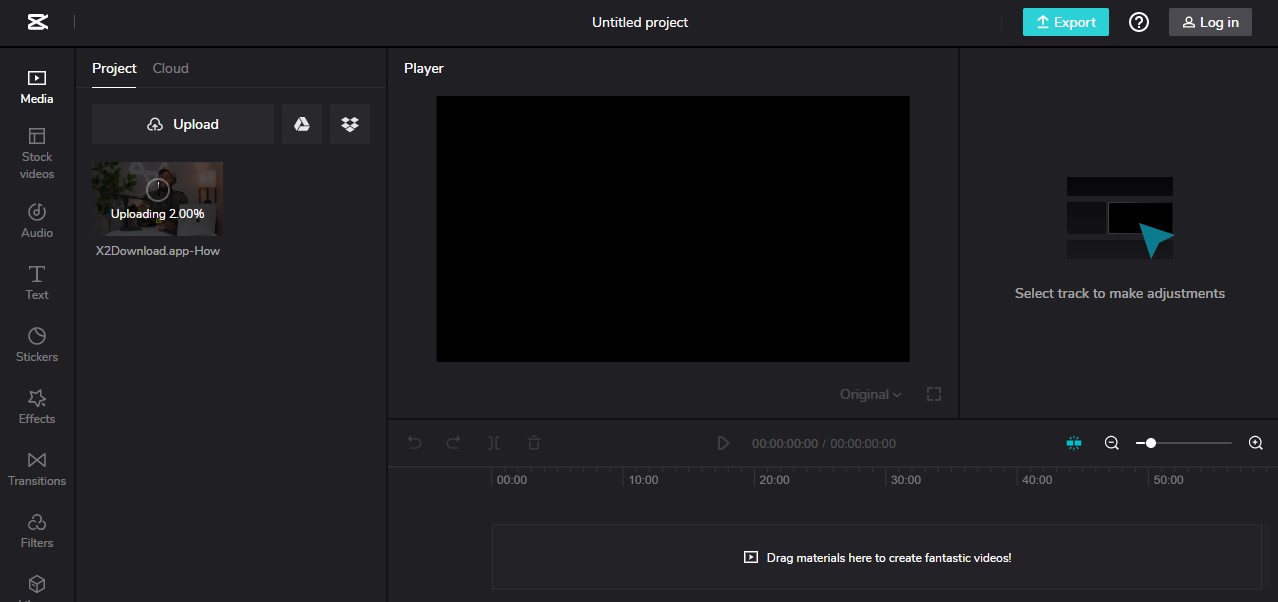 Step 4: Edit the YouTube video in CapCut
Once you upload the video, you can perform advanced editing to make the video more appealing. However, if the video doesn't require editing, jump to the Export button, and click on advanced settings. Here it allows you to adjust video quality or frame rate and choose the file format, in this case, MP4.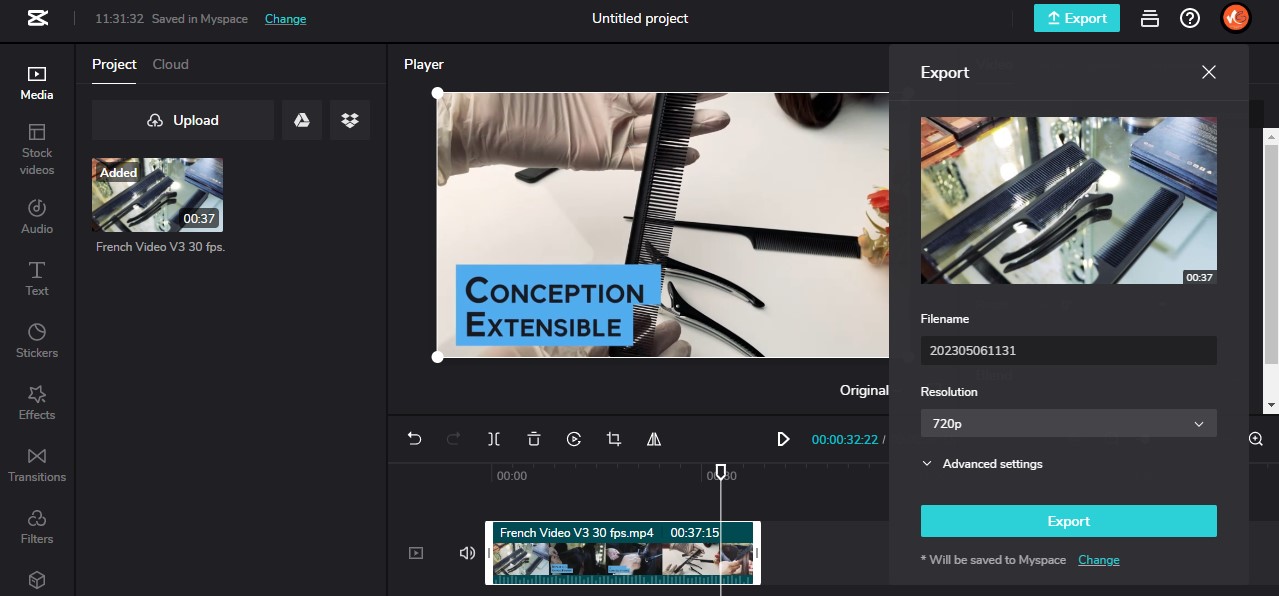 Lastly, click the Export button and find the final output in MP4 form.
Conclusion
All in all, converting YouTube videos to MP4 is a breeze with CapCut online video editor. CapCut's YouTube video-to-MP4 converter simplifies the process of downloading and converting videos from YouTube by providing an alluring interface, rapid download speeds, and high-quality output.
CapCut online video editor has you covered whether you're a content creator, video editor, or just someone who wants to view high-quality videos offline. So, give CapCut video editor a shot if you need a rapid and stress-free way to convert your favourite videos to MP4.
Frequently Asked Questions
Is the CapCut video editor free to use?
Yes. CapCut is a free video editing tool with a built-in function to convert or export videos in MP4 format. You can convert a downloaded YouTube video to MP4 when you click on export videos at the top of the screen. There you can change the video format to MP4. You can do all of this and much more for free with CapCut since it never prompts for any credit card details, nor does it have any hidden premium/paid features that you can't access.
Does CapCut allow to adjust video quality and resolution when converting video formats?
CapCut video editor lets you adjust the video quality and resolution within the software in 720p, 1080p, and 4k resolution. In a sense, it's a handy video resolution converter that can convert video to MP4 and MOV from nearly all commonly used formats.
What is the output quality of CapCut video editor?
CapCut lets you download videos of incredible quality to share on social platforms, different devices, etc. It ensures a seamless viewing and editing experience within the software.
Does CapCut offer any additional features when it comes to downloading videos?
After polishing each frame, when exporting videos from CapCut, users can adjust the resolution, frame, and format along with the aspect ratio according to the destination they plan to post. Does the YouTube to MP4 converter tool in CapCut have any video length restrictions when editing or exporting? Surprisingly, CapCut video editor has no YouTube length restriction when converting or exporting the final video into your system. Despite the length and quality, users can seamlessly edit their videos with this incredible tool.
What are some of the best third-party applications to download YouTube videos?
Since YouTube supports the video formats for upload including 3GPP, AVI, FLV, MOV, MPEG4, MPEGPS, WebM and WMV, it's imperative to download YouTube videos to MP4 for seamless playback on other portable devices. You can easily find YouTube videos to MP4 converters online when you search the internet. However, to convert YouTube videos to MP4 online, be careful about cybersecurity, the output video quality, conversion speed, ease of use, and good user reviews. Based on these criteria, some of the best YouTube to MP4 converters are 4K video downloader, Clip Converter, Y2Mate, etc.