A Guide for Editing Business Videos for SMBs and SMEs

Looking for a professional video editing software for your SMB or SME business? CapCut is the perfect solution! Edit your business videos with ease and achieve professional results. Try CapCut now!

*No credit card required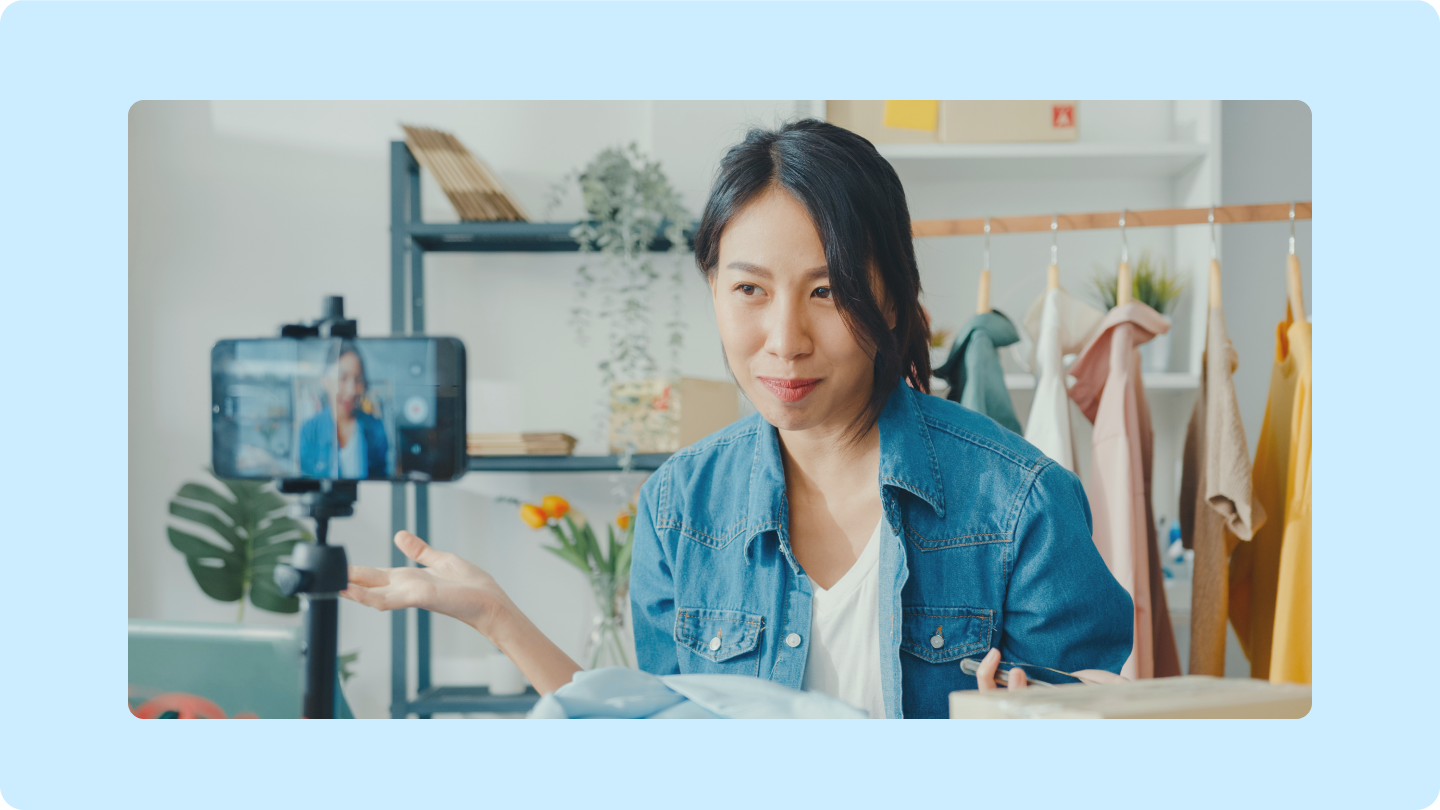 In the fast-paced digital landscape, the significance of engaging and professionally edited videos for Small and Medium-sized Businesses (SMBs and SMEs) cannot be overstated. Small businesses can leverage video editing to create engaging promotional content, enhance their online presence, and connect with their target. CapCut, the versatile online video editor, emerges as a powerful tool for businesses looking to enhance their video content seamlessly. This guide is tailored to assist SMBs and SMEs in navigating the editing process with CapCut effectively.
Tips for editing professional business videos
As businesses strive to connect with their audience, the need for professionally edited videos is on the rise. Crafting impactful business videos goes beyond mere footage; it involves a strategic approach to editing that aligns with the brand's identity and resonates with the target audience.
In this guide, we delve into essential tips for editing professional business videos. Whether you're a seasoned videographer or a business owner venturing into the world of video content, these insights will help you refine your editing skills and elevate the quality of your business videos. From the initial stages of planning to the final touches of post-production, let's explore the key strategies that can make your business videos stand out in a crowded digital landscape.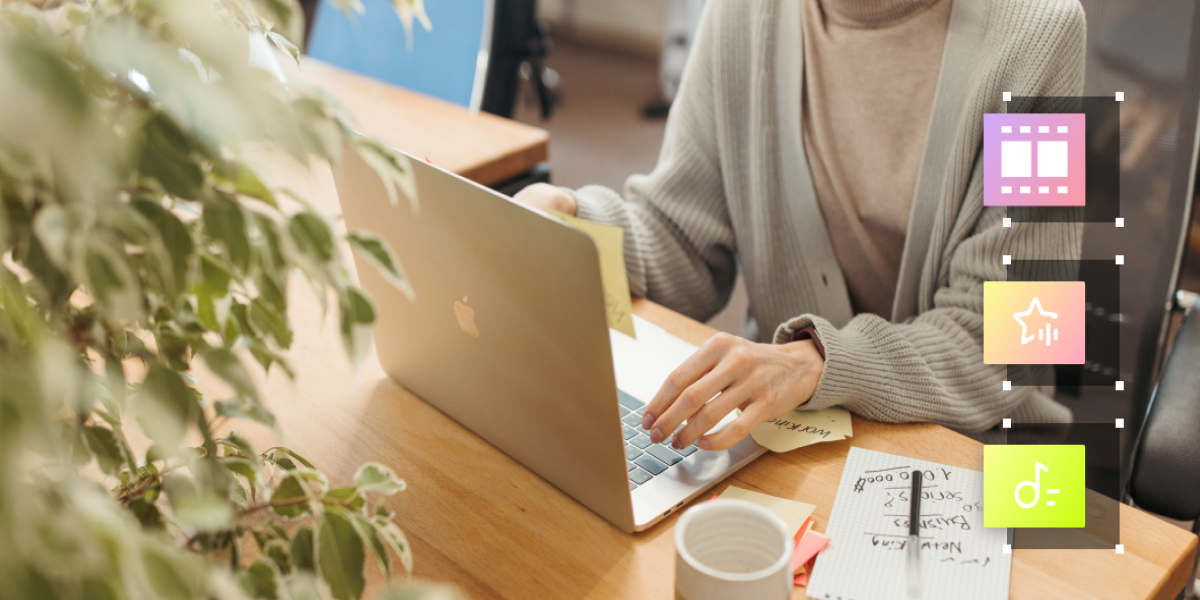 Business videos are a dime a dozen, and it's easy for your hard work to get drowned out by the sheer quantity of content roaming cyberspace. So how do you, as a small business owner, make sure that your video leaves a lasting impression on your viewers and outperforms big-budget business video productions? A good place to start is by finding a unique angle to pique the interest of your target audience.
This is your chance to get those creative juices flowing. Forget generic promotional business videos, you want to be intentional about highlighting unique aspects of your brand or products and services, and deliver the message through your video in a way that provides value to your audience.
As ubiquitous as business video marketing is across social media platforms, it is fair to say that the average person uses Instagram or TikTok for entertainment rather than to engage with businesses. This means that you have to put in extra effort to capture your viewers' attention and get them to keep watching until the end.
Social media is no place for formal, dry content. It is crucial that your business video gets your audience hooked from the very beginning, and that you keep it punchy and to-the-point. The fact is that, the longer your video, the less likely it will be watched in its entirety. So don't let any of your efforts go to waste!
Use a professional online video editor
Small and medium businesses don't have to spend a fortune on fancy editing software for business video marketing, the trick is simply finding the right video editor! CapCut is the perfect solution for small business video marketing. It is a professional online video editor that's not only equipped with a full suite of advanced editing tools that allow you to customize different elements of your video to your liking, but better yet, it's completely free!
You can trim, crop, splice, and resize video clips, and liven things up with an extensive library of free editing materials for commercial usage such as effects, graphics, overlays, and more! As a cloud-based online editor, you can also quickly access your project using any device and easily edit and review your video. It is the ideal platform for collaborative business video production!
What's more, CapCut boasts a simple and intuitive operation interface. Even beginners with no editing experience can learn and master all of its video editing functions in no time. This comes as welcome news to SMBs, who won't have to worry about hiring a dedicated professional video producer to help with video editing.
Take advantage of texts & subtitles
When it comes to business videos, you should never overlook the power of text and subtitles. These are vital tools that can help make your video more inclusive, highlight important information you want to convey, and facilitate viewers in digesting your video, particularly when you are using industry jargon that is less penetrable to the layman audience.
CapCut helps small businesses do the cumbersome work of adding texts and subtitles to their business videos with its auto-subtitles function that can automatically transcribe your video to text. It features a myriad of fonts and templates and can support 15 different languages, catering to international business needs!
Besides visuals, audio also plays a pivotal role in shaping the audience's first impression of your business video. It can be the make-or-break in determining whether your audience chooses to continue watching your content. Besides using suitable background music and timely sound effects, if your business video involves narration, you'll also want to use an engaging narration voice. CapCut's text-to-speech function can help you get this done with ease. It supports 9 language narrations, with a variety of female and male voices to choose from!
No matter how fun or creative you are, your video only gets as good as the resolution. Having high resolution is the secret to a professional and polished business video, and can give viewers a better overall impression of your brand. A premier online video editor like CapCut will allow you to export different video resolutions up to 4K Ultra HD, so that you can share the best quality production possible onto any social media platform.
The ultimate video editing software for SMBs and SMEs: CapCut online video editor
CapCut online video editor emerges as the go-to solution for businesses seeking a seamless and efficient video editing experience. With its intuitive interface, professional editing features, and a suite of tools tailored for businesses, CapCut online video editor positions itself as the ultimate choice for SMBs and SMEs looking to enhance their visual storytelling and effectively communicate their brand message. In this exploration of CapCut's capabilities, we'll uncover how this software transforms the video editing landscape for businesses, providing them with the means to create compelling and impactful visual content that resonates with their target audience. If you want to edit a video for small business, you must try CapCut online video editor.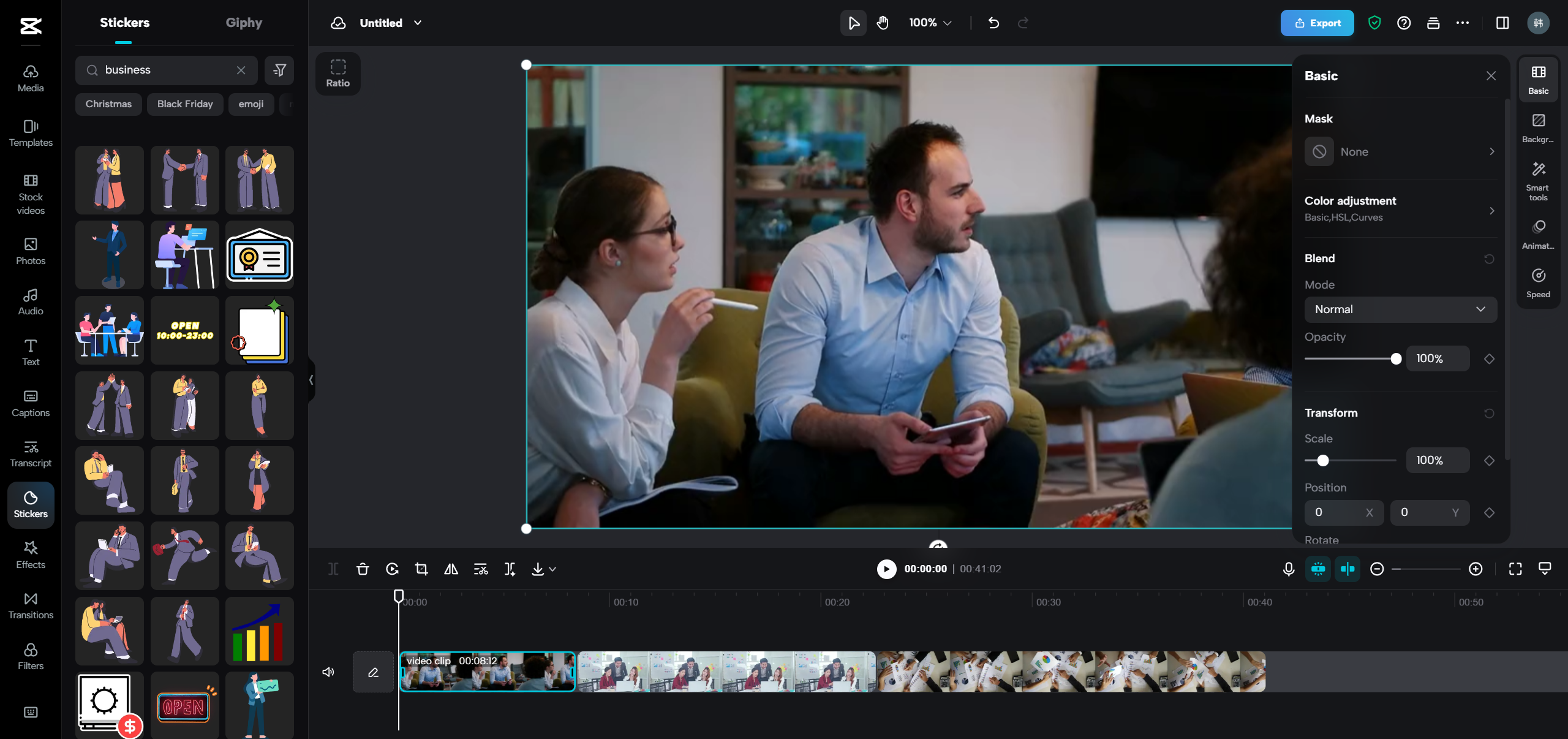 Streamlined editing process
CapCut provides an intuitive platform for SMBs and SMEs to streamline their video editing process. From uploading footage to arranging sequences, the user-friendly interface ensures a hassle-free experience, making it ideal for those without extensive editing expertise.
Professional templates for quick customization
CapCut offers a range of professional templates that cater to diverse business needs. These templates serve as a starting point, saving valuable time for SMBs and SMEs by eliminating the need to create videos from scratch. Customization options allow businesses to tailor these templates to align with their brand identity.
Precise trimming and cutting
CapCut's precision editing tools enable SMBs and SMEs to trim and cut videos with accuracy. Whether it's refining product demonstrations or highlighting key business aspects, the ability to fine-tune each segment ensures a polished final product.
Enhance brand visibility by seamlessly incorporating business branding elements. CapCut enables businesses to overlay logos, add watermarks, and integrate brand colors, reinforcing a consistent and professional image across all video content.
CapCut's extensive library of music and sound effects allows SMBs and SMEs to enhance the audio experience of their videos. From creating engaging promotional clips to adding a professional touch to corporate presentations, the right sound can significantly elevate the impact of business videos.
AI functions for efficiency
CapCut's AI-powered features, including one-click background removal, noise reduction, and split scenes further contribute to the efficiency of video editing. Businesses can effortlessly refine their footage, ensuring a polished and professional look.
Once the editing process is complete, CapCut offers various sharing options tailored to business needs. This is the best way to share videos. SMBs and SMEs can seamlessly export videos for social media platforms, presentations, or internal communications, expanding the reach of their content.
How to edit professional business videos?
Step

Upload video

Access our online editor by visiting our website, where you can create a free account to enjoy complimentary cloud storage benefits. Start a new project or select from our collection of stunning templates to kickstart your creative journey. Uploading your media is a breeze – effortlessly add videos or audio files from Google Drive, Dropbox, or CapCut's dedicated cloud storage. For added convenience, utilize the QR code feature on your phone to seamlessly upload your media files.

Step

Edit business video

Customizing your business video with CapCut is a seamless and creative process. With an array of powerful editing tools at your fingertips, you can effortlessly trim, merge, cut, and crop your footage to perfection. Add a personal touch to your content by incorporating creative elements like text, graphics, or overlays. CapCut's dynamic features, such as keyframing and speed editing, provide opportunities to infuse energy and movement into specific segments of your video, ensuring it captivates your audience. Additionally, the use of AI tools such as

free voice changer

, background remover, and subtitle generator opens up advanced possibilities, allowing you to experiment and create videos that match your unique vision.

Step

Export and share
Effortlessly download your edited video and share your creations without watermarks on your preferred social media platforms like TikTok, Facebook and YouTube. Unlock the full potential of your content with CapCut's user-friendly interface and powerful features.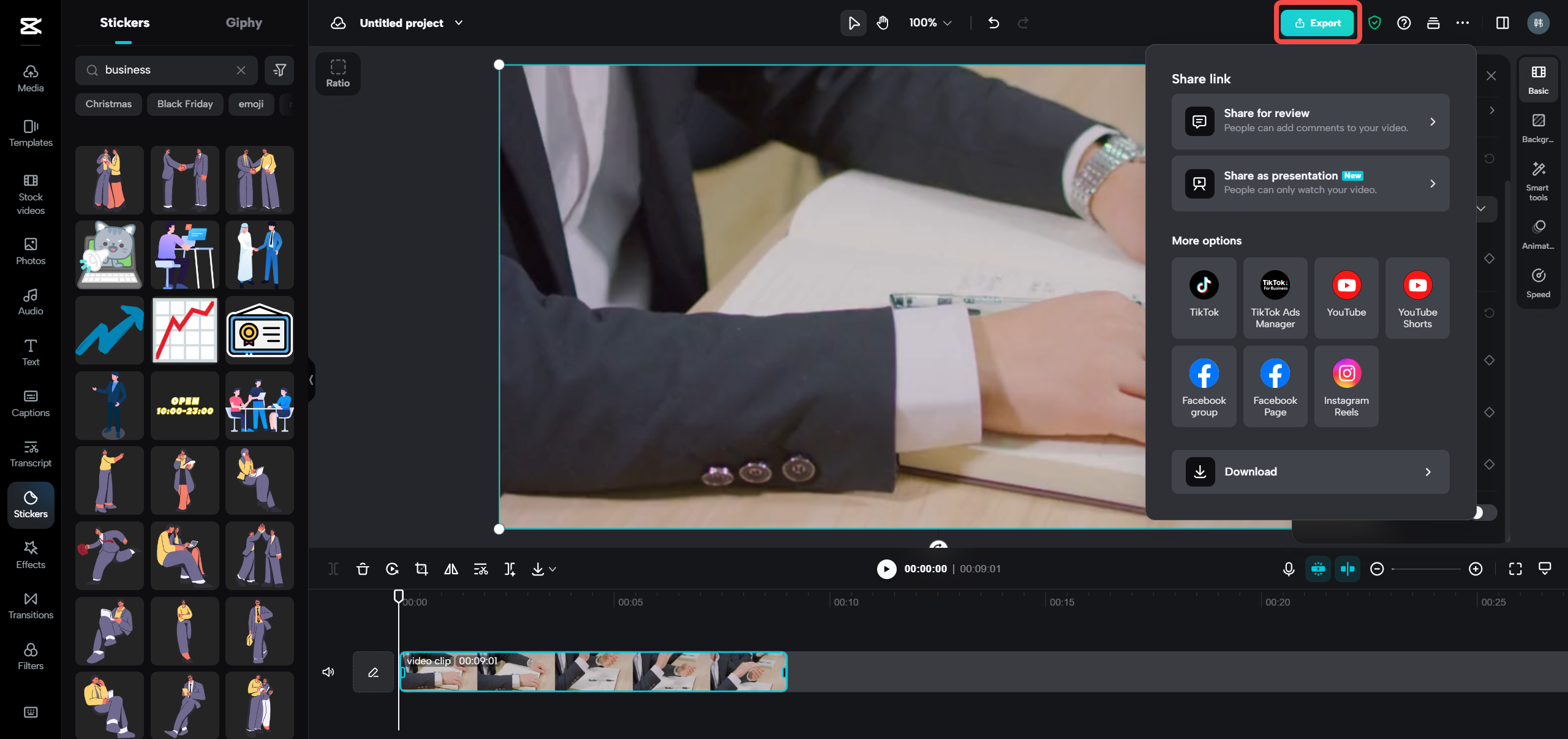 Conclusion
In conclusion, the CapCut online video editor emerges as a valuable asset for SMBs and SMEs seeking to elevate their video content. CapCut provides small businesses with the tools to enhance their online presence by creating engaging and professional business visuals, helping them stand out in a competitive market. Small businesses can utilize video content to effectively showcase their products or services, engage with customers, and build a strong online presence.
With its user-friendly interface, professional templates, precise editing tools, and AI-powered features, CapCut online video editor empowers businesses to create impactful videos that resonate with their audience. As the digital landscape continues to prioritize visual content, mastering the art of video editing with CapCut becomes a strategic advantage for SMBs and SMEs aiming to stand out in the competitive business environment.
Frequently Asked Questions
How do I make a professional video for my business?

To create a professional business video, consider using CapCut online video editor. Start by signing up on the CapCut website. Plan your content carefully, ensuring a clear message and organized structure. Record high-quality footage with good lighting and clear audio. Upload your footage to CapCut for editing, where you can trim, add transitions, and enhance your video with various effects. Pay attention to audio quality, include branding elements, and add text or graphics to highlight key points. Review and refine your video before exporting it from CapCut, ready to be shared on your business's website or social media.

How do professional YouTubers edit their videos?

Professional YouTubers often use advanced video editing tools like CapCut online video editor. They begin by importing their footage and organizing it effectively. They cut and trim to remove unnecessary content, add transitions for a smooth flow, and enhance visuals with effects. Adjusting audio levels and incorporating background music ensures a professional sound. Graphics and text are used to emphasize key points, and a consistent branding approach ties the video to the YouTuber's identity. CapCut's user-friendly interface simplifies these processes, making it an ideal choice for professional video editing.

What should be included in a business video?
A successful small business videos should include a clear message, concise content, and a professional look. CapCut, a versatile online video editor, can help achieve this. Start with a well-thought-out script, record high-quality footage, and edit with CapCut online video editor to trim, add effects, and enhance visuals. Optimize audio quality, include branding elements such as logos and colors, and use text and graphics to emphasize key information. Ensure the video is engaging and relevant to your target audience. CapCut's features make it easy to create business videos that stand out and effectively convey your message.
Frequently Asked Questions