How to Edit MP4 Videos Online with Magic Tools

Summary: In the following article, we will be covering the benefits of using MP4 editors for MP4 video editing, tips on choosing an MP4 editor, how to edit MP4 videos online, and a few FAQs by users.


Suppose your line of work doesn't revolve around video-related content creation. In that case, you can be unbothered about posting raw and unedited videos to your social media, particularly since it gives a nice touch of humbleness and doesn't create unhealthy and unnatural standards for your followers. However, posting an unedited video is a bad idea if your work is all about content creation. You should edit MP4 videos to remove all the imperfections that can compromise the quality of your work.
Part 1: Tips for choosing an MP4 editor
The Internet is virtually an endless universe of software and applications, with incessant additions every day. It's baffling and perplexing to make the right decision to choose a video editor that can edit an MP4 video. Here are some useful tips on settling for an excellent option to edit MP4 files.
It is human intuition that we tend to believe that the pricier the thing is, the better it is. A hard-to-swallow pill is that this isn't true. While some expensive options are better than most free video editing applications, you would be surprised to find out that you can find the same type of video editor for free that you got for a hefty price!
The main crux of the discussion relies on this main factor. When editing an MP4, it is crucial that it must have the features that you are looking for. But it shouldn't be limited to that; when it comes to features, the more, the merrier. The features of a video editing application determine its value for money. A video editor can be pricey and yet not carry as many features as a free one.
Reading the reviews can be lifesaving, not just for choosing a video editor, but for everything in life. From trivial and mundane items like food from restaurants to the most serious decisions like buying a house or a car, reading reviews are quintessential since they give a head-up for what you are headed into and what you can expect from the MP4 editing software.
Part 2: Benefits of editing MP4 videos online in CapCut
Now that we've laid some groundwork for choosing a good video editor for MP4 video editing, here are a few reasons why you might find CapCut to be the best software for editing an MP4 video.
It's compatible with literally everything!
Compatibility is one of the essential parameters for the ease of use of any software. CapCut is supported across all operating software, i.e., Windows, iOS, and Android. Moreover, it also supports all video formats, so not only is it compatible with devices, but it is also compatible with all video formats, making it one of the most easily accessible video editing software online.
CapCut has multiple editing tools
Along with essential video editing tools like cropping, trimming, splitting, merging, and adding music, text, filters, and effects, CapCut has some high-end features, which makes it a one-of-a-kind video editor since it's completely free of cost. Some of these features include keyframe animation, color correction, masking and blending, audio editing, special effects, 3D effects, etc.
Cloud synchronization saves your progress
CapCut has free cloud storage space that simultaneously keeps saving your progress. This, added to the fact that CapCut is compatible with all operating software, virtually means that you can pick up your work right from where you left off. With cloud sync, you can save a tremendous amount of time and continue with your video editing whenever and wherever you get the time and find it convenient.
Part 3: How to edit MP4 videos online in CapCut
With CapCut's easy-to-navigate interface and excellent tutorial to walk you through its features and guide you on how to edit an MP4 video, it's a walk in the park to use CapCut to edit videos. Nevertheless, we will guide you on how to edit MP4 files.
Step 1: Upload the video
First, you need to visit CapCut's website, and after choosing blank canvas, upload your video. You can upload videos through your device or cloud storage.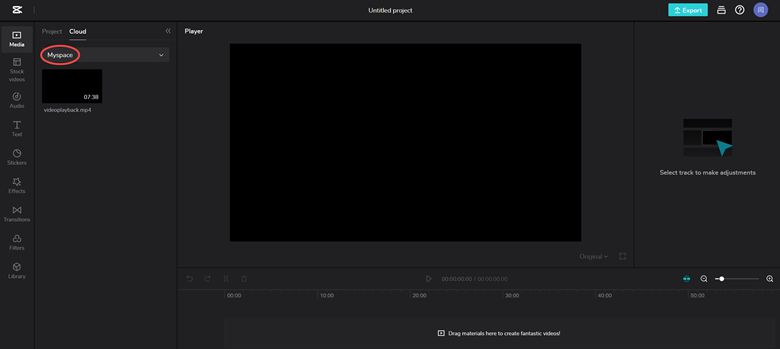 Step 2: MP4 video editing
After uploading the video, drag it to the editing menu at the bottom of the page and then click the video. This will open a myriad of editing options all over the screen, and you can keep on applying changes as per your wish and will.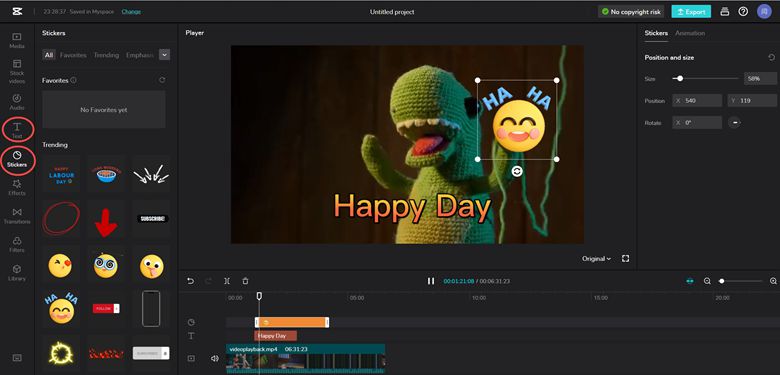 Step 3: Save and export
Once you have made changes to your video, preview the video and check if you are truly satisfied with the editing process. You can always edit and undo some changes. After you're done editing the video, you can click on export to save the video to your device/cloud storage or directly upload it to your social media. You can also change the video format when you click export.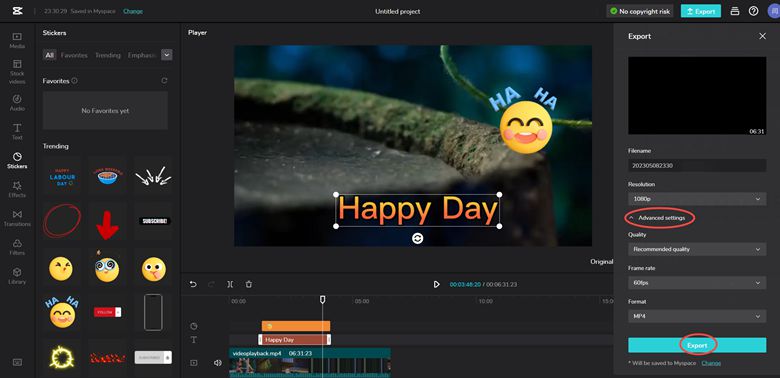 Conclusion
While it's good to embrace your humble and down-to-earth side by uploading raw, unfiltered, and unedited videos, it isn't always a good idea when your profession revolves around shooting videos. It's better to edit the videos to remove blemishes and imperfections of your videos so that they are engaging and visually appealing for your audience. However, be careful in selecting the perfect video editor for the job. CapCut video editor is a safe and reliable option to do the job for you.
Frequently Asked Questions
How to edit MP4 videos?
Editing MP4 videos depends on the software and platform that you're using. The pattern is the same for all platforms. You upload the video on the website, bring it to the editing menu, and then use the editing tools on the website to edit your MP4 video.
Can we edit MP4 on Windows 10?
Yes. You can undoubtedly find many websites and downloadable software that you can use to edit MP4 videos online and offline on your Windows 10. CapCut is a great option to edit MP4 on Windows 10. You can edit videos on CapCut's web page, or you can download CapCut through the Microsoft Store and edit videos on your computer offline.
What is the best MP4 editing software?
While there aren't any prerequisites or parameters carved in stone to determine which video editing software is the best, however, in terms of cybersecurity, number of features, free cloud storage, compatibility, easy interface, millions of reviews from satisfied customers, and pricing, CapCut can easily be termed one of the best, if not the best, MP4 editing software.
Is it wise to spend a hefty amount to edit MP4 videos?
The simple way to put it is that there is no single answer to this question. It all comes down to your level of video editing and your line of work. If you are a professional video editor and editing an MP4 is your bread and butter, then it is wise to spend money on pricey MP4 editing software. However, if you are a novice or a beginner, then it's best that you get your hands dirty on a free or low priced MP4 video editing application.
Can I edit MP4 videos online for free?
Yes. You can certainly edit MP4 videos online for free. You will find plenty of free MP4 video editing applications when you search the internet for it. However, be careful of the pricing, cookies and cybersecurity, number of features, output quality and user reviews when deciding about choosing an MP4 editing software online.