How to Make a YouTube Intro
This article will discuss the elements of a solid YouTube intrand offer a step-by-step guide on how to make a youtube intro.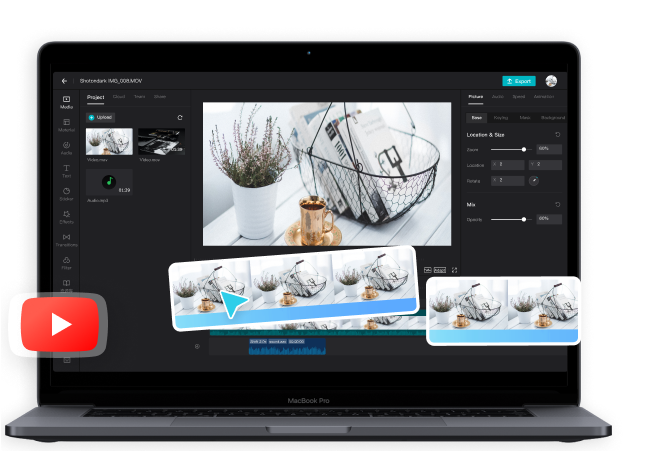 What is a YouTube Intro?
A YouTube intro is a short jingle and splash of animation that brands your content. This snippet of video should be the opening of every episode. It instantly tells your viewers: 1.Who you are. 2.The genre of content you produce.3.You're well established. If you have a logo, this is where you should put it. Even if you don't have one, you can use CapCut Online Editor to craft an opening that is unique to your brand and YouTube channel. Before this article digs into how to make a YouTube intro, it is important to discuss why an intro is vital to your channel.
Why is a Good YouTube Intro Important?
If you're an established YouTuber, and you've never used an intro, you may wonder, "Why do I need one?" Even if you've been successful without an intro, making one now will benefit your channel in several important ways. First, an intro helps foster brand awareness. The moment someone clicks your video, you want them to know it's you. As this article will discuss later, a good intro must be engaging, distinctive, and look professional. Secondly, it helps viewers gain a sense of brand consistency. Your video intro tells the viewer what sort of content to expect. It's like stepping into your favorite franchise restaurant—you get the same experience every time. This builds trust between you and the viewer. As a YouTuber, you want repeat business. You want viewers to binge watch all your videos. An intro at the beginning of each episode pulls the viewer straight into the video. Third, a good intro separates the professionals from the hacks. With a classy intro, it immediately shows new viewers that they're in good hands—it showcases that you're a creator who offers high quality content. Your video intro is your first impression, which is why this article about how to create a YouTube intro is so important. You need to dazzle your viewers the moment they click your video. Finally, a YouTube intro helps convert viewers into subscribers. If a viewer finishes one or more of your videos, the algorithm will likely promote more of your content. An intro helps the viewer realize that these videos were all made by the same person. Clever YouTube introductions build a CTA (call to action) directly into the intro. It could be as simple as a mouse clicking an animated "like and subscribe" button. These visual cues encourage viewers to subscribe; this in turn builds your following. Pro tip: you should always verbally invite viewers to subscribe to your channel at the end of every video. This way, when a new viewer discovers your content, they will subscribe for more.
Elements in Every Good YouTube Intro Video
In their simplest form, video intros have three basic elements: a background, text, and music. Imagine it as the opening sequence of your favorite show. However, your intro should be no longer than ten seconds. Keep it short, snappy, and to the point. The background: you can use anything as a background. It can be a montage of your best moments, or something as simple as rustic wood paneling. However, these three elements must reflect your content. For example, wood paneling would be an odd choice for a beauty channel! So choose a background that fits you. It should blend seamlessly into the rest of your content and match your vibe. If you film in the same location, you could consider matching your filming area's color scheme to the intro's background. This is a great way to link your intro and content, or you can choose a background related to your theme. For example: a dusty, black charcoal background would be the perfect fit for an outdoor BBQ channel. The music: for music, "high energy" is the word. Unless you're running a YouTube channel for a funeral parlor, your intro music should be full of excitement. Slow, boring music will fail to impress viewers. It kills the vibe before the video even begins. Choose a catchy pop song, or some groovy R&B. As a general rule, never use any song that's slow and sad. The text: don't slap sans serif on a white background and expect people to be impressed. You should animate the font. This might sound intimidating, but fret not. As the next section will discuss, anyone can add animated text to a video with a proper video editor. Don't underestimate the importance of choosing the right text. Just like the music and the background, the text should reflect your channel. If your channel focuses on baking cakes, use cute, fluffy text. If you lift weights, choose a bold, manly font. Pro tip: use an online color wheel to find the perfect color for your font and background. This tool employs color theory to produce harmonic color palettes.
How to Make a YouTube Intro Video (Step-by-step Guide Using CapCut)
-Step One: download CapCut Online Editor. Creating an engaging YouTube intro is impossible without a good video editor. This editor is an excellent choice because it comes equipped with everything you need. You'll find backgrounds, music, and animated fonts all in one place. With this web editor, you can create an epic video intro within minutes. -Step Two: choose a background. As this article previously mentioned, you have a lot of creative freedom when choosing a background. The only rule is that it must reflect your channel. The background can be static, or it can be a montage of your best moments. Video montages work best for YouTubers with big personalities, while static backgrounds favor channels focused on technical subjects, like computers or crafting. This web editor comes equipped with several preset templates, which are invaluable for creating a video intro. These preset templates include a matching background and animated font. All you need to do is add music! If you're unsure where to begin, these presets are a great place to start. Additionally, when you choose a preset template, you can rest assured that you'll have a high-quality intro. However, you should still choose an intro that fits your channel's vibe. Thankfully, this is easy considering this web editor's vast library of options. -Step Three: choose an animated font. While you'll find a wide range of fonts on this web editor, you should choose one that is animated. Animated fonts lend themselves well to YouTube introductions. They're fun, engaging, and look professional. They're also easy to add. This web editor employs a click and drag system for adding video elements. Simply choose the text you want and drag it into the video. This is also a great place to add animated stickers. If you have a plain, static background, a sticker or two will add a nice flourish. Be tasteful, however. Limit yourself to one or two stickers that fit the theme of your channel. -Step Four: not only will you find a vast library of tunes, you'll discover specially tailored, ten-second clips of intro music. These short clips were designed for video intros, meaning they're perfectly timed. If you're comfortable with advanced editing, you can even sync the music with the animated text. This creates a polished look that's sure to impress viewers. -Step Five: export your video intro and save it in the web editor's cloud drive. Storing the intro on the editor's cloud drive frees up space on your computer. It also keeps your video intro safe. It'll be handy and ready whenever you produce a new video. Remember, now that you have a YouTube intro, you should use it consistently. Never upload a video without it. This is rule number one for fostering brand recognition and establishing brand consistency. Use your video intro to build trust, build your following, and establish your brand.