How to Crop GIFs Online in an Easy & Creative Way
*No credit card need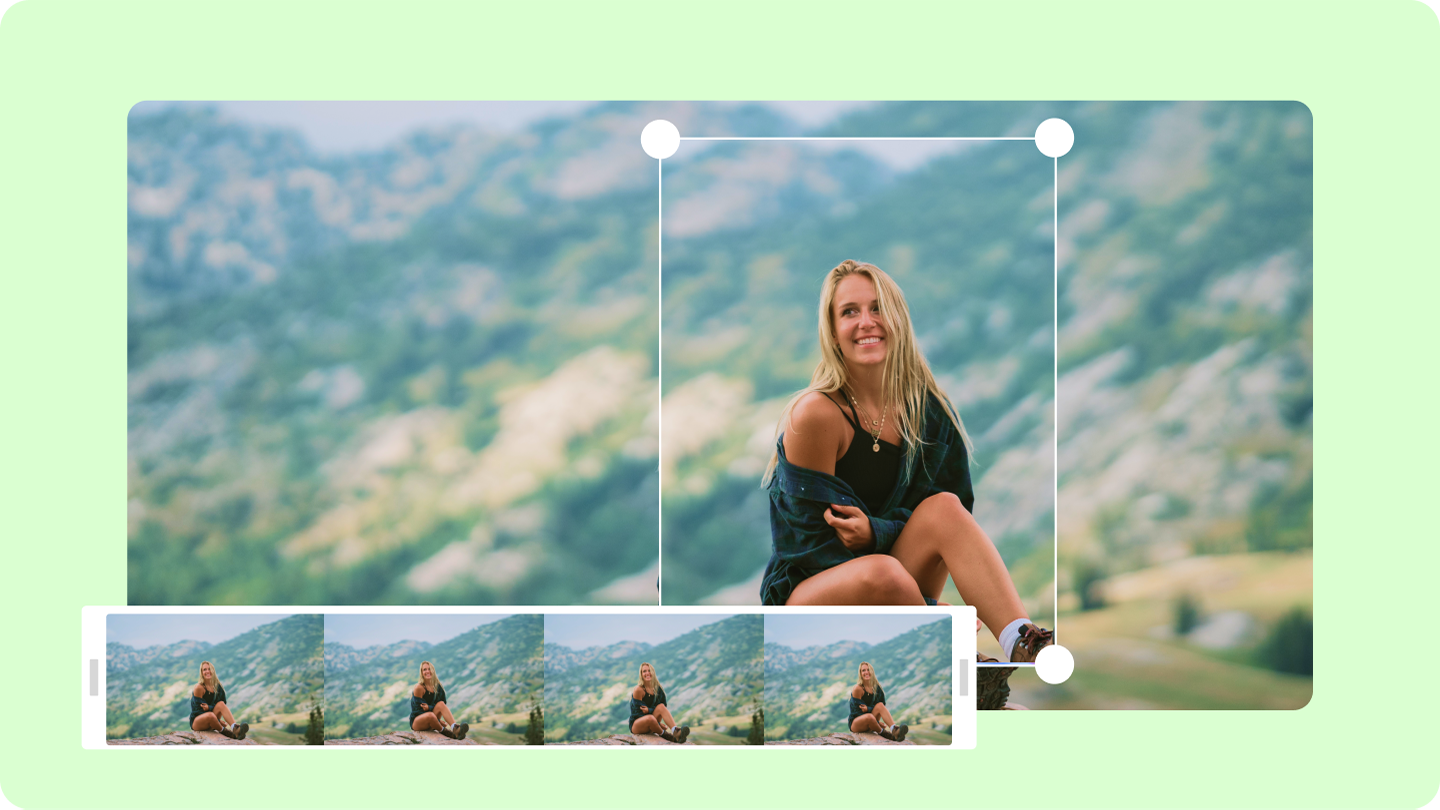 Put your imagination into GIFs. Cropped GIFs are an excellent idea if you're thinking of adding a quintessential touch to your videos. Thinking of cropping GIFs? We're here to guide you! CapCut allows you to make a variety of GIFs and crop them for different occasions in three easy steps. Working with your ideas is more accessible than before by cutting a GIF.
Why do you need to crop a GIF?
Playing with a GIF is the most exciting thing if one knows how to do it, and there are so many things you can do with a GIF to give it your touch.
Best for any moment

You want to show people your reaction, but you need to be in front of them? Send them a GIF! It will either leave them laughing or astonished, and isn't that what you want?

Make it your own, literally

People always want to make stickers of something they find hilarious or just any moment. Wouldn't you want to make GIFs of your or your friends' faces? Or any cat you see around you? You can choose to get many things in action instead of 2D stickers. Go wild and creative!

Saving a moment

Do you ever feel like repeating a specific part of the content? Well, now you don't have to go through all of that. You can edit that part, crop the GIF into a standard ratio and use it anywhere!
Why crop GIFs online with CapCut online video editor?
CapCut online video editor furnishes you with the best ways to crop GIFs – here's why:
Crop a GIF without losing the quality of the file

Often, people must crop a GIF using a different app and then bring that file to the CapCut video editor for further editing. But do not worry. Now CapCut enables you to crop your GIFs by selecting canvas for it. You have a pres-elected canvas, and you can choose a canvas you like. The best frame ratio is 1:1, which works perfectly to crop a GIF.

Highlight your favorite part

You decide how much of the action you want in your GIF. CapCut allows you to take complete control over the tools of cropping a GIF in the online video editor. You can cut your favorite part from the content of the GIF!

Speed adjustment

Fast or slow speed can add as much depth to a GIF as you think. It lets you choose to crop a different part of the GIF. Based on the rate of it. A long GIF? Short one? You will know if you try it out yourself!

Turn a picture into GIF

You can drag a picture in your CapCut online video editor and turn your image by adding text. You don't always need to have action in your photographs. Sometimes it can be in text as well. Make a dramatic, moving text over a still, and it's good to go!
How can you crop GIFs online using CapCut?
CapCut is known for its easy and smooth use, and you can quickly crop your GIFs in it. Here's how to crop a GIF online using CapCut online video editor.
Step 1: Upload the content
In the CapCut video editor, add videos and pictures that you want to GIF crop online. Then you can drag them to the timeline. You can add transitions if you have multiple videos or photos.
Step 2: Crop the GIF from the content
You can select the needed part of the content and crop the rest of it, and you can then adjust it according to the GIF ratio using the crop tool. If you have any ideas beforehand, leave some space for the text while cropping the GIF. You can also adjust the speed of the GIFs and use other adjustment tools in the right bar.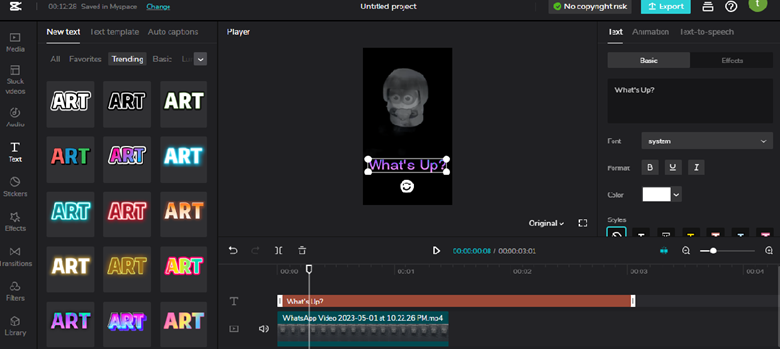 Step 3: Export the GIF
After you are done editing, it's time to export the GIF. Note you always need to save your file as GIF File. Now, your file is ready to be downloaded, and you can export it to any social website or save it on your device.
By the way, if you want a GIF editor that allows you to edit GIFs from multiple aspects, read on for more details.
Ending thoughts
In short, cropping a GIF is the easiest and funniest way to make life enjoyable. It provides you with so many possibilities with one single thing and allows you to turn your imagination into GIFs you can save, use and share with your friends. And it is easy to work with it, so it's user-friendly. The simplest of tools help you make exciting compositions!
Our suggestion – go with CapCut – it's free to use. You don't have to pay any subscription payment to use it. The platform's ease of use and extensive editing features make it a good choice for beginners and experienced video editors. And by now, you might know how to crop your GIFs in the CapCut online video editor, so why don't you try it? But if you still have some questions, they are answered as well.
Frequently Asked Questions
How do I create a GIF with pictures?
You can compile all your pictures into a .GIF file. First, upload your photos, then drag them into the timeline and adjust their order how you want them to appear. You can also improve the quality of your GIF by adding text or more stickers.
Can I create a GIF for free?
Of course, you can. You can make anything on CapCut for free. It allows you to access all its extensive features for free and even the exporting of the file. You can take advantage of all these features and make your GIF enjoyable.
Are all the crop GIF tools accessible in CapCut?
Yes, all the tools in CapCut are accessible and for free. You can produce any content for free and in the best quality. GIF crop online using CapCut now!
Can I export the GIF without a watermark?
Yes, you can. And to do that, you need a GIF maker which allows you to export your GIF for free, and CapCut is just what you need. It enables you to export any format or resolution ofGIF for free and without any watermark. And unlike other online editors, it supports the .GIF format.
Is CapCut the best GIF-making website?
Absolutely! If you're looking for the best GIF-making website, CapCut is the best option. CapCut is easy to use, gives you a number of features to play with, and is entirely free!