How to Add Images to Video Free and Fast

Summary: Learn all there is to know about adding images to videos, the benefits, and features of video editing applications, and how to add an image to a video through CapCut, and frequently asked questions regarding this feature.
Part 1: Why add an image to video
One must think that adding images to videos is not a very important feature, but that's far from the truth. Here are some reasons why you must add images to videos.
There are tutorials, demos, and educational videos that may extend a significant length of time. Such lengthy videos can get very monotonous and boring to watch. Occasionally adding images to videos can make them engaging, exciting, and appealing to watch.
When you add an image to a video, you can emphasize the emotions and add a more human touch to your story. At times words and visual effects alone do not suffice in portraying the correct emotions. Adding pictures can make it easier to delineate the sentiments and carry the video in the direction you want.
Images serve as great highlights for products or services that are discussed in the video (as in, for example, an advertisement video.) This becomes particularly a handy marketing tool where the goal is to showcase the product or service being offered in hope of enticing customers to the product/ service.
Protect your valuable content with stylish logos and watermarks!
It is honestly the most frustrating and infuriating feeling when you pour your blood and sweat into your projects, and someone steals and takes credit for that content so conveniently. This is how watermarks and logos protect against content stealing and ensure that your copyrights are protected. Sign up for CapCut now to make your content steal-proof.
Increase retention and engagement
In terms of long-term memory and stronger active recall, images tend to be better retained than simple texts. When you add an image to the video, you increase the retention capacity for that information while also making the content as engaging as possible. This type of memory is called associative memory, where you learn new information, but you use a memory hook, like an image in the video, to retain the information.
Part 2: How to add an image to a video online using CapCut
Adding an image to the video is a walk in the park with CapCut. Here are the easy steps you too can follow to add photographs to your video.
Step 1: Upload the video to CapCut's website
First, you must visit CapCut's website and upload the video. You can upload it directly through your device storage (by clicking on upload or dragging the video to the upload section), or you can upload it through your cloud storage (MySpace, Google Drive, Dropbox, etc.)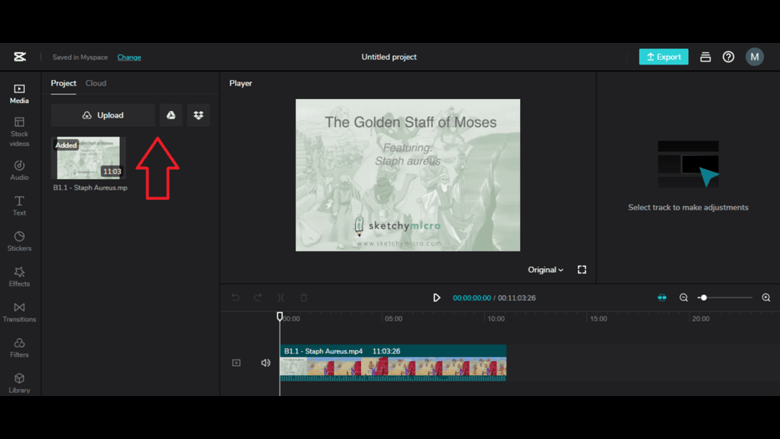 Step 2: Add an image to your video
Once you have uploaded the video, go back to "media" and upload the picture that you want to add to your video. Then you must click on plus (+) sign to add the image to your video; using the mouse, you can control the part of the video where you want to add the image.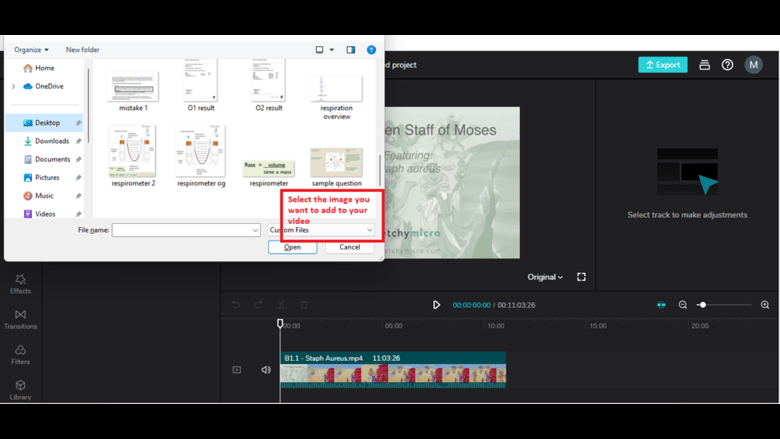 Step 3: Save and export
Once you are satisfied with the video editing that you have done, preview the video and then save the changes. You can also directly upload this edited video to your social media.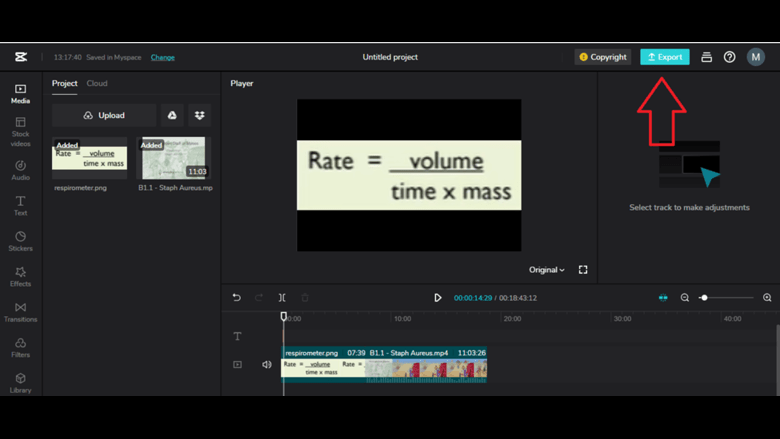 Conclusion
To sum it up in a nutshell, video editors that come with the feature of adding pictures to videos take your content to the next level of engagement and creativity. As we reach the end of this article, it can easily be elucidated that adding pictures to videos is a very resourceful tool. What better platform for this feature than CapCut? If you are an aspiring content creator and you haven't used CapCut for your video editing, you're really missing out on an amazing opportunity to take your game to another level!
Frequently Asked Questions
Can I add an image to a video as a watermark?
Yes. The process of adding an image as a watermark is similar to adding an image to the video with a slight difference. You have to use editing tools to adjust the size and transparency of the picture. To ensure that the watermark stays in the same position, right-click on the image and click "copy." Then right-click on the timeline where you want it to appear again and click "paste." Then adjust the length of the image clip to match the duration of the video.
How to add an image in a video online for free?
You can scour the internet for video editing websites/applications that add an image to a video online, but make sure to settle for a trustworthy one like CapCut. After that, upload the video and the image you want to add to the video. While editing, click on the plus (+) sign on the image and then control the length of the video the added picture is shown. After that, preview the video and save the changes.
How to overlay a picture on a video for free?
Add a picture from your storage to the "media" and adjust the length that you want to display the picture. Then click on "layer," and then select the picture clip and drag it on top of the layer stack to make it appear on top of the video. Subsequently, adjust the opacity of the picture by clicking on "opacity". And then save the changes.
How can I edit a video and add a picture?
To add an image to a video, you will need a video editing application that houses the feature of adding pictures to videos. This means that, naturally, this feature will come with other video editing features as well. In terms of options for such video editors, you will have plenty, and making the right decision is like finding a needle in a haystack.
One great option to edit and add pictures to videos is using CapCut, which has some of the best and most diverse features to edit your video. When using CapCut, you have to click on the video once, and a plethora of editing tools will open on the right side of the screen, along with multiple other editing options that are already present on the left of the screen.
How can I add a picture to a video for free?
You will find dozens of free video editing applications that can add images to video for free. However, when it comes to the output video quality, the number of video editing tools, ease of use (in terms of interface and accessibility), and cybersecurity, CapCut is undisputedly the best video editing software that you can use to add an image to a video online.