How to Add Captions to Videos in 3 Ways

Are you struggling to add captions to videos? Well, you're in the right place, as this article is here to help you with just that! Learn how to add captions to video without any extensive work or spending a single buck.Just a heads up; if you're looking for a winning app to captions to videos, we suggest going with CapCut online video editor – this editor SLAYS!
Considerations before adding captions to video
Captions for videos are an excellent choice if you're planning on conveying a vivid message through your videos. However, before you add captions to videos, make sure you consider these things.
Readability of captions

Four factors influence the readability of closed captions:

Size

: The captions should not be so big that they obscure the visual content or so small that they are hard to read.

Color

: The contrast between the text and background is critical in determining readability, so finding the right balance is essential.

Background

: The background should be chosen to enhance the text's readability, and the placement of the text is also important.

Font

: The font style should be simple and balanced, avoiding anything too thin or thick that could make it harder to read.

Accuracy of captions

When adding captions to videos, it's vital to ensure they are accurate. This means the captions should capture the spoken words in the video precisely and completely to help viewers understand the context.

If there are any words or phrases that you do not want to include, such as curse words, you can use symbols or paraphrase them instead of ignoring them altogether. Additionally, accuracy requires that the captions are available throughout the entire video.

Synchronization of captions

Another important consideration when adding captions to videos is synchronization. This refers to ensuring the captions correspond with the events occurring in the video. The goal is to ensure the captions appear on the screen in real-time with the speaker's words. This synchronicity is critical to helping viewers comprehend the video's content fully. Proper timing is essential when adding synchronized captions to a video.

Positioning your captions wisely

When adding captions for videos, you can choose to position them at the bottom, center, or top of the screen. It's best to place the captions at the bottom to allow viewers to watch the video and read the captions simultaneously. The center is not a good position because it can block the visual content. However, regardless of your chosen position, make sure it remains consistent throughout the video. Shifting positions can negatively affect the user experience.
How to add captions to video in CapCut?
CapCut online video editor is hands-down the best app to add captions to videos. If you're wondering how to put captions on a video using CapCut, here's how.
Step 1: Upload the video you need to add captions to
CapCut online video editor extends its features to all browsers and devices. Open the video editor in your browser and upload/drag the video from your device, system, Google Drive, Myspace, or Dropbox.
Step 2: Add captions to video
From the toolbar that appears on the left of your screen, select "Text." Next, click "Auto Captions" and then "Create captions." You can tailor the added caption with the text font, style, format, and color. Moreover, you can even add text effects and animations to the captions you've just added.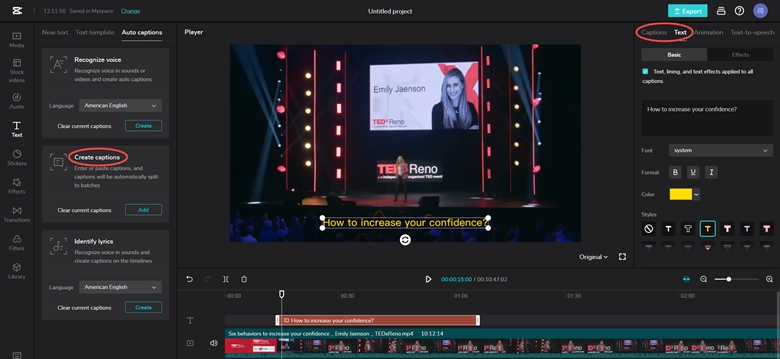 Step 3: Export or share online
Now that you've added captions to your video, click the "Export" button. You can select the file name, resolutions, format, and frame rate here. Once through with that, download your caption-added video!
How to add captions in Premiere Pro?
Our next choice for adding captions to videos in Premiere Pro. Here's how you can add captions to your videos using Premiere Pro.
Open the Captions Panel by going to Window > Text.

Click on the Captions tab and select Transcribe Sequence.

A box with further options will appear. Choose the an audio track from the drop-down menu, followed by the language and number of speakers.

Click Create, and wait a few minutes for Premiere to transcribe your sequence.

Review the transcription in the Captions panel and make any necessary corrections.

When the transcription is ready, click on the Create Captions button at the top.

Select Create Captions from Transcription in the pop-up window.

Click Create, and your captions will be added to the timeline in Premiere.
How to add captions in iMovie?
If you're considering using iMovie to add captions to your videos, here's how you can do it.
Open iMovie and create a new project.

Import your video into iMovie.

Drag the video to the filmstrip area.

Click on the "Titles" option and select the "Lower" style.

Type in the text you want to appear on the video for about 5 seconds.

Adjust the duration of the text to 5 seconds and move the text to the desired location on the screen.

Once the text is in place, copy and paste it along the filmstrip to appear at desired intervals.

Listen to the dialog and add appropriate text for each video segment. Use brackets to indicate non-dialog sounds that are relevant to the captions.

After adding captions, share the movie by exporting it as a file (MP4) or sharing it on iMovie Theatre, iTunes, Facebook, YouTube, or Vimeo.
Summing it all up
By now, you must have an idea of how to add captions to videos using different applications and tools. If you're looking for our recommendation, we'll definitely go with CapCut because of its distinguishing feature - this robust editor never fails to surprise and is adored by people from all over the globe!
One of the main distinguishing features of CapCut is its user-friendly interface that makes it easy for users to edit their videos quickly. The platform offers a range of editing tools, including adding music, text, stickers, filters, and transitions to enhance the video's overall aesthetic.
CapCut also allows for video trimming and splitting, and users can adjust the playback speed and apply special effects to create a unique look. Additionally, the platform provides templates that users can use to create professional-looking videos effortlessly. Another significant advantage of CapCut is that it is free to use and does not require a subscription payment. The platform's ease of use and extensive editing features make it a great choice for beginners and experienced video editors alike.
Frequently Asked Questions
How to add captions to videos on iPhone?
Various applications on the iPhone, including CapCut and iMovie, allow you to add captions to videos. Choose the application that resonates with you and add captions!
How to add subtitles to a downloaded video automatically?
The "Auto captions" option in the "Text" menu in CapCut online video editor allows you to do this.
How to add captions to videos free?
CapCut allows you to add captions to videos for free. It is an exclusive online video editing tool that doesn't charge any subscription fees or payments.
How can I add subtitles to a video without any software?
You don't need to download any software to use the CapCut online video editing tool, and the editor is free to use.
How do I add Subtitles to a video on my Mac for free?
Head over to CapCut online video editor using your web browser on Mac and bask in the glory of this incredible editor as it adds captions to your videos at zero cost.