Tips for Making Pet Videos With CapCut
If you want to craft top-shelf, meme-worthy videos of cats, dogs, and more, you'll need an online video editor like CapCut!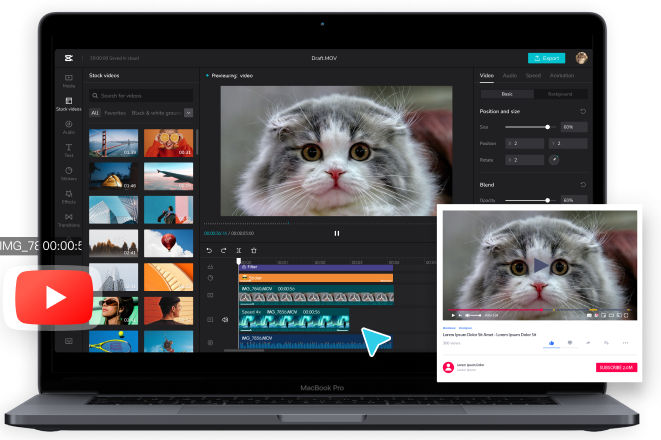 1. Choose the Best Video Editor for YouTube
To craft beautiful PetTubing content, you'll need to polish your footage. Don't be frightened or intimidated by youtube video editing. We will make it easy for you. First, identify the funniest, cutest part of your video (sometimes you have to wait a while to catch your dog dreaming). Use CapCut to remove boring or long-winded footage. For example, your viewers probably aren't interested in a video of your pet sleeping peacefully (unless the aim of your video is to help your audience fall asleep). Instead, you can jump straight to the part where they start "talking" in their sleep. Sharp, dynamic videos are sure to keep your viewers engaged—which should lead to a higher average view duration (this is a major factor the algorithm considers when choosing which videos to promote). Next, string together your clips, creating a non-stop parade of cuteness. Overwhelm your viewers with precious videos of your pet! You need an online editor with oomph, and oomph isn't possible without high quality video files. CapCut can export video files up to 4k Ultra HD. We also offer preset canvases for YouTube. If you recorded in the wrong aspect ratio, no worries! CapCut will clean it up. All of CapCut's features are free! So you can make top-tier pet videos without spending a dime. Explore our many features. Use them all!
2. Find the Purrrfect PetTubing Niche
PetTubing is a massive niche with hundreds of sub-niches. For example, FishTubing. To become a FishTuber, all you really need to get started is fresh water, salt water, pond fish, koi, and a few basic necessities. When it comes to PetTubing, there are niches within niches. Fish rescues, reef keepers, planted aquariums, and more! The options are endless! Every PetTubing niche contains a high level of diversity. To start a successful channel, you can choose a sub-niche or take things even further with a micro-niche (orchid mantises and pink toed tarantulas deserve the spotlight just as much as corgis and sphinxes). If you focus on "cute dogs," you'll compete with thousands of dog related channels. However, if you narrow your focus, you'll have less competition. Pick one aspect of your favorite niche, such as dog keeping. Then, you can taper your focus a little more by specializing in dog training. When viewers search, "dog training video," you'll rank higher in the results. The more laser-focused the niche, the better. You might even consider fun and quirky topics, like a cat video for cats to watch. PetTubing channels live and die by SEO. Viewers constantly search topics like, "How do I know if my dog is happy?" Or "Is it possible to train a pet mouse?" Because of this, your videos must be specific. For example, you might choose a title such as "What to do when your iguana has a tummy ache." The more specific the video, the higher you'll rank in the search results. Most importantly, research SEO terms before you film. It's important to create videos that satisfy a need. Choose SEO terms with high search volume but low competition. Then build your video around the terms. Remember: if your topic is "funny cats," you'll compete with a tsunami of cat videos. But if you choose a niche—maybe something like "relaxing music for cats"—you'll rank higher when someone needs tunes to help their nervous kitten. Your video title and description matters. SEO-optimize them by including search terms in the title and description. This allows viewers to find your video.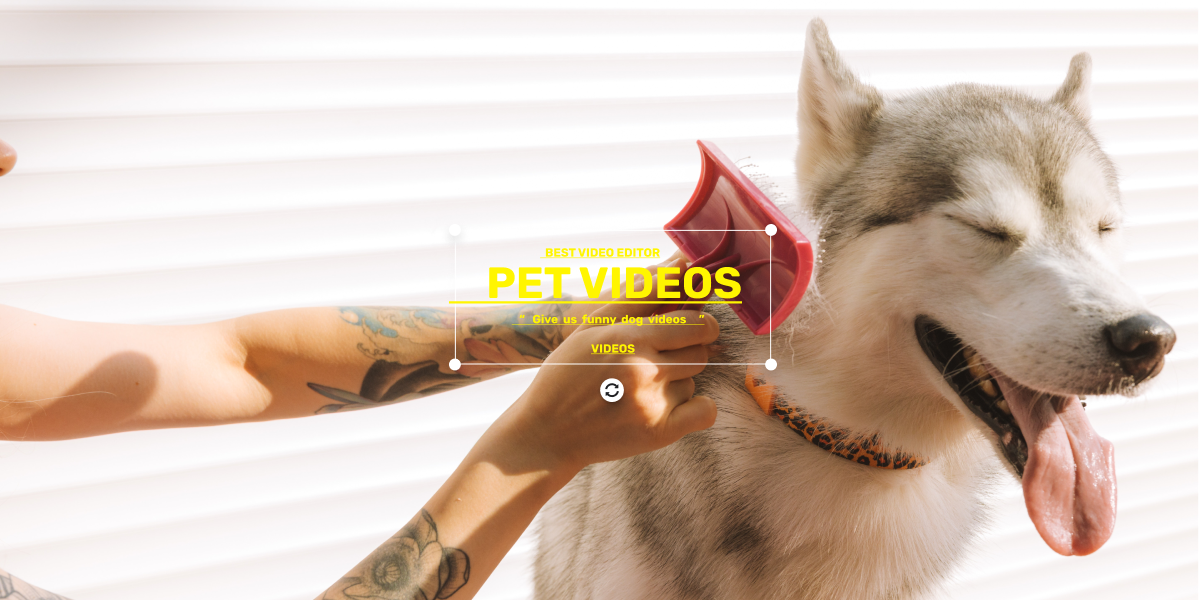 3. Beautify Your Dog With a CapCut Filter
Dogs love our filters as much as they love the food on their human family members' plates. Your pup may lack skin to smooth or lips to redden, but filters can enrich the color and contrast of your video. They'll also aid you in making your pet video shine. Try bright, happy filters like "One Day" or "Friends"—with your pet related content. Funny cat videos are a form of escapism and relaxation for your viewers, so don't be shy and give your video a joyful vibe. Effects! Effects can add humor to already humorous content. Give your cat laser eyes, or add sound waves when your dog barks! CapCut has hundreds of filters and effects. So get creative!
4. Your Pet Needs a Theme Song—Let Us Help
Give your pet their own theme song with our music library. It's a well-known fact that music elevates content. A goofy jam will almost always induce more smiles than a silent video. Pet videos require different music than videos centered around people. Thankfully, CapCut has the beats! For cute videos, choose fast, springy songs. For fish and reptile-related content, choose a mysterious background track—the sort you'd hear at a public aquarium. Editing a dog training video? Choose light pop. But whatever you do, always match the music to the theme! Peruse CapCut's music library for the perfect tune. CapCut's sound effect features don't end there. Need National Geographic-style narration for your cat? Try CapCut's Text to Speech function. Give the CapCut AI your script, it'll play the role of narrator. For example: "Here's a Persian fluff ball in her natural habitat. Watch as she examines her food bowl. Notice her displeasure as she realizes her owner purchased a new brand of cat food. Fascinating." Write your script as if it's an Animal Planet documentary—it's fun!
5. Make Your Video Look Fancy With Stickers and Text!
Think your hamster is cute? Wait until you surround them with flower stickers! Our library of animated stickers is vast and full of fun. You'll find stickers for every occasion. Add hearts to your cat's cuddles, or use food stickers when your dog begs at the table. Don't be shy about getting creative! If you're filming a dog training video, use stickers to show when a reward is due. You can even emphasize your cat training tips with text (not that it'll help—cats tend to do whatever they want). Text communicates your ideas clearly, but use it sparingly. Choose a few important words to highlight. For extra pizazz, try our text templates. These animated fonts are as fun as stickers! Under preset templates, you'll discover springy text, flaming text, and fonts that dance. Use these for comedic and instructional value.