3 Best GIF Croppers that Make Your GIFs Engaging

Summary: This article will walk you through the top 3 GIF croppers available online. It will highlight how CapCut crop and influence the GIFs precisely, its incredible capabilities, and magic power to export in several formats. Say goodbye to boring GIFs and try CapCut today!
What is GIF Cropper?
Imagine you've found a hilarious GIF begging to be posted on social media, but it's a tad too long. Therefore, we are introducing you to the incredible tool designed to take your GIF game to the next level: CapCut GIF Cropper. You may use it to cut off the unnecessary parts of your GIFs, much like how a pair of precision scissors work.
Whether you're posting to Instagram, Twitter, or TikTok, GIF Cropper makes it easy to get your GIFs to the right dimensions. With the right cropper, there won't be any more stretched or squashed GIFs that look terrible, and you will have the ideal size and finish for maximum attention and sharing.
Also, the best GIF Cropper keeps the original quality of your GIFs, so you won't have to worry about any blurriness or loss of clarity during the compression process. But what is the best GIF cropper that doesn't require much technical skills?
online GIF cropper, which is also a multifunctional video editor designed to tailor your video content for your digital career.
Part 1: Tips for choosing GIF cropper
Choosing the right tool to do the job can be daunting unless you know some tips to choose the best one. Here are some crucial factors to ponder if you really want to elevate your social media with GIFs.
Intuitive Interface

First, ensure the GIF cropper you chose has an intuitive, easy-to-navigate interface. It is pretty essential to smooth the editing process without any special video editing skills. Also, you don't want to waste hours figuring out how to crop your GIFs precisely.

Speed and Quality

Next, when choosing the right

GIF cropper online

, consider the cropper's speed as well as its overall quality. You want to crop your GIFs fast and with as little degradation as possible to their original sharpness and clarity.

Rich Features

Another thing to consider is the GIF cropper's built-in functions that allow you to edit your GIF under one roof. Check if it allows you to add text, change the color or contrast, or even add stickers or effects to your images. Just a few clicks are all it takes to transform your ordinary GIFs into works of art using these features.
Part 2: Top 3 GIF Cropper
To save you time finding the top GIF cropper for your everyday GIF editing, we introduce you to the top 3 tools designed to help you achieve desired results and make your GIFs stand out in the digital entertainment world.
CapCut - Online Video Editor & GIF Cropper
First and foremost, the very famous CapCut online video editor is an exceptional tool with a premium set of built-in features designed to excel in your career in the digital world. So, if you want the best GIF cropper, look no further than the CapCut.
CapCut is a cut above the rest, featuring an intuitive interface that makes it seamless to cut, crop, and edit GIFs and turn them how you imagined. It lets you trim the GIFs to the size you want without compromising the quality with just a few clicks.Moreover, it features a wide range of editing features that let you play with the colors, adjust contrast or brightness, or add filters or effects to make GIFs more engaging for social media.
Let's also not forget its wide compatibility with social media platforms. Whether you want to share the GIF on Facebook, Twitter, or Instagram, CapCut allows you to download the file according to their respective aspect ratio and frame rate.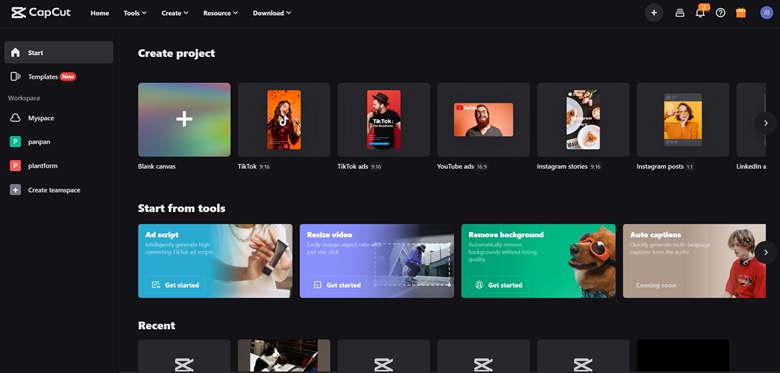 Features
High-quality outputs

GIF advanced editing

Crop and save video portions

Social media compatibility

Text overlays
Pros
Wide range of filters

Effects and animations

Smooth interface

Precise cropping

Free for all platforms
Cons
EZGIF
Another GIF cropper that can help you with editing or polishing your GIFS can be EZGIF. It may not attract you with some exciting features like CapCut, but it can do the job of cropping GIFs with ease.
On the plus side, you don't need to be a tech whiz to create and edit on the platform; it is easy to function with its basic interface.Additionally, it has a built-in GIF optimizer that lets you make your GIFs size smaller without much quality degradation. We liked the CapCut in this case for editing and reducing while keeping the quality intact.Here are some of the features of EZGIF.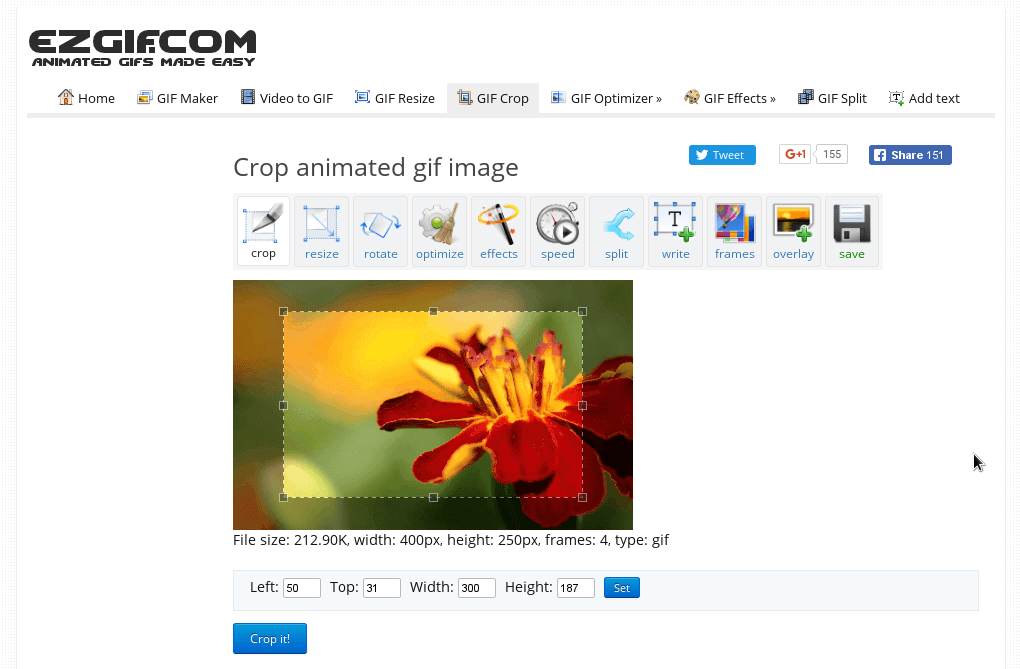 Features
Versatile tool

Cropping and editing

GIF optimizer

No watermarks
Pros
User-oriented

No quality compromises

Free to use

Wide accessibility
Cons
Giphy - Online GIF Cropper
If you want to try something different than the CapCut magic wand for GIF cropping, then you can consider Giphy and add some flair to your GIFs.
The Giphy GIF Cropper's user-friendly design makes it a breeze to crop your GIFs. Cropping your GIFs to a more manageable size and deleting extraneous frames or parts is as simple as uploading them.You can make your GIFs presentable with its editing tools, which let you add text, stickers, and more. But it's more like an idea-generation tool than the cropper. You can get ideas for your own animations or just have fun browsing through the many available GIFs.
Features
Large templates library

GIF maker tool

Real-time GIF editing

Precise GIF trimming
Pros
Trendy GIFs for inspiration

Texts, filters, and stickers

Easy to use

Desktop and App version
Cons
Part 3: How to use GIF Cropper online in CapCut
After knowing the best versatile GIF cropper, it's high time that you should put it into practice. Let's dive into how CapCut online video editor crops and edits GIFs to your liking.
Step

Upload your Video

Upload the video from which you want to generate a GIF. The video could be of any size, and you can drag the video directly from the system. Also, you can upload from Google Drive and Dropbox.

Step

Trim and create a GIF

Drag the video to the bottom bar. Here you can precisely cut the video part you want as a GIF by clicking and moving the bars. The precision will be precise and accurate without compromising the pixel quality.

Step

Refine the GIF

That's not all CapCut can do! You can add text to highlight a message, sticker, or animation to make it cool and add fun elements to give your GIF a perspective.

Step

Export and share

After cropping and refining the export the final file., CapCut lets you download the GIF in the best possible quality by adjusting the frame rate, format, and resolution.
Conclusion
CapCut is a great option for quickly making eye-catching GIFs. You can always make the perfect GIF with its easy-to-use UI, extensive editing tools, and export options. The CapCut GIF maker is essential for social media marketers and anybody trying to engage their audience.
FAQs
Can you make high quality GIF?
You can create animated GIFs from images, videos, and other forms of digital media using CapCut, which makes it quick and simple for you to convert any video to high quality GIF.
What are the benefits of GIF cropper?
Whether talking to your friends or advertising your business online, a GIF cropper may help you express yourself more vividly and interestingly. GIFs are fun to look at, simple to share, and frequently entertaining.
What is the best GIF cropper online?
While you have great tools online, CapCut is the best online GIF cropper among them, with its intuitive interface, advanced editing features, wide compatibility with social platforms, and easy access to different devices.
Do I need to be a professional video expert to use CapCut?
It's unnecessary to have prior expertise to utilize the CapCut GIF cropper online function. The program provides easy-to-use editing options that make it simple to build GIFs from scratch.
Where can I access the CapCut video editor?
CapCut video editor is compatible with iOS, Android, Mac, and Windows devices. You can access its web version that lets you edit your videos online for free or download an app that keeps track of your editing history.