Text Effects | Add Fun Text Effects to Video Free Online

Summary : Learn how to add effects to text and make your videos visually appealing using the intuitive CapCut video editor. This article introduces CapCut's unique feature of adding text effect that proves to be a game-changer for content creators, emphasizes how the text effects can grab the viewer's attention and boost the engagement rate, and concludes with the easy and quick steps of customizing your videos to take them on the next level of entertainment.
Are you tired of using complicated tools to add subtitles or text effects to your videos? Well, you're not alone.Many content creators and video editors find it frustrating and time-consuming to add captions with great precision. But with CapCut, you can make your videos more appealing with aesthetic text effects, captions, or subtitles without any technical skills.
Videos with captions look a lot cooler and grab the viewer's attention by keeping them viscerally engaged. In this article, we'll explore how you can save time and effort with the built-in text effect feature of CapCut and enhance your videos.
Part 1: What are text effects?
The term "text effects" encompasses a wide range of aesthetic text adjustments you can make to your videos, making them look more appealing and engaging. You may add the text to stand out and offer an extra layer of visual appeal by using a wide variety of fonts, styles, colors, animations, and other visual elements.
Surprisingly, with CapCut, you can add subtitles, captions, motion text, and other text effects to customize your videos and give them a unique feel. Also, text effects hold significant importance as they convey an important message, engage viewers with subtitles, and improve the overall aesthetic of the video content.
Part 2: Where to use text effects?
Text effects have become vital in modern video content creation to deliver information and boost engagement rates while making the videos visually appealing for the viewers.
Capture the viewer's attention
As a content creator, an essential factor to keep growing is to have the undivided attention of your audience. And this is only made possible by having an eye-candy video by adding text effects to the video. With CapCut, you can add an extra layer of aesthetics with unique motion texts or animated captions to make your videos stand out.
Highlight important information
When creating high-quality informational/educational videos, ensuring your audience retains the crucial information can be challenging. That's when the CapCut text effect feature comes in. You can highlight and emphasize important information by adding callouts, subtitles, and engaging text effects to help your audience understand your videos' key takeaways.
Essential medium for hearing-impaired
For hard-of-hearing individuals, text effects and captions are their only source of comprehending and assimilating the information. By adding text effects for your hearing-impaired audience, you can ensure your videos reach a wide audience. So, text effects aren't just additional information; they're quintessential. With CapCut, adding text effects or caption to your videos is intuitive and quick.
Part 3: Why use text effects in CapCut?
CapCut boasts a myriad of distinctive features that facilitate content creators to create masterpieces. Its marvelous text effects will add spice to your video and help you achieve desired results.
Font style, color, size, and position
When creating personal or professional videos, having unique features for customization can make a world of difference. Video editing software should have a customizable font size, font style, color, and positioning feature. This ensures that your videos don't have the same monotonous and generic text effects repeatedly, making them unique and distinctive, deterring repetition in the content you create. With CapCut, you'll have endless possibilities to make your videos aesthetically appealing.
If you want to take your professional videos to the next level of entertainment and engagement, all you need is CapCut's animated text effect feature. You can boost engagement with exciting, animated text as it gives life to the words and capture the viewer's attention that static text can never. Also, animated texts avoid genericity altogether because animation is visually engaging and appealing, ensuring maximum interest in your content.
Text-to-speech and speech-to-text options
Text-to-speech and speech-to-text are arguably the greatest features that will come in handy to streamline your workflow and create content efficiently. It saves you the hassle of manually transcribing videos so you can focus on crafting more content.
Speech-to-text is the premise of text effects, which adds captions by listening to the audio. Text-to-speech, on the other hand, allows you to convert written text into speech for voiceovers and narration.
A myriad of text templates
Bored of the old, sophisticated templates? Try the unique text templates of CapCut designed to make your videos stand out. With CapCut, you will get virtually an endless library of text templates featuring some of the most famous text samples. From "stranger things" font to eye-catching designs to give a personalized touch to videos, use these templates to make your content unique and catchy.
In the text effects, there is a feature of auto-captions, where you're a click away from recognizing the voice in the video, creating captions, and identifying the lyrics of the video.So, save time, streamline your workflow using CapCut's text effect feature, and make more engaging content for social media and your personal portfolio.
The benefit of using the text effect feature in your videos goes beyond delivering critical information to the audience; it also enhances the visual appeal and makes them exciting for the viewers.
From customizable fonts to animated texts, you can play with your videos with the CapCut online video editing tool and ensure a top-notch viewing experience for your audience.
Part 4: How to add effects to video in CapCut?


It's always easy-to-use to add effects to video with CapCut online video editor. Follow the below guideline to create your desired work.
Step 1: Upload video
Visit CapCut's official website and upload the video to a blank canvas through your device storage, Google Drive, or Dropbox.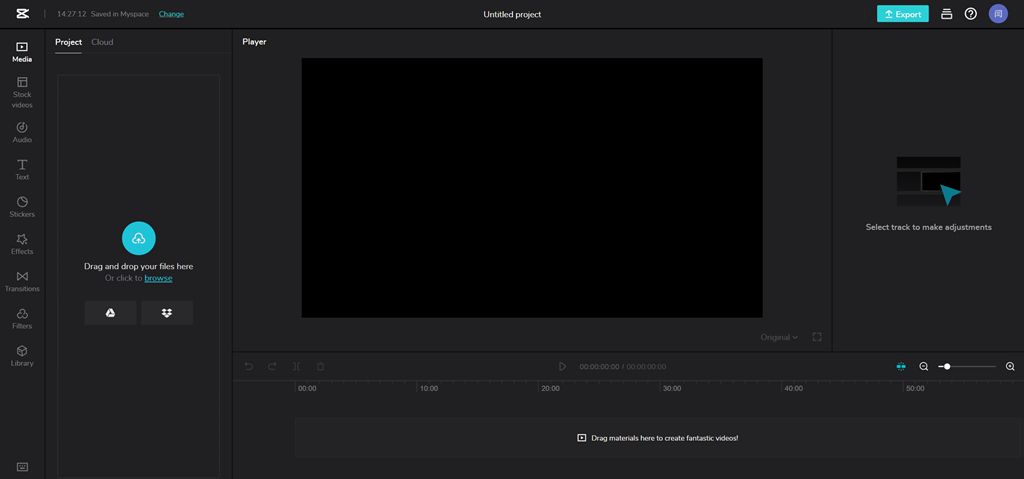 Step 2: Add text effects to the video
Drag the video to the editing menu and then click on "Text" on the left side of the screen. Then click on "New text" or "Text Templates" to add effects to texts. You can then write your text to the template you have selected.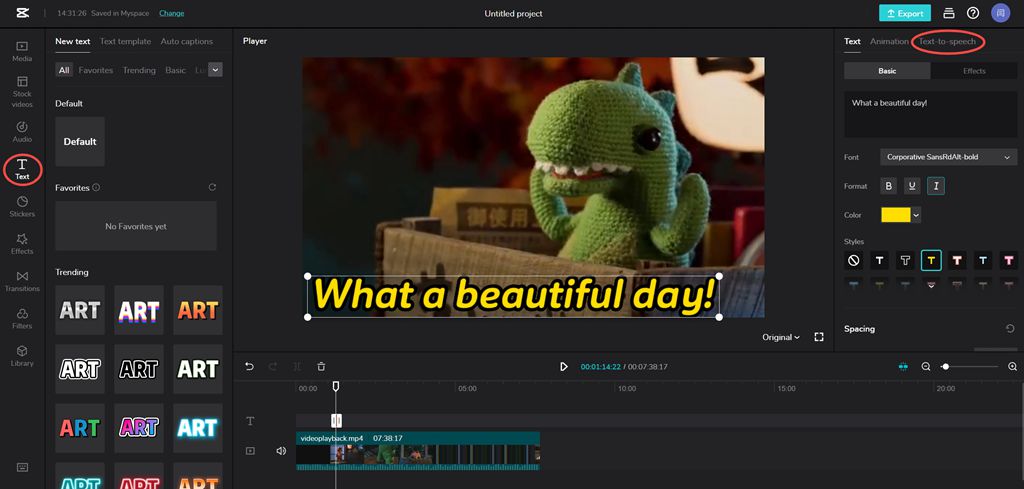 Step 3: Export & share
When you have edited the video, you can save it to your device/cloud or directly upload it to your social media.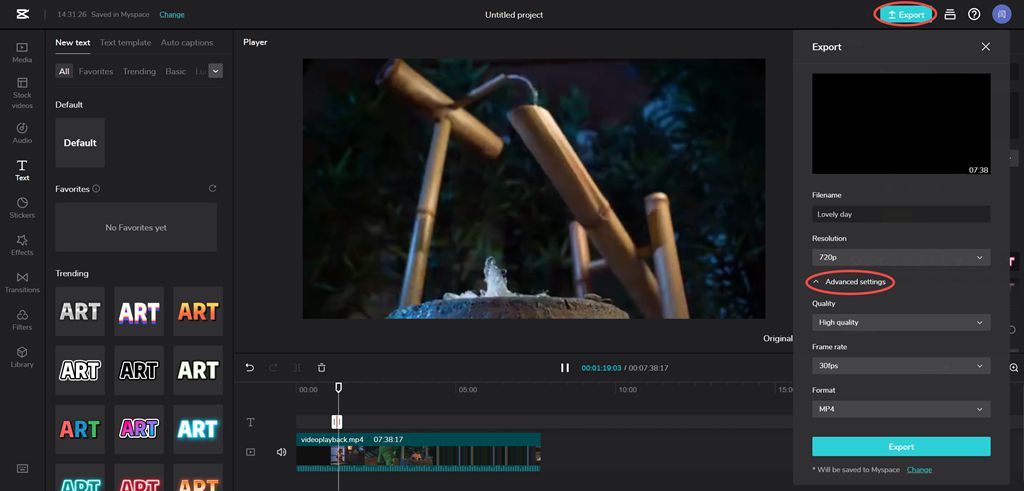 Conclusion


Finally, CapCut's built-in text effects tool is a game-changer for content creators, as text effects are a vital aspect of any video editing program. It makes it easy for anyone, regardless of their level of technical expertise, to add captions, subtitles, and text effects and make the videos visually appealing.


With CapCut, you will be able to get the attention of the audience, draw attention to the most important information, and make your videos accessible to people who have hearing impairments. So, why settle for any other tool when you can try CapCut video editor for free?
Frequently Asked Questions


To get a better understanding of how to utilize text effects for better audience engagement, read through the following information.
What are the text effects?
Text effects are modifications/visual enhancements that can be applied to the text to make the text more visually appealing and engaging. These effects include shadow, glow, strikethrough, gradient, outline, etc. Turn to CapCut online video editor to add personalized texts effectively.
How do I add text effects to a video?
Visit CapCut's website and upload the video. On the left side of the interface, click "Text" and select the text effects that you want to add. This will display a template box over the screen. Write the text you want to add on the right side of the screen. Then stretch the text box for the length of the video you want it to be displayed.
What are the best free text effects for video editing?
There are various websites and applications that allow you to add text effects to your video. However, the best one can only be decided based on web security, customization of the text effects, pricing, and the number of other editing options. Based on this, CapCut is undisputedly the best.
How can I use video text effects online?
You need to visit an online video editing website that has the feature of adding text effects to your video, e.g., CapCut. Then select "text" or anything that hints at adding text to your video. After that, scroll through the vast options of text effects and select as many as you want to add to your video.
How do I add animated text to a video for free?
You can use CapCut to add animated text to your video. You need to upload your video and click "Text," where you will find several animated text templates. Click on the one that you find the most appealing/ relevant to your video, and then add your text in the box on the right side of the screen.