Stock Footage | Make Stunning Videos and Boost Your Productivity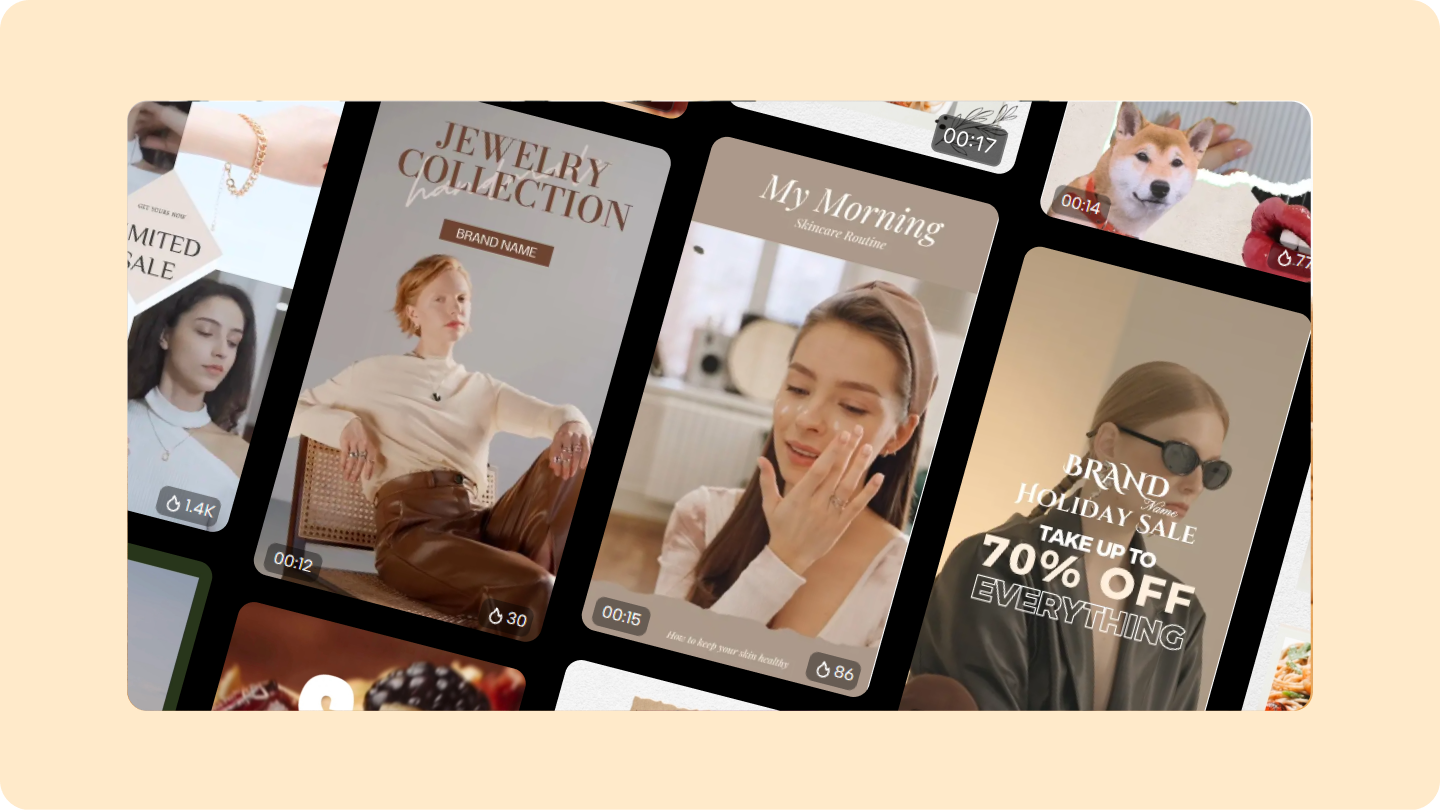 Stock video footage adds profundity to your content. Video stock footage is the best way to go if you want to make your videos more appealing to the audience. Save your time by choosing the best stock footage. CapCut helps you choose free footage for your video for any occasion by giving you access to free stock footage with no watermark.
What is stock footage?
Stock footage is the pre-existing video clips available for people to use in their projects. These videos have no copyright issues as they are created by professional filmmakers and videographers and licensed for use in other projects. Video stock footage exists so people can save much time and work more efficiently on their content. They have access to a wide range of stock footage which helps them choose the scenes they might have to film themselves.
Video stock footage has a variety of subjects and styles, including nature, food, animations, texts, etc. Such footage can be used in various video projects, such as social media videos, YouTube videos, commercials, documentaries, etc. This provides content creators with high-quality footage which they can use to enhance their content.
What to consider before using stock footage?
Besides the time-saving capabilities and amazing quality of video stock footage, there are some things one must consider before using them.
Licensing

Though much stock footage doesn't require any license because professional filmmakers make them, it's still best to read through the licensing terms for the stock footage you plan to use for your video. Some video stock footage might have certain limitations on their use, so be sure to read the licensing terms in advance.

Context

Having a variety of stock footage and knowing how to choose what exactly fits your narrative is a skill. It's imperative to ponder over how the stock video footage will work within your context. So, make sure that instead of being just a filler, the video stock footage supports the message and meets the goals.

Consistency

Your stock video footage needs to be consistent with the overall look or style of your video, meaning it is essential to consider all the video stock footage follows the same theme and tones. Otherwise, the stock footage will not stand out but ruin the video quality, thus breaking the attention span of the viewer.

Quality of the stock footage

Though professional videographers create much video stock footage with high quality, it is still essential to make sure the stock footage you are using for your video matches the quality of your whole video and integrates well in your video project as it can impact the outcome.

Budget

Video footage is cost-effective because you don't have to take the footage yourself. But it is important to consider the cost of licensing the footage. It might not be as much as if you did it yourself, but you must consider those charges.
What to expect from CapCut's preset free stock footage?
While CapCut offers many features that can help you make your video more appealing, it also provides you with premade stock footage for your videos. Here are some key features of its stock footage:
Wide variety of options

CapCut's library offers you a wide variety of best stock footage, including landscapes, cityscapes, people, animals, and many more, which you can use for your videos. CapCut makes it easy for you to find the perfect fit for your video projects.

Easy to use

The stock footage library in CapCut is easy to use. The options are available right there when you open the app, which allows you to quickly search and add footage for your project.

Time saving

CapCut offers you premade stock footage on various subjects, which you can incorporate into your video projects, so you don't have to worry about taking a specific shot and spending so much time on it.

High-quality stock video footage

CapCut's video stock footage library provides you with high-quality and best stock footage that has been shot by professional videographers and filmmakers, ensuring that the footage looks polished and professional.

Free of cost
The best thing about CapCut's library is that it offers you

free stock videos

. You don't have to pay a license fee or any subscription payment, so you can use high-quality and free stock footage for your video for free.
How to create engaging content with free stock footage in CapCut?
CapCut allows you to make stunning videos using free stock video footage. You can use royalty free stock footage or any free stock footage to add to your videos. Here are a few steps you can follow and create your videos using such free footage.
Step 1: Import your videos for content
Select the videos that you want to add to your content and import them. Drag the videos to the timeline and arrange them in the order you want them to play. Leave the spaces where you want to add your stock footage videos.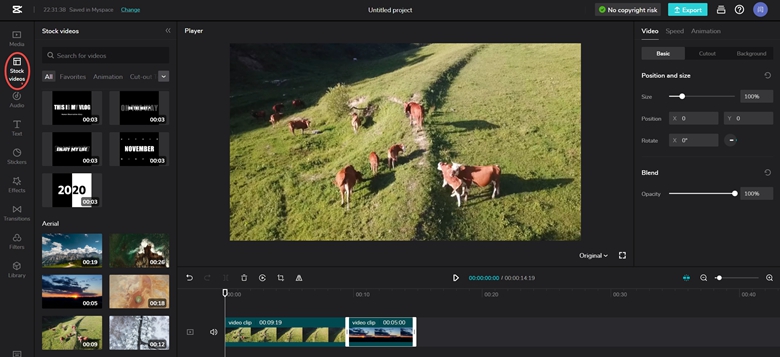 Step 2: Select and add the stock footage
Click on the built-in library and search for the type of stock footage you want if you cannot find the stock video footage of your liking from the given options. Click on the footage you want to add and then drag them to the timeline before arranging and merging them with your videos.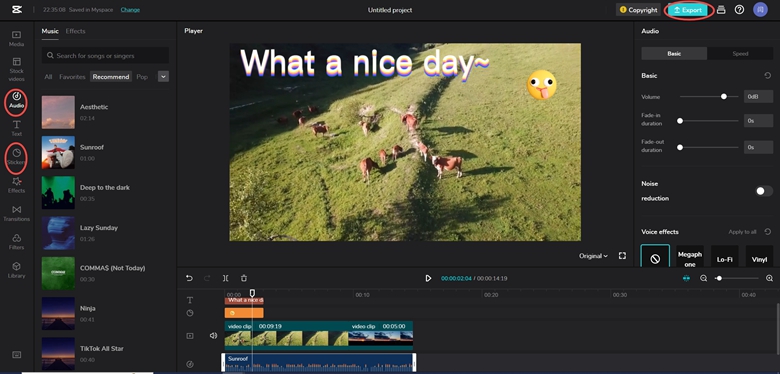 Step 3: Export the stock video footage
After you are done editing the video, it's time to export it. Click on the export option to get the result. Remember to review your work before shipping it so you can make any last-minute changes.
Conclusion
To summarise this, CapCut offers you the best stock video footage that can be incorporated into your videos. Its wide range of video footage on different subjects saves time and inspires you to unleash your creativity. You can find a variety of stock footage on one topic, allowing you to be creative with your content. You don't have to get the footage from anywhere and import them in CapCut, and it gives you a built-in library to access all stock video footage.
The best advantage of having a built-in library is that you can have all the stock footage in front of you to choose from while you are editing your video. You can also access all the stock footage for free, which is a great advantage of using CapCut online video editor.
Frequently asked questions
Here are some frequently asked questions about the free stock footage in CapCut.
Where can I find stock video footage?
You can get stock footage from many sources, such as Getty Images, Shutterstock, and Adobe Stock. Some video editing also provides free stock video footage no watermarks in their built-in library.
What is Adobe stock footage?
Adobe Stock footage is a collection of royalty-free stock footage that has high quality and can be licensed and downloaded. It provides you with different resolutions for the footage, which includes the cost.
Can I edit a stock video footage?
Yes, of course. You can edit stock video footage just like any other video in your content. You can trim it, add effects, use music, etc.
Can I upload my own stock footage in the CapCut video editor?
CapCut's built-in library houses a variety of stock video footage available to use within the program, so you can't upload your own stock video footage in CapCut.
Can I sell my own stock footage?
Well, yes, you can. Many stock video footage marketplaces allow users to sell their own footage. But it would be best if you kept in mind that there might be requirements for the resolution and quality of the stock video footage and as well as the licensing and copyright considerations.