Create Makeup Tutorial Video
Share your contouring tips and tricks with CapCut! Here's how to create makeup tutorials for YouTube with CapCut video editor.
*No credit card required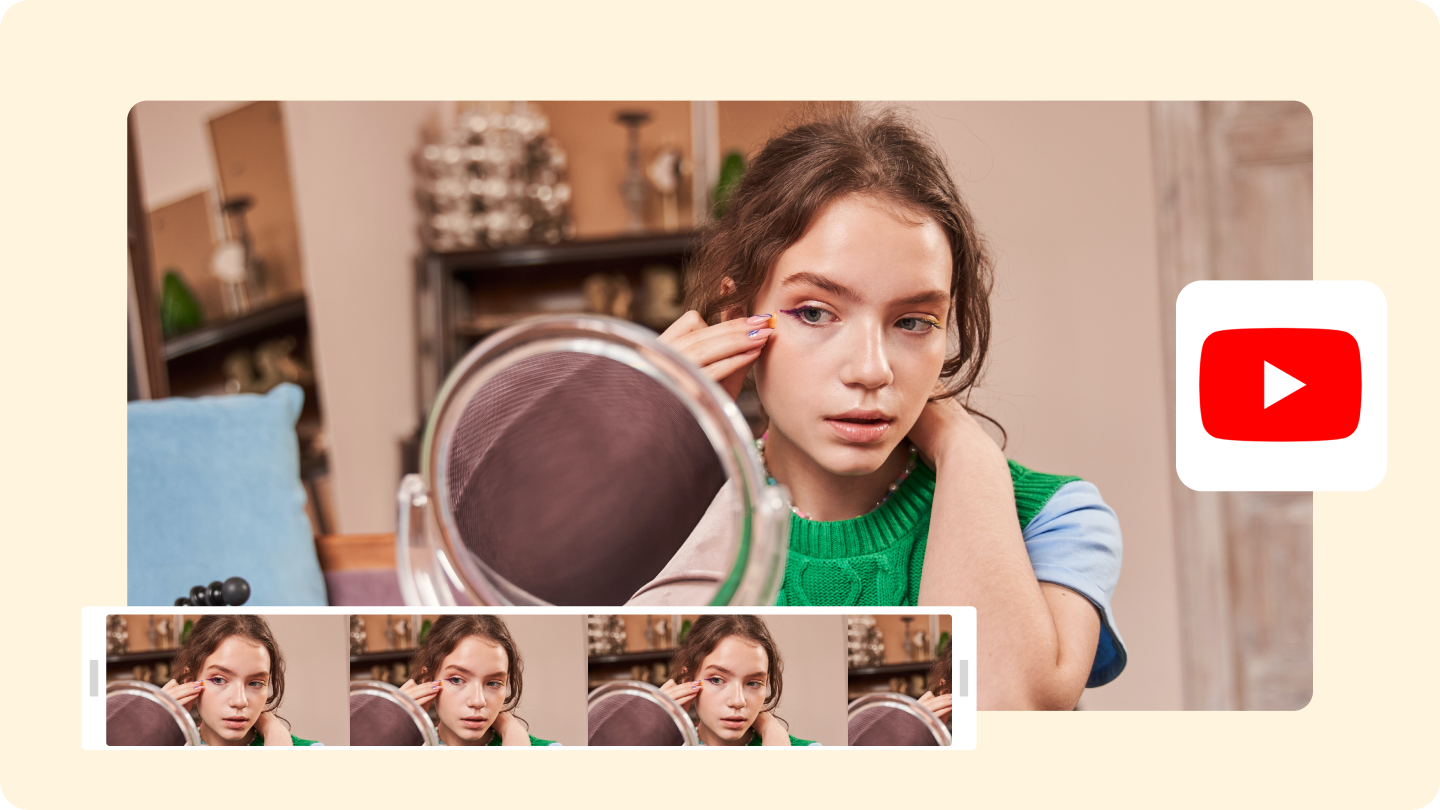 1. You Can Edit High Resolution Videos
CapCut can export any video resolution up to 4k (Ultra HD). To create the best beauty tutorial, choose your device's highest resolution (most phones can record up to 1080p).


For the best results, mount your phone on a ring light tripod. Proper lighting makes a video sparkle and gives your eyes a beautiful sheen. You'll mesmerize viewers as you apply eyeshadow.
2. CapCut Can Edit Plenty of Footage
Can't get it all in one take? No worries! Record plenty of footage, and do multiple takes. Later, you can edit in CapCut online editor. Not even Jennifer Lawrence gets it right on her first try. Think of your video as a movie. It'd be crazy to shoot the Hunger Games in a single take, right?
Later, as you edit your video, remember to cherry-pick your most graceful brushstrokes and eloquently spoken tips.
Try new angles, and experiment with the camera. Record more footage than you'll need. CapCut's options can keep up!
3. Preset Canvases That Optimize Your Video for YouTube
The optimal aspect ratio for YouTube is 16:9 (or 9:16 for YouTube Shorts). But fret not! After importing your video to CapCut, you can resize it using a preset canvas.


Pop, artsy, old school—CapCut has presets for any vibe or theme. Just focus on making an easy makeup tutorial. Let CapCut handle the technical bits.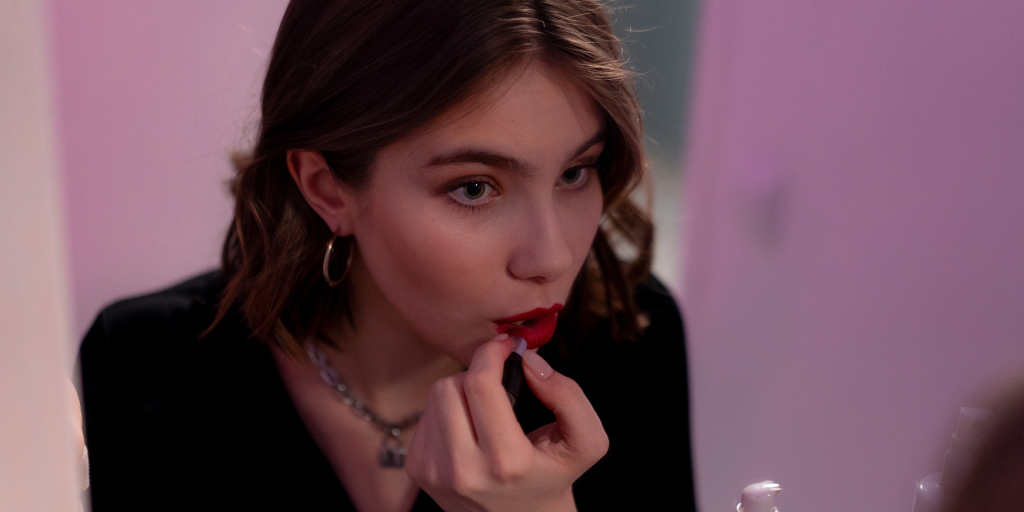 4. Split and Splice Your Best Moments
Every clip has a hidden gem. Re-watch your footage—find the parts where you radiate confidence. Then use the "Edit" function to cut and connect your best clips.


Don't forget—CapCut has other handy tools, like the speed adjuster. Speed up twenty minutes of contouring into footage akin to a time lapse. Fancy, fancy.


Also, get creative with fun transitions (this is especially useful if you're splicing together several angles). The perfect transitions will give your video a shinier polish than your nails!
5. Narration Tools for Your Video
If you struggle to demonstrate and narrate, use CapCut for your audio recordings. Recording your voice-over in CapCut lets you focus on the makeup while filming.


Or—if you feel awkward hearing your own voice (most of us do!)—feel free to use CapCut's text to speech function. Give the AI your script and it will narrate your videos. Yay, science! And don't worry—our AI won't take over the world. It loves being your editing partner.
6. Filters to Craft the Perfect Vibe
Your natural beauty will always shine. However, use CapCut's filters to give your tutorial a rocking vibe.


Making a punk rock eye makeup tutorial? Set the mood with the "Black Forest" or "Warlock" filters. They'll play up the shadows to accent your badassery. Or, for cute date night makeup, try the "Red Tea" or "Taro" filters for some extra color and pop.


The perfect filter gives your video energy and warmth (or dark, rock-out vibes if that's what you prefer). Best of all, CapCut hides NONE of these filters behind a paywall. CapCut is the best free video editor online.
7. Texts and Fonts That Accent Your Video
Never forget that everyone absorbs information differently. Some people learn visually, while others learn by listening. Then a few of us—the kinesthetic learners—need both. Appeal to all three learning types by adding text to your video content.


Use CapCut's fonts to accent what you're saying. Don't think of them as subtitles. Segment your video into steps, then use text like: tip #1: apply foundation before concealer. Short snippets of text will clarify your point.


Finally, pick the perfect font. Match your cute, girly theme with the Handwriting font. Or, if your video is sweet like sugar, try Confectionary.


Not good with text? No worries! Use a CapCut template for text and fonts. You're sure to find a flawless fit for your makeup video's theme.
8. Totally Adorable Stickers!
Make your viewers smile with CapCut's stickers, and use emojis to accent the mood!


If you accidentally smudge your lip gloss, don't edit it out. Throw in a rain cloud sticker to express your displeasure! Viewers love a cutesy or sarcastic style of humor.


Limit your sticker placement to the blank spaces of your video. Leave your face uncovered. Unless, of course, you're doing something adorable—like placing flower stickers on your cheeks (totally within bounds).


Stickers also help grow your channel. Never end a video without an animated "like and subscribe" button. Further, adding a call to action is a proven technique for gaining subscribers.
9. Background Music for Every Theme
The perfect song will elevate your content. So choose a tune from CapCut's vast library of background music. Match the music to the mood and create an atmosphere your viewers will love.


Springy pop makes excellent background music for tutorial videos. But remember—adjust the volume so that you remain the focus. The music should fill the spaces between your words, but not distract from the star of the show—you!


In clips where you're not speaking—like a fun montage—crank up the music! Nothing improves a montage like an epic beat.


As with all CapCut features, the music library is free to use. By using CapCut's music, you can steer clear of YouTube copyright strikes and claims. With CapCut, you can worry less about demonetization.
10. Give Your Average View Duration a Bump
Pairing your video with music from CapCut should increase your average view duration.


It's a known fact that YouTube cares deeply about average view duration. The algorithm considers it when deciding which videos to suggest. In other words, a high average view duration pleases the YouTube gods, and top quality content made with CapCut helps earn their favor!