Awesome Tips to Remove Video Background Online

Summary: Are you in search of an effective online tool to remove video backgrounds even without the use of a green screen? Refer to below step-by-step tutorial.
Knowing how to remove video background online will give you much freedom to restyle your content, and thus engage the viewers. Video background removal is a powerful tool that allows content creators to remove or replace the video background with clip or image of their preference. This valuable feature lets you add visual effects or eliminate distractions within the video to make it clean, tempting, and more natural.
Part 1: What to consider before removing video background
Which kind of video background removal tools should I use? Well, it's necessary to take below factors into account before you make the final decision.
The first thing to address is the video material quality. Removing the background can be tricky if your image or video has poor lighting, blurry details, or even low resolution. To achieve a polished shot, retaking the footage is the safest way. Cutting-edge algorithms can also remove unwanted parts precisely, ensuring an exceptional editing experience.
Complexity of the background
Another key factor to consider is the video background's complexity. If your image or video background is rich with fine details, gradients, or shadows, it can be challenging to precisely remove the video background without leaving noticeable ghosting. Therefore, it is imperative to employ an advanced video editor like CapCut to get the desired result without compromising the video quality.
Before commencing with the free online removal of the entire video background, it is essential to take into account the desired output format. Requirements for the file size, aspect ratio, or video resolution could vary with the output format. You can save time by using CapCut online video editor and ensure the video output will fulfill the crucial parameters.
Part 2: Why remove video background online
There must be given contexts where you need to remove video background online to enhance the visual appeal of your video footage. Let's dive into the following uses scenarios of background removal tool.
Video content has become vital to modern communication, with websites, social media platforms, and mobile apps featuring short clips or video content. Given this, removing or replacing the video background with appealing footage can help highlight the subject and make the content stand out.
While raw footage can be tempting, the cluttered background can cause distraction and divert the audience's focus from the subject. By removing the distractions precisely, you can effectively clean or polish the video to gain more engagement on the content.
Video content is taking a toll on augmenting branding with stunning visuals featuring the brand image. If you remove the video background online and replace it with a brand image or color, it helps in creating a consistent brand identity.
Part 3: Benefits of removing video background in CapCut
CapCut is a user-friendly online video editor that empowers users to modify, polish, and improve their images or videos with a variety of visual effects and diversified It offers a range of alluring features containing trimming, merging, background removal, adding music or text, or stickers to videos, and other advanced features, like removing background clatter, blurring video background, splitting videos, etc.
With a user-friendly interface, beginners or skilled users can edit videos to polish them for multiple social media platforms. Luckily, it is available for Android, iOS, MacOS, Android, and Windows devices.
Also, the popular built-in feature allows one to remove background online for free. It can be proven a powerful tool in the hands of capable video editors to add a layer of professionalism to video content. To make a long story short, below are the distinctive features of CapCut online video editor.
Multiple background options
CapCut provides a diverse selection of options to alter the video background. From color replacement to entirely swapping the background with images or videos, it gives you enough room to alter the content and see it in different variations. This way, content creators can choose the background that best compliments their video subject and potentially resulting in increased
CapCut not only lets you replace the video content but also allows you to make advanced modifications. Powered by advanced algorithm, it does all the heavy lifting for you by automatically detecting imperfections and refines the video content with a single click.
High-quality output with real-time preview
The built-in background removal tool ensures the original quality of the video content and produces high-quality output. Plus, with real-time previews, you can make necessary adjustments to ensure your final video is nothing short of perfection.
Part 4: How to remove video background online using CapCut?
After knowing the feature highlights of CapCut's background removal tool, it's high time that you try out this smart application. Check below step-by-step guide to create your own masterpiece.
Step 1: Upload video
Upload video content from your computer, Google Drive, Dropbox, or Myspace. You can also drag the video file into the software to save time.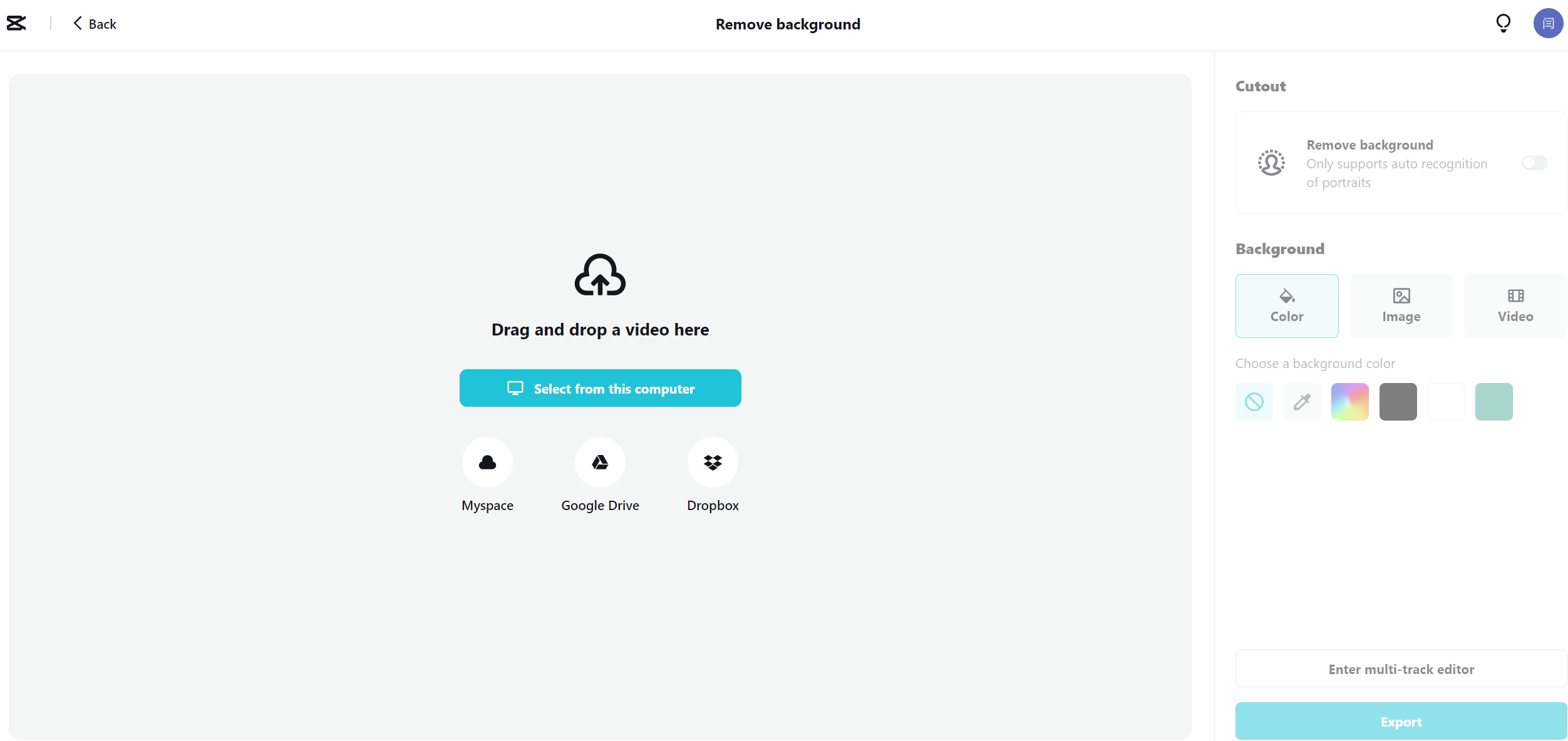 Step 2: Remove video background
Ensure the "Remove background" button is enabled. You will find three different options under the tab: color, image, and video. You can change the video background color with one click and replace the background with another image or video.
For advanced editing, click on the multi-track editor that should let you adjust file size, audio, and speed and help you add animations to the video. You can add stickers or text boxes to make the video content stand out.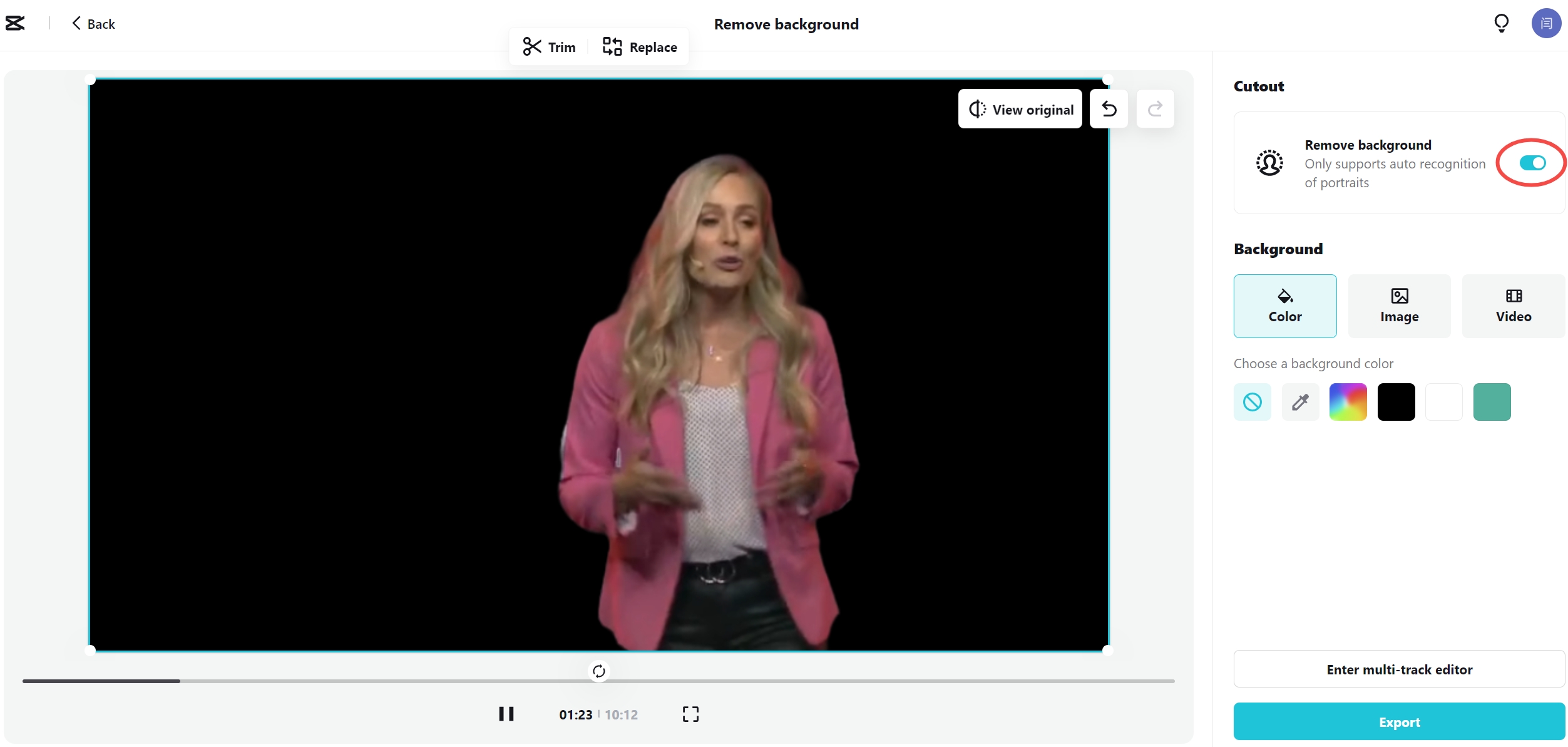 Step 3: Export and share
Once you are done editing, hit the export button and set the respective parameters like file name, resolution, quality, format, and frame rate according to your requirements.Tap on the Export button and download the final output in your system.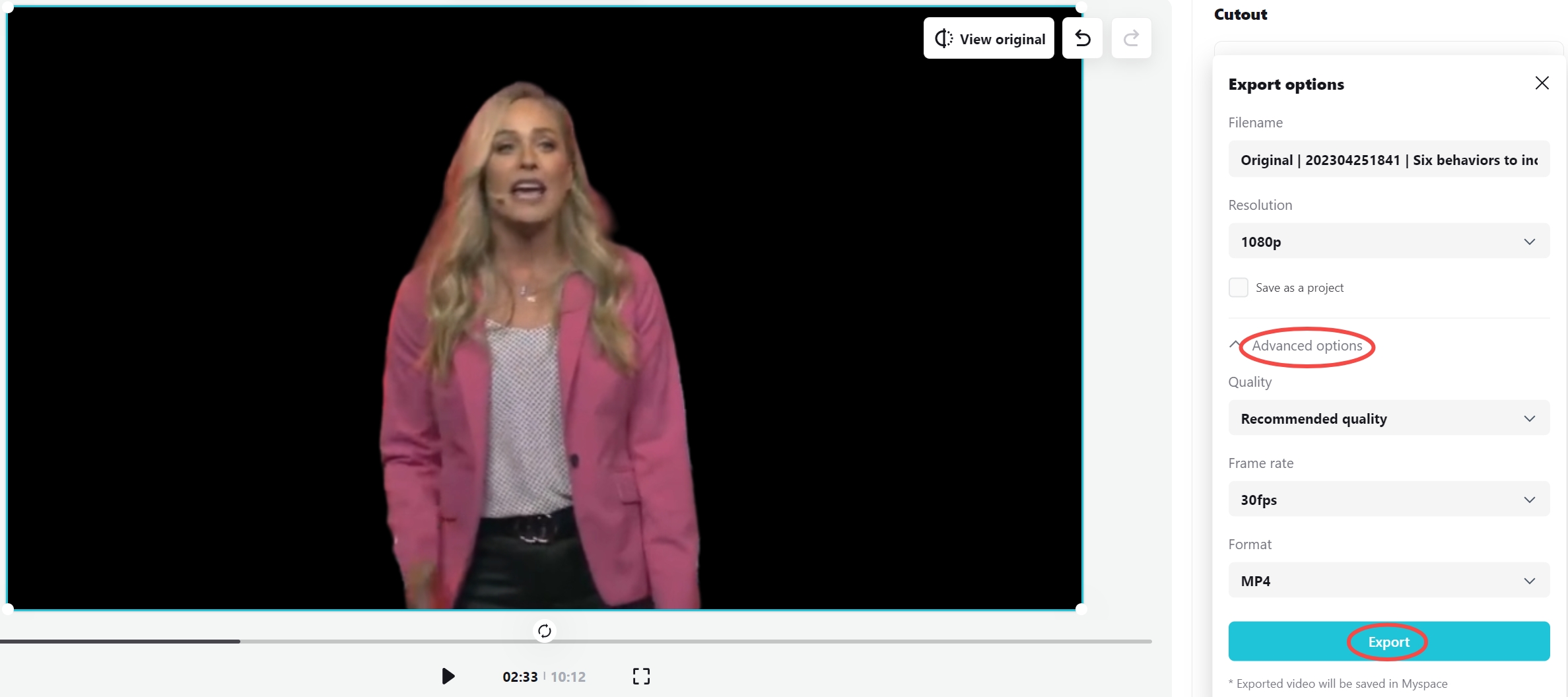 Conclusion
CapCut is one of the best online tool available for editing short videos tailored to business and personal uses. The article thoroughly discussed why video background removal is important, what elements to consider before polishing the videos, and how CapCut is a valuable resource in accomplishing the desired results.
As a top-tier video editing tool with extensive features, spectacular effects, and an intuitive interface, it has become a go-to choice for video editors and content creators to proceed with content creation. Try CapCut today and experience the ease of removing video backgrounds effectively.
Frequently Asked Questions
How can I remove the video background online for free?
Search the internet for free video editing applications that have the green screen or video background removal feature. Then read reviews about the software and choose the best one after careful scrutiny. Follow the demo to remove the video background, or you can search for a demonstration on the internet.
How to remove a video background online without a green screen?
You can remove the background of the video without a green screen using CapCut. Import your video, and draw a mask around the subject of the video from the "effects" button. Then click on "media" to add a new background to the timeline and position it below the masked layer. Ensure that the masked layer is in sync with the rest of the video. Then export/ save it to your device.
Can I remove the full video background online for free?
Yes. There is miscellaneous video editing software that allow you to edit and remove the background from the entire length of the video and not just an individual frame. CapCut is one such software that will enable you to remove full video backgrounds online for free.
What is the best app to remove a video background without a green screen?
The two factors that come into play to answer this question are the output video quality and the pricing of the software. Based on this, CapCut is the best app to remove video backgrounds without using a green screen. Other alternatives include Unscreen. However, Unscreen has some locked paid features.
Can CapCut remove the video background online?
Yes. CapCut is a premium and high-end video editing software that offers complex video editing, which includes removing the background of videos. The best thing about CapCut is that it is free and can even remove video backgrounds without a green screen.