Best Online Audio Trimmers That Deliver Immersive Experience

Anyone who wishes to create audio content or alter existing audio files must have access to the best audio trimmer online.
It's now simpler than ever to trim audio files without installing any software on your device, thanks to the growth of free audio trimmers. We'll examine the top five online audio trimmers accessible right now in this article. Are you looking for the best free online audio trimmers? You're in the right place.
CapCut – setting quality benchmarks for others
CapCut offers functionality for audio editing in addition to video editing. By choosing the part of the audio you wish to keep and then removing the rest, you can effortlessly trim your audio clips with CapCut. This lets you cut your audio clip down or delete extraneous audio. CapCut's free audio trimmer is simple to use. Simply move the timeline pointer to where you wish to begin cutting your audio after uploading your audio clip. The part of the audio that you want to maintain can be chosen using the trim handles.You can remove the remaining audio from the clip after selecting the
section of the audio you want to preserve. The length of your audio clip can also be changed by dragging the trim handles to the required length. Additional audio editing tools offered by CapCut include adding effects, changing the level, and adding fade-in and fade-out effects. You can also combine other audio tracks to make a special audio track. Additionally, CapCut enables you to record your voiceovers right inside the program.
CapCut is an audio trimmer with the capability to edit and combine numerous audio clips into a single audio file is another fantastic feature. Your clips can be organized in the desired order before being combined into a single audio file.
You can add background music or a voiceover to make your audio clip more polished. CapCut also offers a number of extra capabilities, such as the option to modify the speed, reverb, and equalizer of your audio. You can also click "Noise reduction" to remove background noise. A variety of audio effects can also be used to provide a distinctive sound.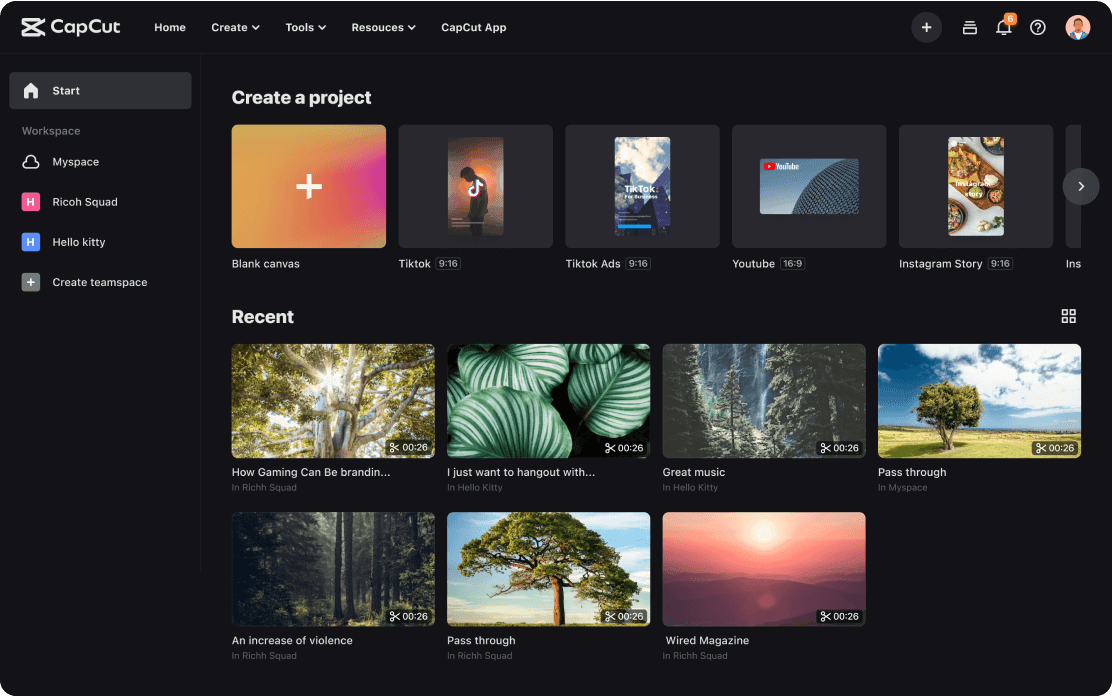 Audacity
With Audacity, you can cut, join, and edit audio files, a well-liked open-source audio trimmer free. This audio trimmer supports a wide variety of audio formats and is accessible for Windows, Mac, and Linux users. It is also available online. You may easily trim your audio files by choosing the part of the audio you wish to preserve and deleting the rest.
Additional tools offered by Audacity include audio effects and noise reduction. It is simple to use and provides a wide range of options for both amateur and expert users. Podcasters, musicians, and anybody else wishing to record and edit high-quality audio often choose Audacity. It is a strong and adaptable tool that will make it simple for you to accomplish your audio editing objectives.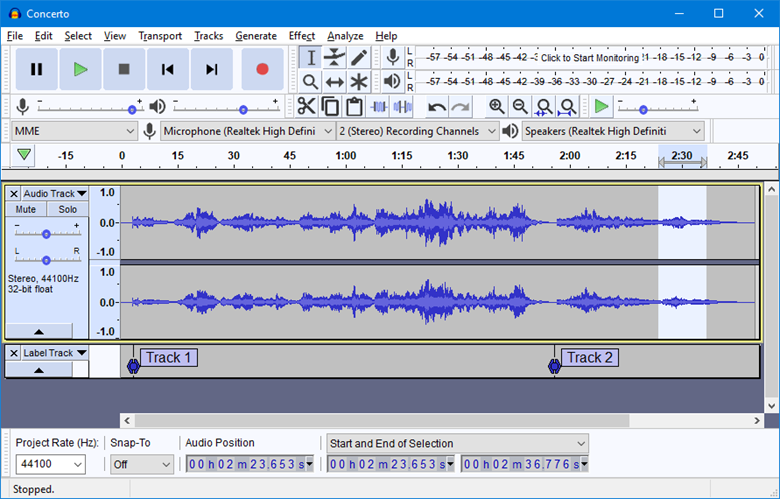 AudioTrimmer
You may quickly and easily trim audio recordings by using the free online audio trimmer known as AudioTrimmer. You can choose your audio file's start and stop points before uploading it and save the trimmed audio as a new file. It effectively reduces undesired audio recording elements, including pauses, silences, and unwanted noise.
To produce a more organized and polished final product, you can eliminate portions of an audio file using an audio trimmer. Numerous audio trimmers also let you change the volume, fade in and out, and apply effects to your audio files. Musicians, podcasters, video editors, and anyone else who works with audio files and wants to produce a polished result needs an audio trimmer.
Clideo
Clideo is a free audio trimmer online for editing audio and video files. It has many features that users can use to improve their audio and video files. You may add audio, graphics, and text to your films as well as edit, crop, resize, and compress them.
Clideo comes with an audio trimmer free that lets you cut audio files, change volume levels, add sound effects and filters, and convert audio files between different formats. Using this user-friendly platform, you can upload music or video files from your smartphone, Google Drive, Dropbox, or a URL. Anyone wishing to produce high-quality audio and video content will find Clideo to be a useful tool.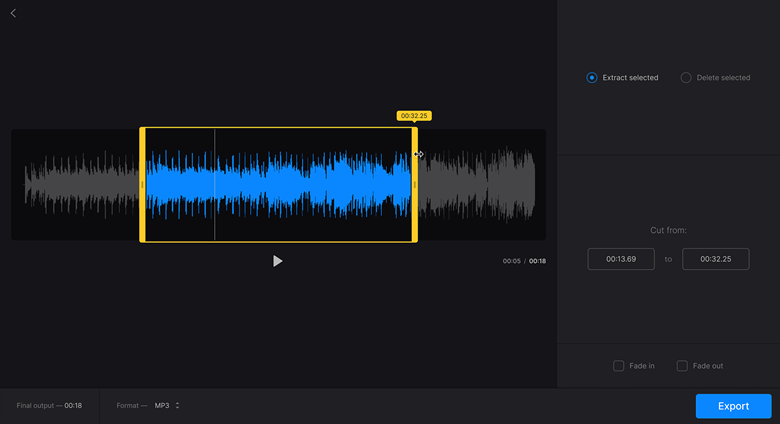 Kapwing
Users may easily produce, edit, and share digital content on the platform of Kapwing, an online video, audio, and photo editing. Trimming, cropping, resizing, adding subtitles, captions, and text overlays are just a few of its capabilities for editing video and audio.
You can trim audio files, change volume settings, and add sound effects and background music to your films by using Kapwing's audio trimming tool. You can upload your audio or video files using the platform's drag-and-drop interface, which is made to be user-friendly. You can also upload files from your computer, Google Drive, or Dropbox. A strong and flexible tool for producing top-notch audio and video output is called Kapwing.
How to use CapCut

audio trimmer

?
CapCut is one of the best audio trimmers. The steps below will show you how to use the CapCut audio trimmer.
Step 1: Open CapCut and import your audio
Go to the CapCut website or download the CapCut app to start using CapCut on your computer or mobile device. When CapCut is launched, you can add audio clips by clicking the "Add Media" button and choosing them from your device or free cloud storage. After uploading your audio clip, you can drag and drop it on the timeline to add it to the timeline. At the bottom of the screen is the timeline.
Step 2: Trim the audio
Trim an audio clip by dragging the play head to the beginning of the segment you wish to keep, then selecting the "Split" icon in the top right corner of your screen. Your audio clip will be divided into two parts as a result. After splitting audio online, move the play head to the end of the segment you want to keep, then click the "Split" symbol once more.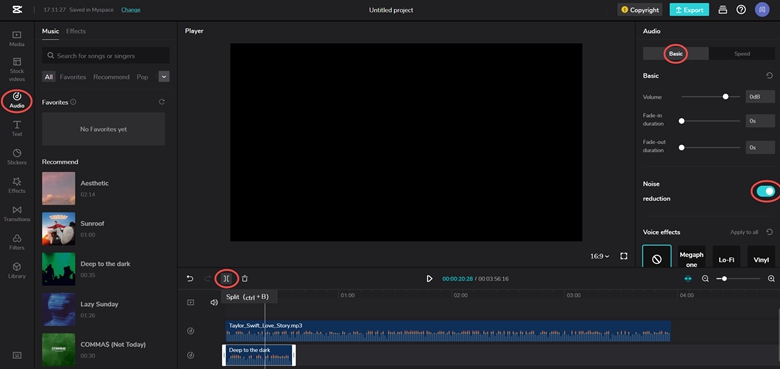 Your audio clip will be divided into three parts as a result. Select the undesirable section of the audio clip and click the "Delete" button to remove it from the file. Changing the length of your audio clip is as simple as dragging the boundaries of the remaining portion of the clip. CapCut also offers a variety of extra audio editing tools, such as the capacity to include effects, modify the volume, and add fade-in/out effects. You can access these capabilities by selecting the "Audio" option in the top left corner of the screen.
Step 3: Export the audio
Audio that has been edited can be exported by selecting the "Export" button in the top-right corner of the screen after you are finished.
You're done now! Using the CapCut audio trimmer, you may quickly and easily trim and edit your audio clips by following these easy steps.
Conclusion
In conclusion, there are a ton of excellent online audio trimmers that can make the process of editing audio files quick and simple. These programs offer a variety of functions that let you trim, crop, merge, and alter your audio files to produce a professional-quality sound, whether you're a novice or a veteran.
CapCut is one of the most potent and adaptable audio trimmers accessible among the top five online audio trimmers we have covered. It offers a wide range of functions, from straightforward trimming to sophisticated effects and filters, enabling you to manipulate your audio files. However, Kapwing, AudioTrimmer, and Audacity are fantastic options among online audio trimmers if you are seeking a more user-friendly alternative with compelling editing features. Each of these audio trimmers has several capabilities that make it simple to edit and cut your audio recordings while also being simple.
Your ideal audio trimmer will ultimately rely on your requirements and preferences. To determine which choice is ideal for you, we advise checking out a few different ones. You may produce audio content of a professional caliber that sounds amazing and effectively conveys your message with the aid of these online audio trimmers.