Valuable Tips for Cropping Video Online
*No credit card need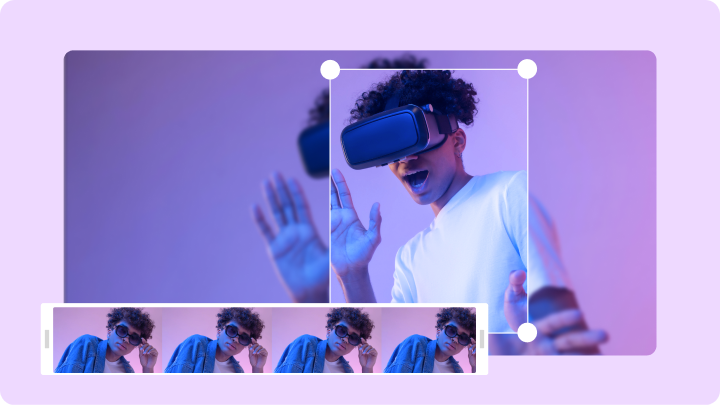 Summary: Know how to crop videos online for free without a watermark? Well, you have come to the right page. This article details about key features of video croppers, factors to consider before cropping videos, and how to crop videos online.


The online video editor has made video editing online quick, accessible, and creative with an intuitive and feature-rich interface. You can crop videos online without a watermark with a single click and get the perfect frame for any social media platform. Tap into the following valuable tips for cropping videos online without any watermark.
Part 1: Key considerations before cropping video online
There are plenty of factors that must be borne in mind before cropping videos online.
With the prevalence of online threats, safeguarding your data has become more crucial than ever before. To ensure that your passwords, banking details, and other confidential information aren't breached, it is imperative that the online video editing tool is free from malware and suspicious software.
In the world of video editing, maintaining top-notch quality is paramount, especially when it comes to cropping videos. As a content creator, settling for mediocre editing software that compromises on quality is simply not an option, as the videos they produce are their lifeblood. An online video cropper must maintain a high caliber of video quality in the finished result. Video editing software that produces mediocre, subpar, or inferior quality videos is completely futile as content creators heavily rely on these applications to edit their videos, and cropping at the cost of video quality is no fair deal for them, particularly since these videos are their bread and butter.
A good online video cropper must not only be supported across all the operating software and devices, but it should also be compatible with all video formats that include MP4, AVI, MOV, WMV, FLV, MKV, MPEG, 3GP, WebM, and more. If an online video editor only works with certain devices, it becomes a huge accessibility roadblock. And if it doesn't support all file formats, it just adds more hassle to the already tedious process of having to convert video files before editing. Don't let these compatibility issues hold you back from creating stunning videos!
Part 2: Cases where you need to crop video online
Here are some cases where you should crop videos online to attract your target audience.
Get rid of unwanted elements
The raw video can be beautiful, but it contains superfluous elements that may not resonate with your message. Hence, it is necessary to remove them and make the video pleasing to make viewers focus on the subject.
Optimized for social media platforms
Brands, content creators, and individuals making portfolios face the hassle of creating videos that don't distort on social platforms. The tool helps crop videos with the correct aspect ratio to optimize social sharing.
In some cases, brands want to highlight a specific part of the video to grab viewers' attention. CapCut's video editing tool online lets you make the video parts prominent and convey the message to the fullest.
Part 3: Why trust in CapCut online video editor
As the rising star of online video editors, CapCut has gained wide popularity among beginners and professionals who are seeking a lightweight but inclusive video editing tool to proceed with content creation. Below are the distinctive features of CapCut online video editor when it comes to cropping video online.
Crop video frame by frame
CapCut empowers video editors with its precision cropping tool that cuts their video frames with unparalleled accuracy and ease. The intuitive interface enables you to adjust the video size, duration, and speed to achieve the desired result, enjoy the privilege of cropping video online with no watermark, and adjust the frame position to highlight a specific element in the video. The algorithm adopted by ensures no quality compromise on the final product, enabling creativity to be showcased on social media platforms. Achieve professional-looking and polished videos without any complex editing.
When you crop the video frame-by-frame, you open diverse options for video editing since you can add subtle changes, filters, effects, and stickers to a fraction of the entire length of the video, precisely to the point in time you want to. You can add Easter eggs and subtle references in the video to keep your content fun and engaging for your viewers.
Crop and edit aspect ratio for social media
CapCut is a powerful video editing tool designed to keep content creators and their video editing requirements in mind. The tool allows you to crop and edit videos for various social media platforms by adjusting the aspect ratio according to a diverse range of platform needs. Upon selecting the aspect ratio, it automatically adjusts the frame, enabling it to crop videos effortlessly without damaging the quality. It also lets you adjust the aspect ratio after recording, allowing you to repurpose existing content. It makes the content look eye-catching on all platforms while saving time and effort.
Changing the aspect ratio is, at times, imperative for content creators, especially if they have accounts across all social media formats, such as Twitter, Facebook, Instagram, Snapchat, YouTube, etc. All these social media have their own assigned aspect ratios, which means that a video in one aspect ratio may be well suited for a single platform while completely distorted for the rest. These applications have their own innate video editors that can automatically change the aspect ratio but at times the automated result is not of quality.
Quick and customized editing
CapCut has made all video editing tools accessible in a single window, making editing a breeze, especially for beginners. The tool streamlines the editing process with an intuitive interface and delivers high-quality professional videos in just a few clicks. The range of editing tools showcased at the front, including editing, cropping, and merging, along with appealing templates, saves time and allows for making quick adjustments without needing to navigate complex menus. The smooth interface boosts creativity by making everything manageable to play with videos, like the effects and transitions, allowing you to achieve surprising results with minimal effort.
When you are new to CapCut, the software walks you through the steps of video editing, all the way from uploading the video to custom video editing. Even without the tutorial, the interface of CapCut is a walk in the park, making it an easy-to-navigate software for beginners, novices, and professionals alike.
Video quality can be improved by cropping with CapCut's precise tools to remove distracting items like people or objects in the background. The polished video may look more professional and engaging as a result. You can upscale video resolution, increase frame rate, and bit rate, and add filters and effects that enhance and optimize the video quality. All these effects contribute to superior video quality.
Tailored editing to all needs
By adjusting the video's aspect ratio in CapCut, you can make your videos appear terrific on any social platform. CapCut is a platform that edits videos in the most customized manner possible. That is, your hands are never cuffed nor is your endeavor ever limited to video editing. You can edit the videos in whichever manner and fashion you want with no restrictions or limitations. Whether you want to edit videos for your social media or you are creating an advertisement, whatever the context, CapCut has got your back. You may boost interaction, expand your audience, and establish your brand with platform-specific content.
Creative and efficient tools
CapCut allows for editing and cropping video online quickly and seamlessly wherever you like. The tool lets you trim your videos quickly and go on to editing effects and transitions. CapCut really values your time by providing multiple amazing features. For starters, it has cloud storage that saves your video editing progress, therefore you can pick off right from where you left off. Secondly, CapCut is supported across all the operating software and devices, so if you started video editing on one device, you could continue it on the other. And most importantly, it has a batch-processing feature, where you can edit and apply changes to multiple videos simultaneously.
Part 4: How to crop video online in CapCut?
It's always easy-to-navigate to walk through all the editing options in CapCut. Be it beginners or professionals, cropping videos online with CapCut online video editor will be a piece of cake. The following guideline will just add spice to your editing journey.
Step 1: Upload a video
CapCut is compatible with Web browsers, Android, iPhone, MacOS, and Windows. Open the software in your browser and upload or drag the video from your system, Dropbox, Google Drive, or Myspace.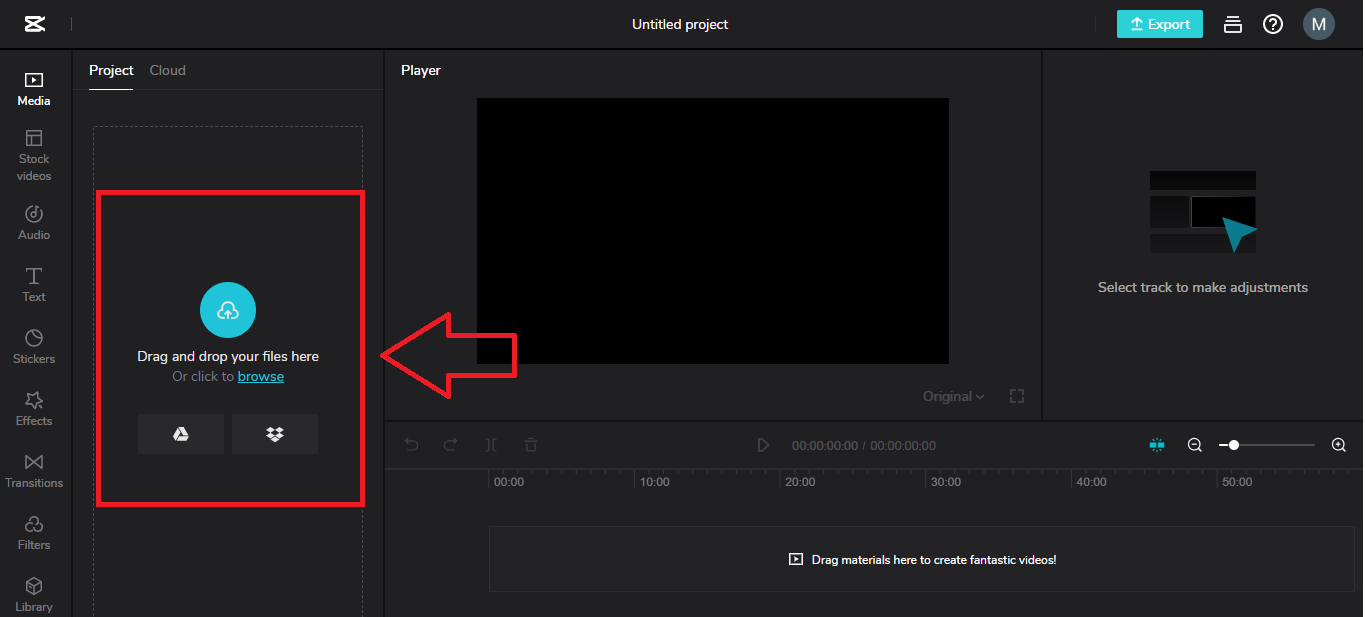 Step 2: Edit or crop the video online
Now drag the uploaded file to the bottom appearing frames. Next, click on the video to commence the editing process. You will see white borders around the video. These borders control the length of the video. You can crop the length of the video. Apart from that, you can crop each individual frame of the video as well, such that everything that lies outside the selected part is cropped out of the video. It gives you full control of the video and allows you to cut, crop, edit, add music, and effects, adjust speed or position, etc.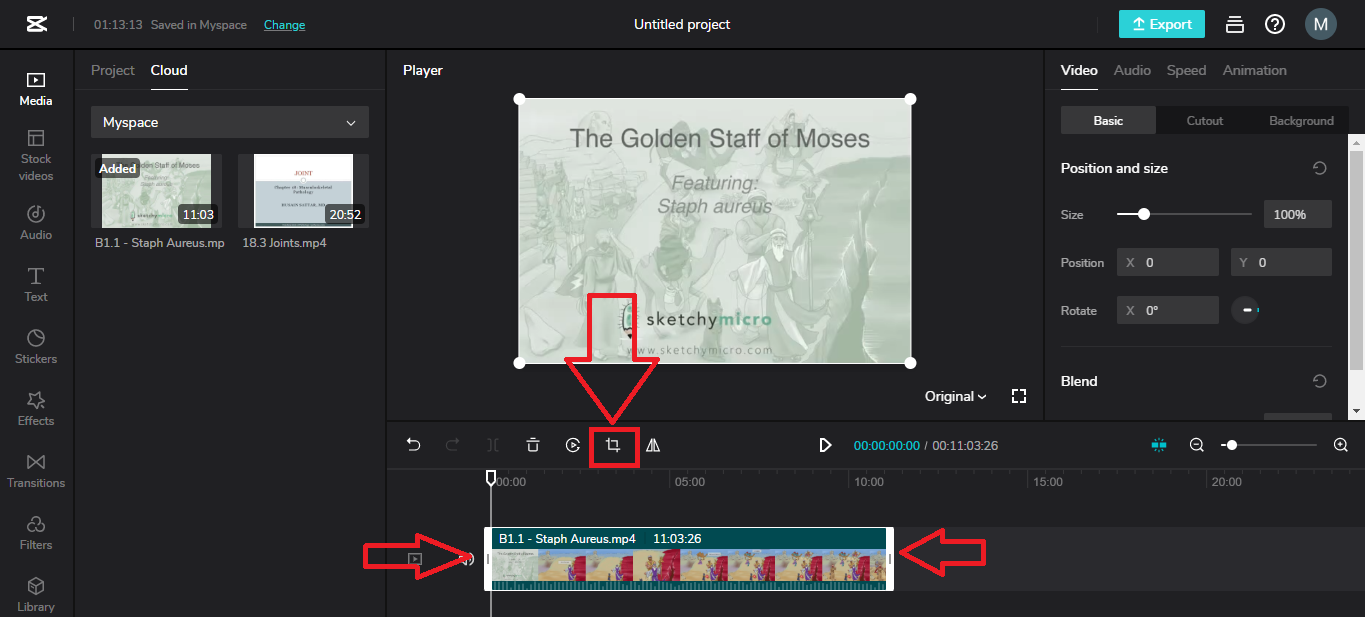 Step 3: Export or share online
After editing the video according to your requirements, click the "Export" button, customize the file name, resolution, frame rate, and format, and download the final polished file.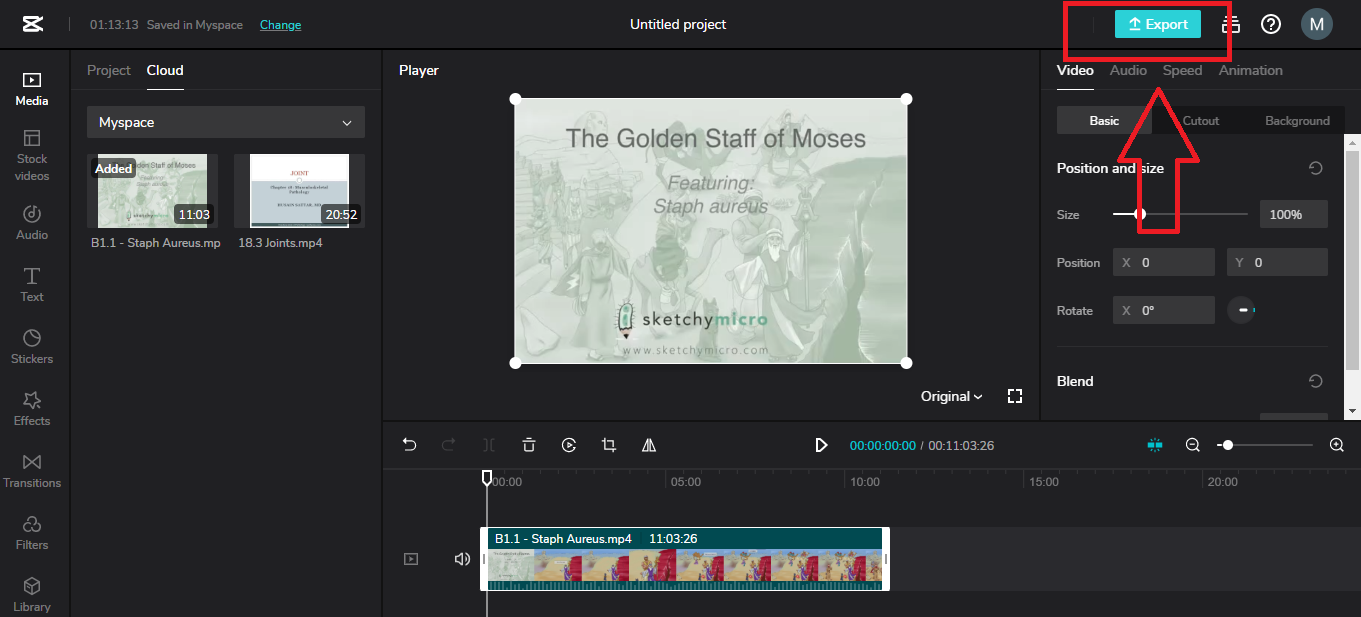 Conclusion
CapCut video editor is not only applicable to web browsers but also has downloadable applications on Windows, iOS, Android, etc. What sets it apart from other applications and websites lies in that it is a state-of-the-art video editor that's completely free of cost.
A lot of enticing features are waiting for you to explore such as basic trimming, splitting, merging clips, etc. Other advanced video editing tools including multi-layering editing, keyframe animation, color correction, masking, 3D effects, etc. can be applied to create masterpieces. You can also edit audio, add music, change video speed, wipe out the video background, and add a different video backdrop. Moreover, with CapCut, you can collaborate with other users and share your content and ideas for better content creation.
All of this may sound very perplexing, but CapCut is an extremely accessible application due to its compatibility and cloud storage. The self-explanatory user interface makes all these tools a walk in the park to understand and use. Your video editing journey does not end at cropping video online, it's high time that you should tap into its full potential for your content creation.
Frequently Asked Questions
How can I crop my video online?
Crop video online for free using CapCut video editor, which features an intuitive interface, a range of editing tools, and aspect ratio adjustments under one umbrella. It allows you to cut, crop, add effects, and adjust video size per your requirements.
Can you crop a video online for free?
Yes, crop videos online for free without a watermark with CapCut. It has a smooth interface that doesn't require special skills to operate, and the built-in templates and effects help you save time while creating unique and creative videos.
How can I crop videos online with no watermark?
Many video editing tools are available online that help you crop the video with no watermark. CapCut stands at the top with a range of free built-in tools to polish the videos. Try CapCut and crop video online for free with no watermark effortlessly.
What's the difference between "Crop" and "Trim" in video editing?
"Crop" and "Trim" are key techniques in video editing that help to adjust dimension and video length. "Crop" helps change video dimensions by cutting certain frame parts and achieving the desired aspect ratio. However, editors use "Trim" to shorten the overall video length.
Can I crop videos online on YouTube?
While YouTube offers tutorials on video editing, it doesn't allow cropping videos directly on the platform. It is a video-sharing platform; you just need a reliable external video editor to do the job.