5 Advantages of Using Online Video Editor to Elevate Your Content

An online editor will give you greater freedom to achieve real-time video editing. If you choose CapCut, you'll unlock an entire collection of filters, effects, music, templates, and more.

*No credit card required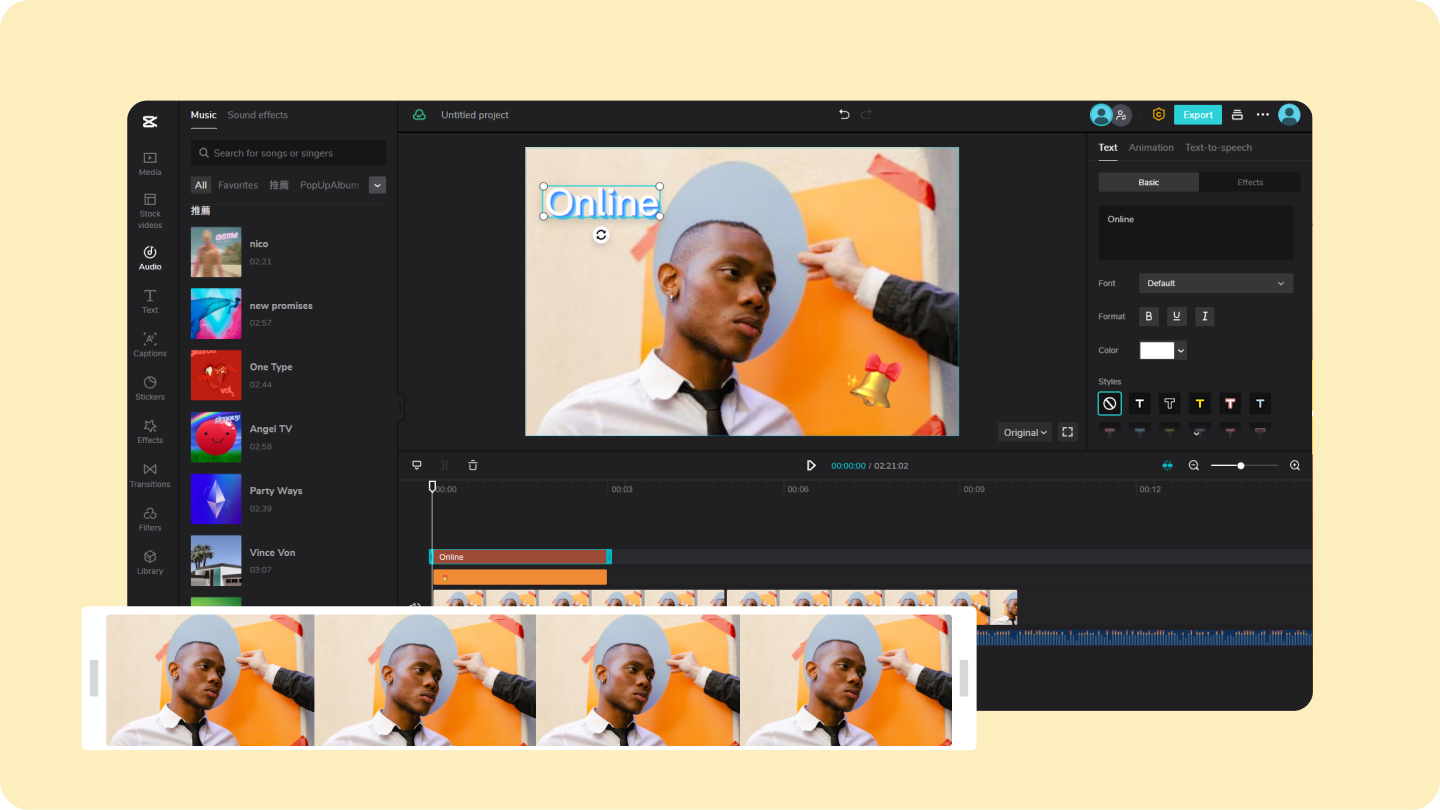 In today's fast-paced digital world, video content reigns supreme. Whether you're a budding content creator, a business owner looking to engage your audience, or simply someone who enjoys sharing life's moments through videos, having the best online video editing tool is essential.
5 Advantages of using an online video editor
Online video editors, including collaborative video editors, have emerged as powerful tools that offer several key advantages. These platforms have revolutionized the way we edit and create videos, making the process more accessible and efficient. With features like real-time editing, cloud storage, and versatility across multiple platforms, online video editors provide users with a seamless and user-friendly experience.
Instant team collaboration
Imagine you're editing a video with your colleagues, and they want to make a tiny change. With a desktop video editor, you'd likely need to upload the file, edit it, and send the new file back to your teammates. Afterward, they might take a look at the video and decide they'd like another change made. Rinse and repeat. This approach would only eat into your valuable time and lacks efficient video editing collaboration.
Here's a simple fix: try collaborative video editing software and online collaboration tools. With a quality online video editor, you and your team can edit the video in real time, eliminating the need to send files back and forth to perfect your project.
The ability to edit online offers an unprecedented level of flexibility—a level of flexibility you won't find on most desktop video editors. This streamlined video editing collaboration enhances efficiency and productivity, ensuring that your team's creative process is seamless and time-effective.
Video editing in real time
Online video editors like CapCut, known for being among the best video editing software online for video editor businesses, provide a user-friendly interface that simplifies the video editing process, even for those without prior editing experience. These online editors enable real-time video editing, allowing users to make instant adjustments and improvements as they work on their content
Have you ever poured your heart into a video and forgotten to click save? It hurts, doesn't it? With the right online editor, you can save yourself from headaches like unsaved files.
Online video effects editors save automatically, and most save to their own cloud drive. This is exceedingly valuable for those of you with remote video editing jobs (especially for those of you who secretly work by the pool). With an online video editor, your files are safe. Enjoy a day by the beach or pool while rest assured your files will be safely nestled in the cloud. Now that you know your hard work is safe, you can stop worrying, even if the waiter bumps your computer into the water.
Moreover, many online editors provide free cloud storage. That's great! They not only keep your files safe but also create extra room on your computer, which you can use for more videos!
Useful across multiple platforms
Whether you're a Macintosh user or looking for the best video editor for Android, online editors are a safe bet. Unlike traditional software—which often forces you to choose between Apple or Microsoft—online editors work across all platforms.
Thanks to this handy feature, you can switch effortlessly between your iPad and Chromebook! Don't be held back by software that refuses to integrate across various platforms.
Avoid redundant software upgrade
You don't need a cutting-edge computer to use an online editor. In fact, most online editors work with moderately old laptops. Online editors essentially stream the software to your computer—this means the computer itself doesn't need to be as snappy as newer models (the video editor will handle the heavy lifting). As long as you can play games and watch YouTube, your computer can easily run an online editor.
Finally, while older computers might struggle with large, 4K video files, with an online editor, this shouldn't be an issue. Most editors can even upload 4K files directly from your Google Drive and Dropbox. The files need not touch your desktop.
Free features and editing tools
Free sound effects and other free editing options aren't easy to come by, but if you pick the right editor, you'll be rewarded with plenty of free features! The best online video editing tools offer a handful of free options while requiring users to pay for expensive packages to fully utilize their features. When testing driving an online editor, be sure to check whether all the features require payment or are free. Some online editors will try and trick you—they'll claim they're free only to hide their best features behind a paywall.
You want a video editor with amazing features—transitions, templates, animated text—so ensure your editor of choice has it all! Next, read the fine print and make sure it's truly free before you start editing. You deserve the best possible experience!
Enjoy these advantages and more with CapCut
CapCut, the best online video editing tool, will give you the video editing freedom you crave. CapCut's intuitive design ensures that you can start editing videos with minimal learning curve. Its comprehensive toolset allows you to create professional-quality videos with ease. From basic cuts to advanced effects and transitions, CapCut has you covered.
Free Music

You can use any song in the music library. You'll find trendy beats for funny videos, and smooth background tunes for product demonstrations.

Stickers

Enjoy entire libraries of stickers! Whatever the occasion, you'll find a sticker to match. Whether you're making smoothies or recording a workout video, you can choose from fruit stickers to dumbbells, and more.

Fonts and Text Templates

No matter the genre or style of video you're recording, it can always be improved with text. Text helps clarify your point and highlight important information. Additionally, animated fonts make great video intros!

Filters

If you want to sparkle on camera, use a filter. Don't be shy—filters aren't only for beauty TikTokers. Filters give your product demonstrations a clean, warm vibe. This helps sell your products and build your brand. Pair the perfect filter with beautiful lighting, and you'll build a following in no time!
How to use CapCut for one-stop content creation?
Step 1: Access CapCut's website
Begin your video editing journey by opening CapCut's free video maker website. You have the option to start from a blank canvas or select from a range of predesigned social media video templates.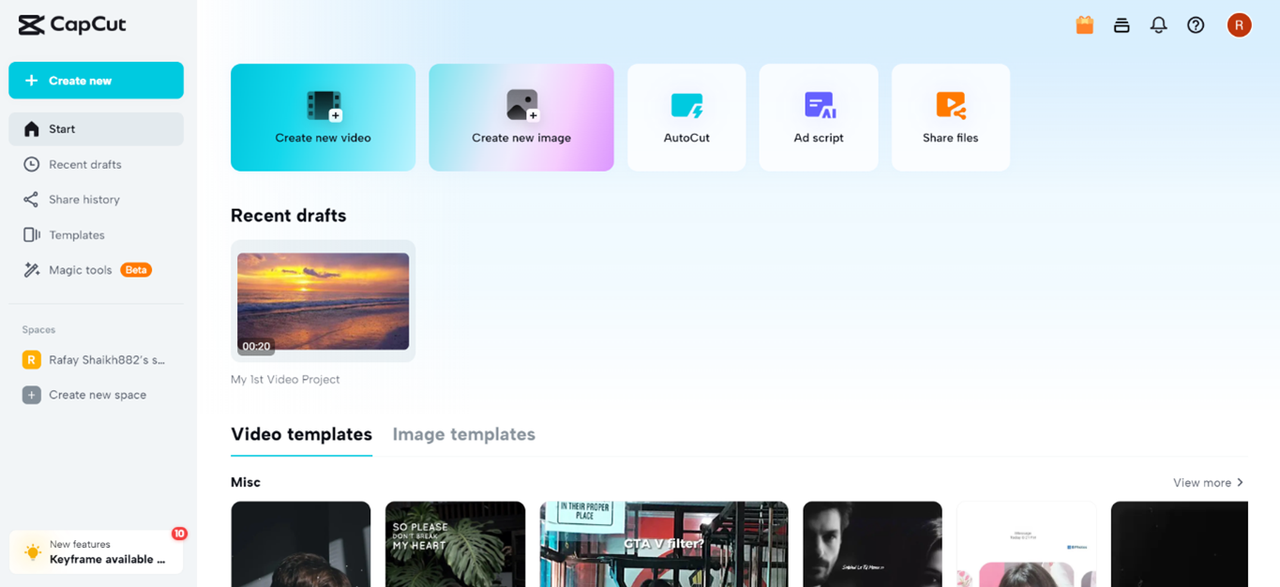 Step 2: Personalize your video
CapCut offers an array of robust editing tools at your disposal. You can use these tools to customize your video, whether it's trimming, merging, cutting, cropping, or adding creative elements. With features like keyframing and speed editing, you can infuse dynamism into your videos, making them truly unique.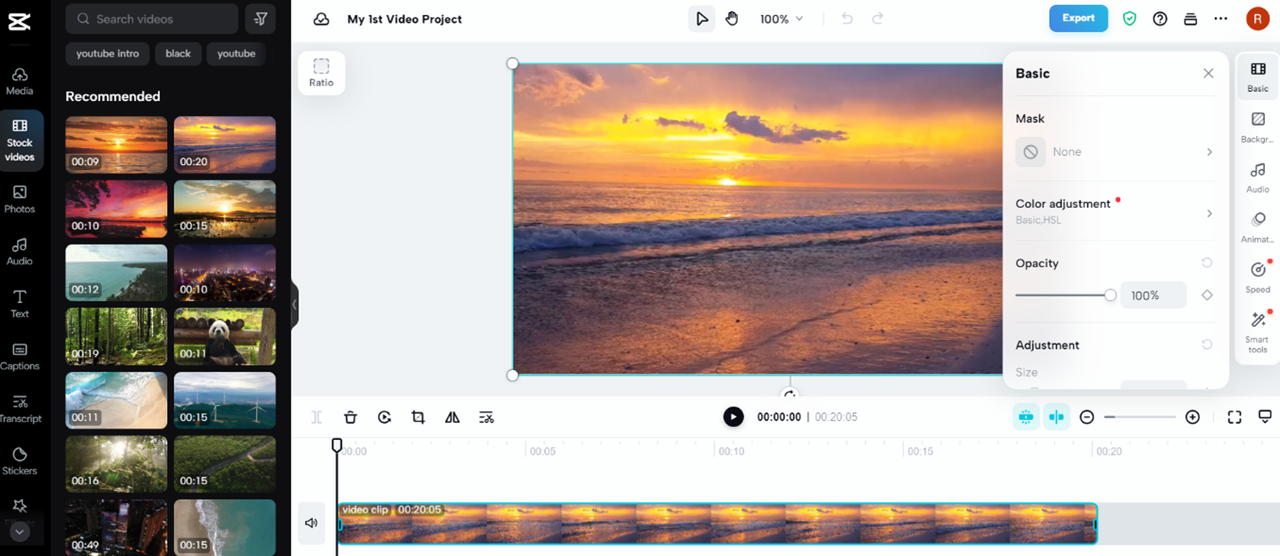 Step 3: Save and share
After you've completed your masterpiece, export it to your device without any watermarks, or easily share it on your favorite social media platforms. Besides, you can share it to your team members for review. If you wish to save your work for future use, take advantage of CapCut's free cloud storage platform.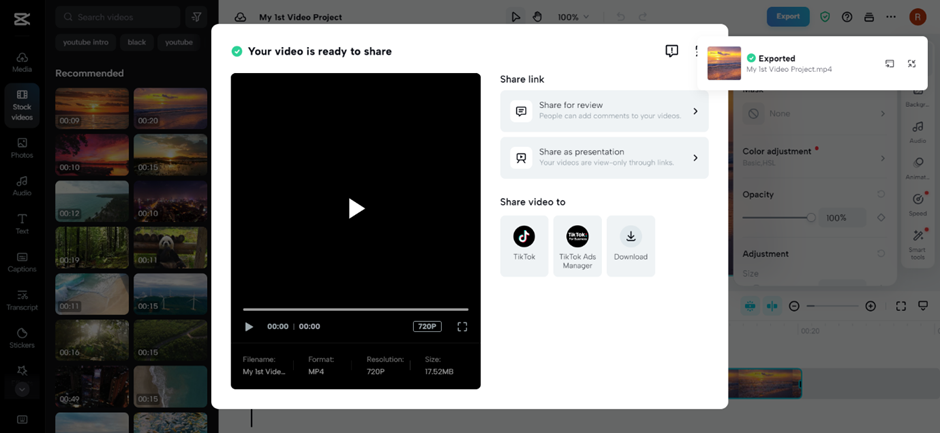 Conclusion
CapCut is more than just an online video editor—it's a powerful tool that empowers businesses and individuals to create remarkable video content. Its user-friendly interface, real-time editing, and cloud collaboration features make it a standout choice in the world of online video editors. Whether you're a beginner or an experienced video editor, CapCut has the tools you need to bring your vision to life.
Unlock the power of CapCut, and take your video editing skills to new heights. Start your journey today and discover what this ultimate online video editor can do for you.
Frequently Asked Questions
Is CapCut suitable for collaborative video editing?

While CapCut is beginner-friendly, it also offers advanced features that cater to the needs of professional and novice editors. Additionally, CapCut's capabilities extend to facilitating collaborative video editing efforts, making it a versatile choice for both individual editors and teams working together on projects.

Can you perform real-time video editing on a Chromebook?

Absolutely! CapCut is an excellent choice for video editing on Chromebook. It's a user-friendly Progressive Web App (PWA) equipped with robust editing tools suitable for both beginners and experienced editors. Unleash your video editing potential with the

best video editor for Chromebook

with CapCut!

Is CapCut online video editor compatible with Mac and Windows?

CapCut is a web-based editing platform, also available for Mac and Windows operating systems via web browsers. Feel free to share your projects instantly with your friends.

Can I use CapCut on my mobile device?

Yes, CapCut offers a convenient mobile app for on-the-go video editing. Visit Google Play Store or Apple App Store, search for "CapCut", and tap "Install." Once installed, open the app to start your editing effortlessly on Android or iOS device.

Can I export my videos in high resolution?
Absolutely! CapCut, the best online video editing tool, supports high-resolution video exports, ensuring your content looks stunning on any screen.