How to Captivate Your Audience with Copyright Free Music

Summary: This article tells how you can add copyright free music to your content and how it is beneficial for your project to give it a quintessential look!


Are you wondering how it is beneficial to add copyright-free music to your video? But, don't know how to add it? You are at the right place. Let's learn how to add copyright-free music to your video and reap its benefits.
Considerations before using copyright free music
For creators who wish to stay out of trouble with the law and avoid paying licensing fees, using copyright-free music is a fantastic choice. However, there are a few things to think about before using copyright-free music:
Make sure the copyright-free music is of the highest caliber and fits the intended tenor or mood of your project.
Verify that the music is free non copyright music and that the person or group disseminating it is authorized to do so. Check whether the music is in the public domain or has a Creative Commons license.
A few types of copyright-free music demand that the owner or artist be given credit. To prevent any legal problems, make sure you adhere to the necessary attribution standards.
Verify that the music is approved for the intended usage before using it. For instance, specific content or copyright-free music might not be allowed for commercial use.
Check that the music is compatible with the hardware or program you intend to use. There may be precise specifications for the format or duration of the music on some systems.
You can make sure that the copyright-free music you utilize is appropriate for your project and steer clear of any potential legal difficulties by taking these things into account.
Reap the benefits of free copyright music in CapCut
With the help of CapCut, users may produce and edit videos online with a variety of tools, including the ability to add music. Some distinctive features on CapCut online video editor include:
CapCut's user-friendly interface makes it simple and intuitive for users to produce and edit videos.
CapCut can be downloaded and used without any additional fees or in-app purchases.In fact you can further add free copyright free music.
CapCut provides users with a variety of video editing tools, including as filters, effects, transitions, and text overlays, enabling them to produce videos that seem professional.
Multiple video and audio tracks can be edited simultaneously in CapCut, making it simpler to produce intricate video projects.
Integration with social media
With CapCut, users can upload their edited films directly to sites like TikTok (see more information about TikTok download), Instagram, and YouTube and add free copyright free music.
CapCut enables several users to work together on a single project, making it simpler for teams to produce videos together. Besides, you have much freedom to capitalize on the free cloud storage space for your content creation.
Overall, CapCut is a robust and user-friendly video editing program that provides a wealth of features and tools to assist users in producing videos that appear professional. Following these benefits you can use free no copyright music in CapCut and make professional-looking videos without worrying about the law.
How to create stunning videos with

free no copyright music

in CapCut?
It's simple and easy to make beautiful videos in CapCut using free non copyright music. You can take the following actions:
Step 1: Upload your video
Choose the video content—whether it was just taken or was previously recorded—that you wish to employ in your production. Adding video to CapCut is as simple as clicking the "+" icon in the bottom center of the screen.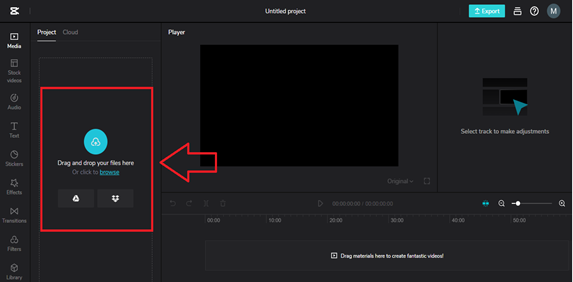 Step 2: Add copyright free music to your video
Create a storyboard outlining the sequence of the segments in your video after organizing your footage. By doing so, you'll be able to see your video more clearly and streamline the editing process.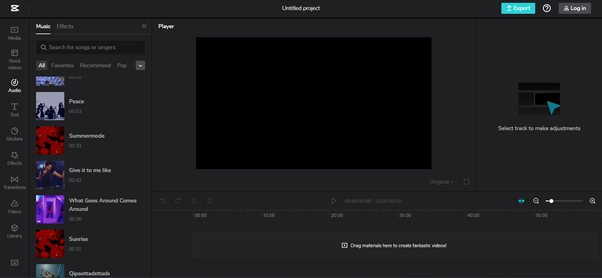 Now, add free copyright music by selecting it by clicking the "Audio" icon in the lower-upper corner of the screen. You can conduct a musical genre, mood, or keyword search. If you'd like, you can also add your music.
Step 3: Export or share online
When finished, export your video in the format and resolution you want and share it on your social media accounts as shown in the picture below.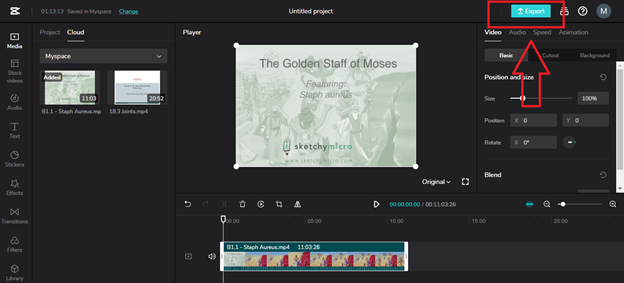 You may make eye-catching videos using free copyright music by following these instructions and making use of CapCut's features, making you stand out from the crowd. Just keep in mind to use free non-copyright music responsibly and to give due credit to the author whenever possible.
Wrap up
By wrapping it up, we are sure you now know how to add copyright-free music to your video and how it provides benefits to your video. By listening to our recommendation, you should go for CapCut online video editor as a one-stop solution to all your video problems. It also enables you to trim videos, add captions, add music, and many more. So, what are you waiting for? Go and download CapCut on your laptop, mobile phone, and tablet now and avail yourself of its unique features.
Frequently Asked Questions 
What is copyrights free music?
Free copyright music

is music that can be used without paying a license fee or subject to any legal restrictions. Typically, this kind of music is in the public domain or distributed under Creative Commons licenses.
What are the advantages of using free non-copyright music in CapCut?
There are various advantages to using

free copyright music

in CapCut, including cost savings on licensing fees, avoidance of legal difficulties, and access to a more extensive selection of music.
Is it possible to utilize legal music in CapCut?
Yes, you are allowed to utilize

copyright free music

in CapCut if you get the proper licenses and consent from the owner of the material. The unauthorized use of music protected by copyright may have legal repercussions.
How can I discover free, no-copyright music in CapCut?
By filtering your search results to show free music selections, you can look for

free copyright music

using CapCut. Additionally, you can conduct a search for music on a number of websites that provide free music with copyright, including Free Music Archive, Jamendo, and YouTube Audio Library.
If I utilize free copyright music in CapCut, can I monetize my video?
If you utilize

free copyright music

in CapCut, you can usually monetize your video. However, it's crucial to confirm that the music you use is appropriate for commercial use by looking up the specific licensing conditions.