Free Online Tiktok Ads Video Maker
Market and promote your business with Tiktok video ads, created at ease with Capcut's free online editor.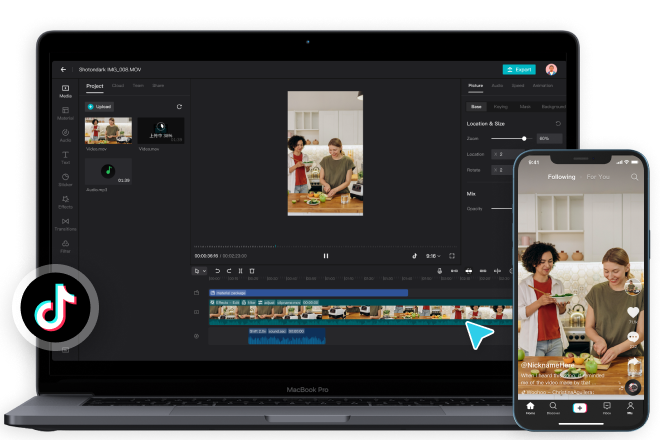 Why should you choose CapCut to curate TikTok Ads?
The ultimate social media platform for young adults, TikTok has swept the Internet in recent years and defeated some of the industry's major players. Three years in a row, the short-form video streaming app has held the number-one spot when it comes to downloading rates, with over one billion monthly active users. If you are looking into promoting your brands to Gen Z users, TikTok has to be the go-to platform that you should not ignore. While TikTok's in-built video editing tools are quite basic, you could use the help of a more robust video editor to make your ads pop - CapCut. With the all-in-one editing interface, you can easily enhance your TikTok videos with filters, cropping, resizing, transitions, effects, music and sounds all at no cost.
What is our solution?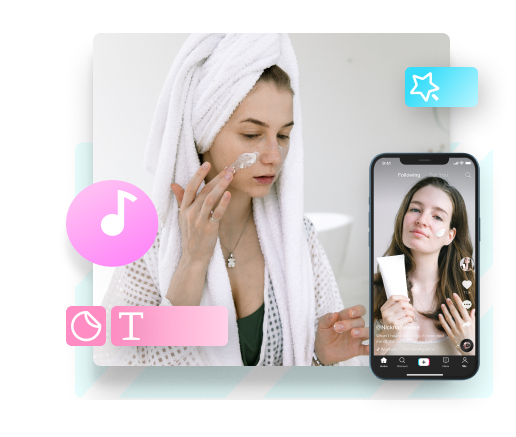 Create TikTok ads with the correct specs
Dazzle your audience with optimized TikTok ads by resizing the video using CapCut's preset TikTok canvas. Based on your requirements, you can adjust the specifications for the particular ad type, including sponsored, in feed, sparks ads and more. No matter if you are on a PC, laptop or tablet, all you need is to upload your video and promote the ad across TikTok.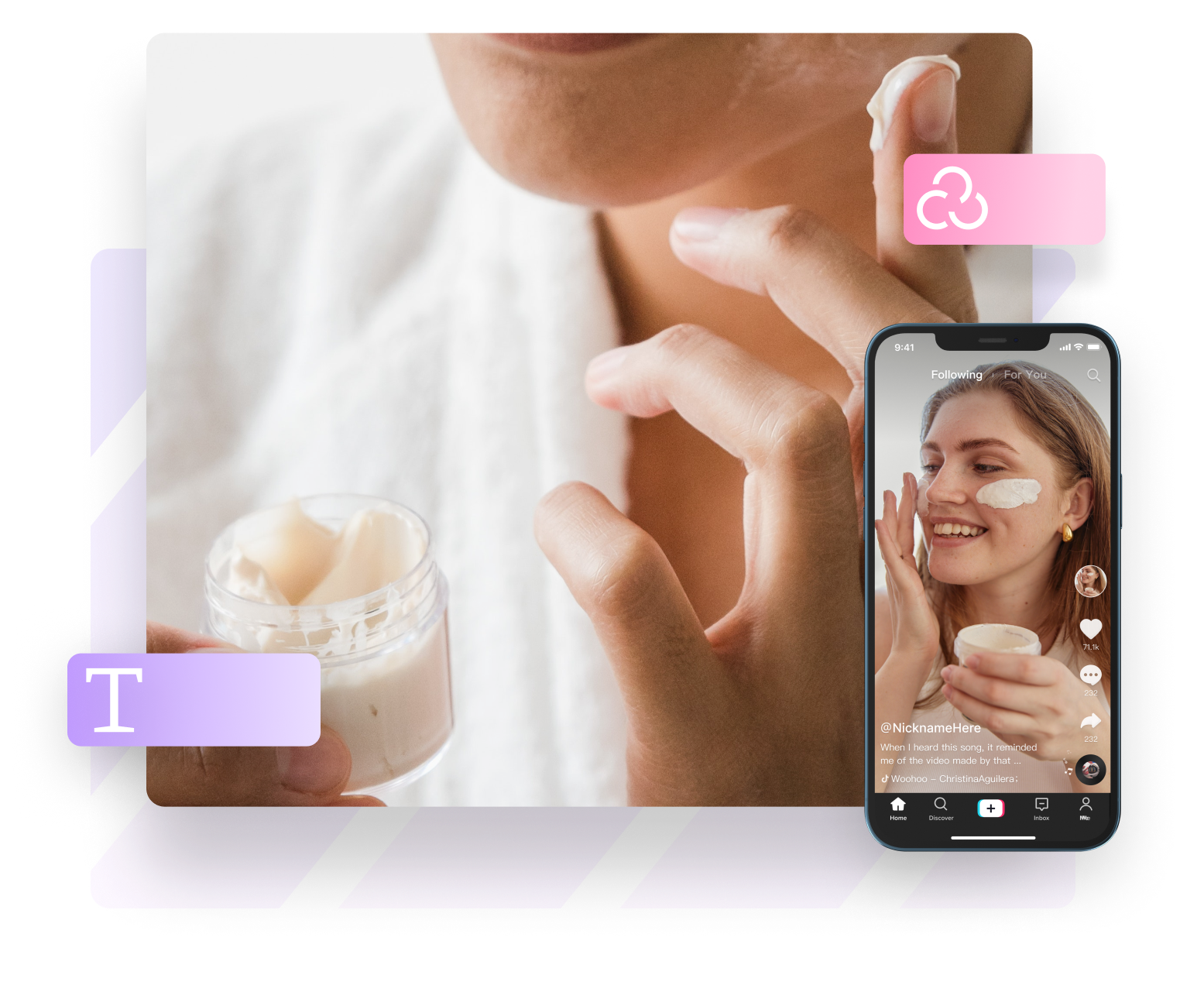 Simple editing tools
CapCut makes it nearly effortless to create the perfect TikTok ad by letting you clip, trim, add transitions, text overlays and visual effects on videos. You could conveniently resize videos to fit TikTok's aspect ratio and dimensions with just a few clicks. Designed with convenience at the core, captions and subtitles are easily customizable with CapCut's in-built, automatic text generator that supports various languages.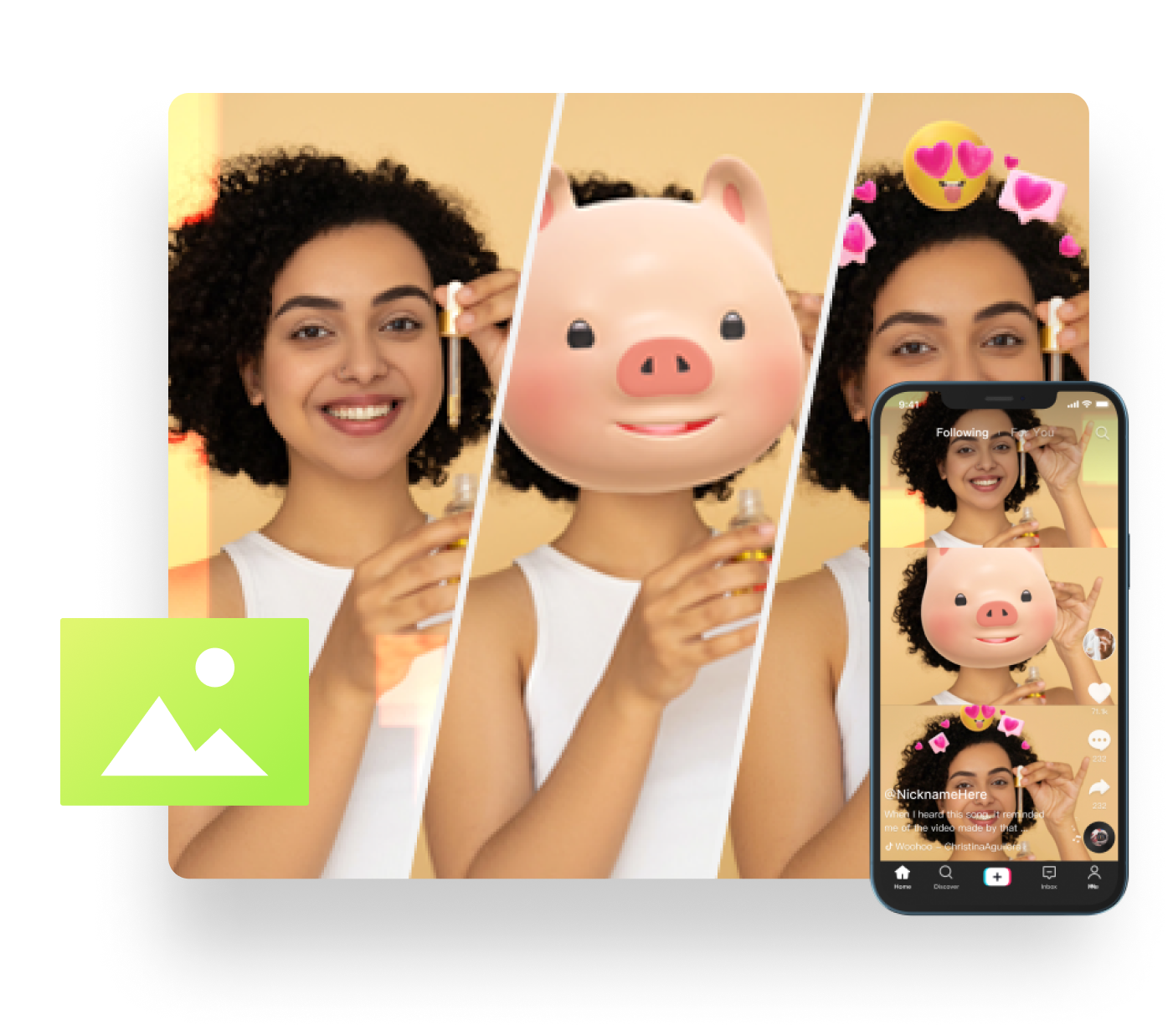 Finish the video with style utilizing a comprehensive asset library
The competition is stiff among TikTok creators. With CapCut, you get access to an enormous stock library with thousands of creative assets available for use - all for free. Find inspiration and polish slick video ads using the best-quality media assets at your fingertips, including images, stock videos, animations, music, stickers and fonts for dynamic campaigns.
Make a TikTok ad on CapCut at ease
Step
1
Upload your video and use our media management system to store and edit it.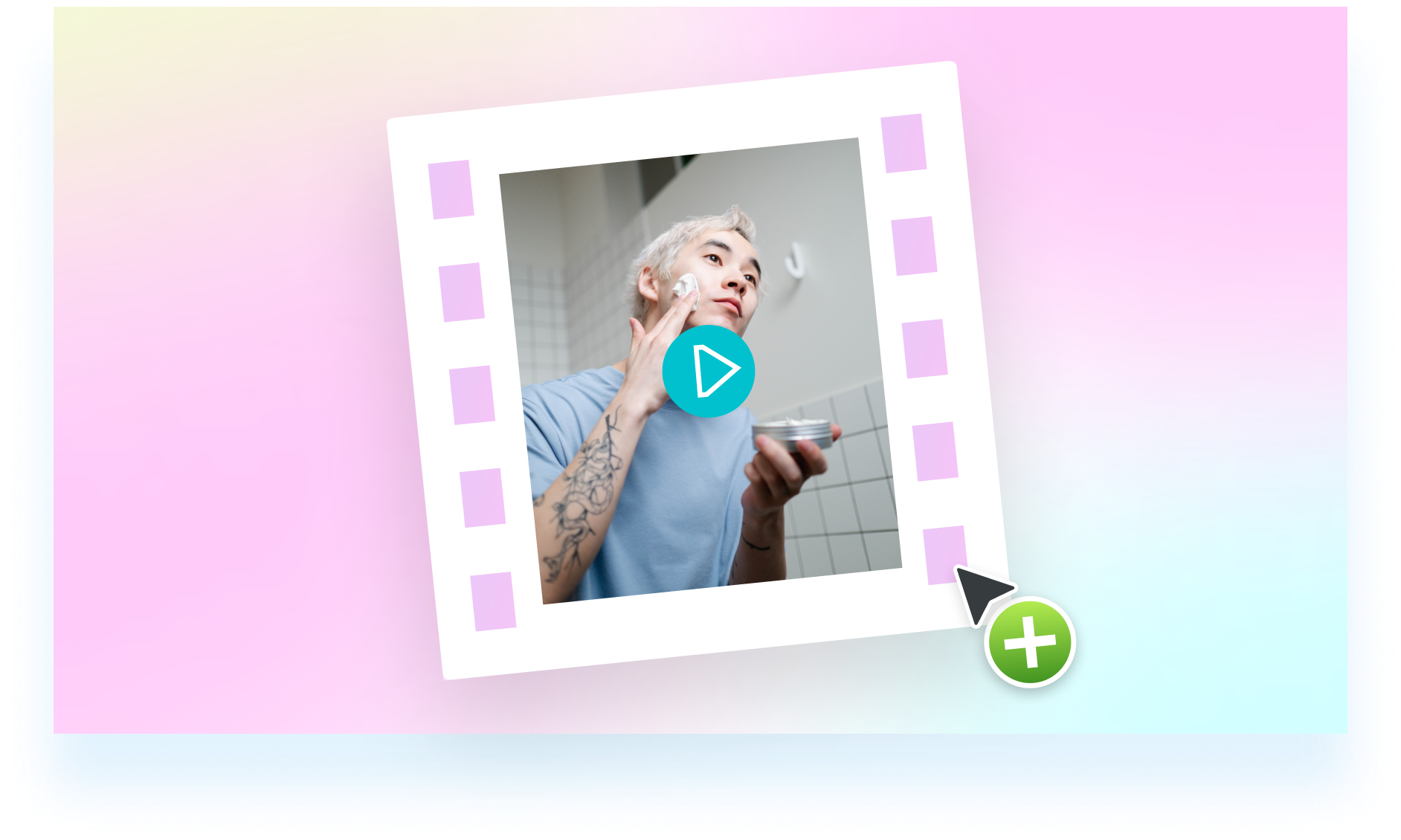 Step
2
Edit and tweak your TikTok ad using our tools and asset library with music, texts, effects and so on.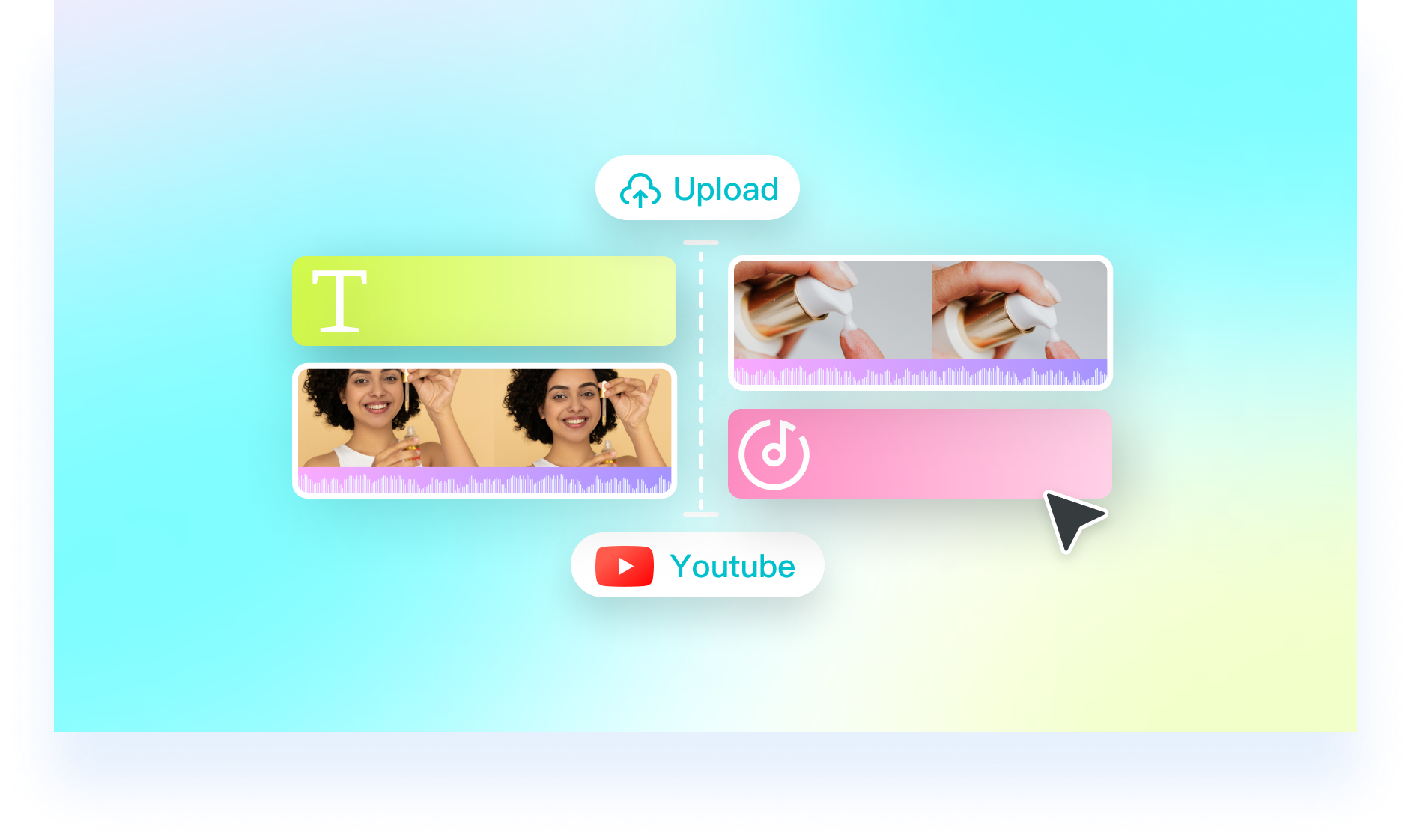 Step
3
Export and share your masterpiece with the rest of the world on TikTok right away!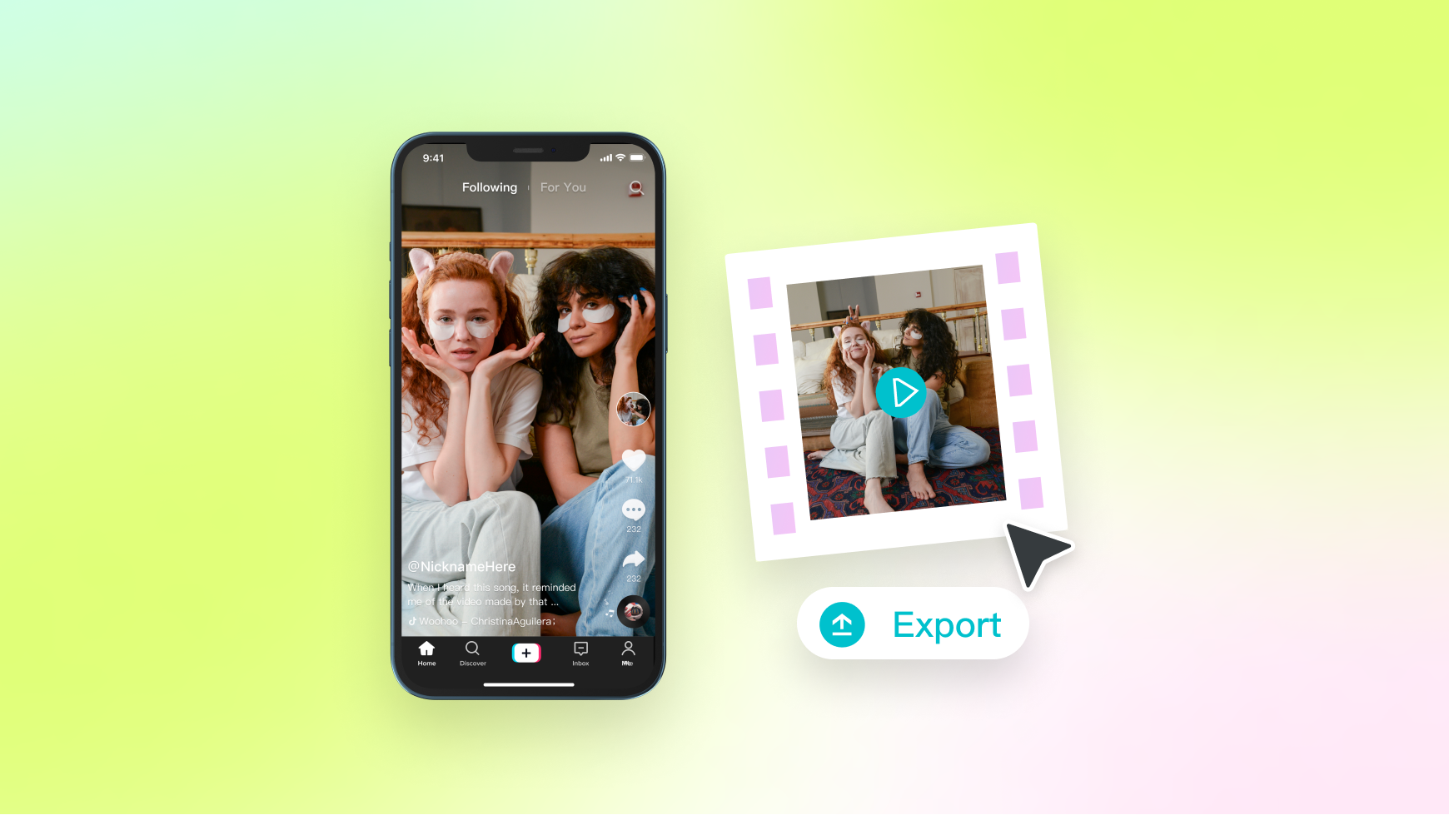 FAQ
Why is TikTok popular?
TikTok is truly a one-of-a-kind social media platform. It combines 1. YouTube's video-centered feature 2. Facebook and Twitter's short and digestible characteristics 3. Netflix's recommendation-based algorithm In other words, TikTok has absorbed and combined all of the major traits of other successful social industry giants and utilized them to create a new way of conveying messages. Information is dense while being presented in very short videos to fit netizens' short attention spans. All of these make TikTok super navigable and addictive while also an emerging ground for ads.
Why should I use an external TikTok video ad editor?
Although TikTok comes with an internal video editor, the tools are minimal for very basic use. Also, it is not mainly designed for creating ad content. Go off the platform to more versatile tools and assets libraries to add style to your footage.
How can CapCut help me create attractive TikTok ads?
Apart from allowing you to work on your next TikTok ad on any device, CapCut offers a huge selection of video assets and dynamic editing functions, you can create revenue generating TikTok ads directly on a web browser within just a few clicks without ever losing a creative edge or costing a dollar.
How to make good TikTok Video Advertisements
1. Keep things short and sweet
TikTok officially suggests marketers keep the video ad length between 9 to 15 seconds. Otherwise, you might be at the risk of getting trimmed. You are advised to get straight to the point with eye-catching elements quickly, ideally within the first 3 seconds of the TikTok ad to avoid losing viewers.
2. Background music is key
Unlike other video-streaming platforms, TikTok by default sets the user's audio on. More than ever, this is where you can work magic with captivating background music and sound effects to hook viewers and get them to stay. Prioritize viral music tracks and sounds that could portray your brand's image and personality in the video ad. Text overlays are great for call-to-actions and brand information instead.
3. Get localized and capture a relevant audience
On a global scale, TikTok promises to cater to the needs and preferences of users in different areas. The video platform pays great attention to ensuring content is appropriate for the culture, language and living habits of a targeted country. As a marketer hoping to promote your business to a certain demographic, you must spend adequate time researching the traditions, trends, taboos, likes and hates of your target audience group. This is particularly important in the aspect of language. In Tiktok's algorithm, languages other than the local official language where the ad will be shown would not be shown too often. Dig deeper into how you present information in the video ad with a more localized mindset and approach to making certain that your ad is displayed and seen.